Ep.418 – Gorillaz @ Gibson Amphitheater – Universal City, CA – 10/26/10
AHHH shitttt you know we were going to have to go Ape at this one!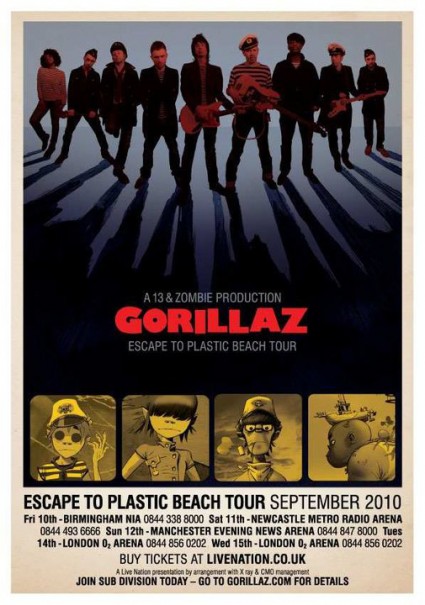 The Gorillaz have been one of my favorite bands for years.  They have yet to put out an album that hasn't sucked me deep into it.  Their most recent album  "Plastic Beach" was no exception.

The first time I saw the Gorillaz was on their first tour, in Seattle at the Paramount Theater back in 2002. The tour was a horrible failure for the most part.  It was based around the Gorillaz cartoon persona and featured the entire band preforming in silhouette behind a screen that showed still images of Gorillaz characters.  It was several years before the Gorillaz hit the stage after this tour and appearances were rare.
On this latest tour Damon Albarn moved the characters to the video screens, added a gigantic neon GORILLAZ light structure and the band performed in the open, not as cartoon characters which def made it easier for them to rock a crowd.
The band was composed of 8 members which included Damon Albarn and Mick Jones. The performance also featured a slew of special guest such as Yukimi Nagano of Little Dragon, Lou Reed, Bobby Womack and De La Soul.
Throughout the Gorillaz were preforming above par and the show was very entertaining. I am not sure if the reason I enjoyed the show so much was simply because I knew all the songs or if it was because everyone at the show did as well!
Final thoughts: Its always great to be able to see one of your favorite bands live. If the Gorillaz are one of your favorite bands, it is def a show you don't want to miss. If you are not sure if the Gorillaz are one of your favorite bands or not, give them another listen, see them live and hop on the good times train! -lorn
Gorillaz – Rhinestone Eyes (iTunes Session)