Ep.423 – Voodoo Experience 2010 – New Orleans, LA – October 29th – 31st, 2010
Nov 17th, 2010 | By Chrystal
Category: Crystal Method, DeadMau5, Drake, Eagles of Death Metal, Janelle Monáe, LA, March Fourth Marching Band, Muse, New Orleans, Ozzy Osbourne, Street Sweeper, Video Concert Reviews, Voodoo Experience
Voodoo Experience 2010 Fan Reviews – Part 1
I journeyed out of the YTC universe for a couple weeks to tackle some CMA Awards duties, but I'm back to bring you our adventures from the Voodoo Experience music festival in New Orleans.
I had been dying to go to New Orleans for a long time, and this festival, which takes place over Halloween weekend, seemed like the perfect opportunity. We didn't have a plan, finalizing our escape a day before everything was scheduled to start. We knew that we would miss most of the first day, but we felt making the trip was still worth it.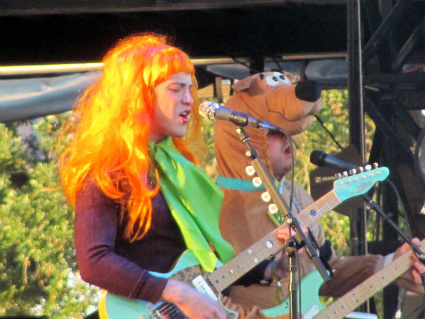 Voodoo Experience is not a camp-over like Bonnaroo. I wish it was. The grounds close around midnight. I reserved us a KOA tent spot that got great ratings online, and boasted of a shuttle that brought you to the French Quarter. I don't know why I thought the shuttle would go all night. The KOA was about 30 minutes away from the park where the Voodoo Experience was going down, so we needed to fore-go our deposit, and find a new place to stay.
Voodoo Experience 2010 Fan Reviews – Part 2
We ended up spending $90 a night to stay at an America's Best Inn, which was clearly affected by the hurricane. I felt like the Titanic had been lifted from the sea and I was walking through its halls. A sore and sad ambiance, but way better than any available alternative.
Actually, much of the city had a heavy essence – not in the gorgeous park where the festival was, but walking around admiring the architecture and watching everyone rage in the streets downtown; the setting looked beautiful, but tired and strained. The late night scene felt like throwing a Frat Party at a hospital or a retirement home. People come here to get out-of-their-minds wild and crazy, and it feels like the souls and spirit of the city are not up for it like they once were. It's still a ton of fun, but there was something holding me back- like a guilty weight on my shoulders. It's not like Vegas.
Although nice and helpful, you can tell that the locals can't wait to get their city back from the tourists. Really, I can't blame them…it can get obnoxious, people disrespecting your home by puking and pissing everywhere. Gross.
I wish the festival had a camping option; with shuttles running across the city – to and from your campsite with destinations to after parties, the French Quarter, and the festival grounds. It would make us "out-of-towners" more comfortable, and establish more of a festival community. I love how you're tied to a "class" at Bonnaroo. You're actually living with these people in a controlled environment for a few days in one long adventure, as opposed to attending three separate days of concerts.
Voodoo Experience 2010 Fan Reviews – Part 3
Now that the harsh remarks are out of the way, there were so many other aspects of  the Voodoo Experience that were WAY superior to Bonnaroo. The weather was flawless- no sunstroke warnings here. I never felt crowded at Voodoo, and I never had to mosh-pit my way to a decent standing spot for shows.
The sponsors had engaging booths with free swag and fun ways to spend time, and the workers at the booths were peppy and kept you updated on contests, artist interviews, and special events that were going on (without being overbearing.) For example, Sony was there offering complimentary internet, gaming, and rentals of their new "Bloggie" handheld video camera. Attendees could document their experience YTC-style and upload their videos to YouTube right from the promo tent.
Voodoo Experience 2010 Fan Reviews – Part 4
The food selections were plentiful and affordable, and the drink stands served Southern Comfort in addition to beer; the option for a cocktail was nice. The Rock 'N' Roll Karaoke stage next to the "sports bar," made for a neat area to relax over a meal, like a remote local bar.
Voodoo Experience / New Orleans is the best place I've ever spent Halloween, and I used to live in Salem. The people-watching was the best. Some of my favorite costumes – Pee-Wee Herman, the Fast Food mascot entourage, and Oscar the Grouch. Most overdone costume – Deadmau5, but the variations on the mouse head were impressive.
Finally, the surplus of robots at this event was the icing on the cake for me. Can you believe I got a concert review from a robot? It made my weekend.


Voodoo Experience Highlights:

Ozzy Osbourne – Even if it sounded like he had a track under him, I'm willing to give the Ozz-man a break. He looked like he was having fun, and he rocked our faces off.
Janelle Monáe – The soundcheck took FOREVER, but it was worth the wait.
Street Sweeper Social Club – My top favorite – can't wait to see them again.
March Fourth Marching Band – A delightful gypsy skank circus, suddenly making band camp infinitely cooler.
Suggestions for Voodoo Experience Planning:
Book your room early.
Make sure you know exactly where you're staying and how close it is to the festival grounds.
Cabs are hard to come by – team up with another group of people and flag one down.
Dress up for Halloween.
Advice from a local: stay around people. Don't risk walking down any weird alleyways- he's had family members get jumped.
Have a plan for after the festival closes. Ask around, Google search, find the best after party for your tastes, and stay there. You could end up walking around lost all night.
If you can physically do it: arrive early to the festival, bring a blanket, lie down in the sun, and enjoy some of the "lesser-known" bands.
Be prepared from some loud-ass freaky video intro to scare the daylights out of you before a band takes on of the main stages.
Ozzy Osbourne – Bark at the Moon
Street Sweeper Social Club – 100 Little Curses