Ep.424 – Tim & Eric Chrimbus Spectacular @ Cannery Ballroom – Nashville, TN 12-3-10
What a treat! Tim & Eric brought their 2010 Chrimbus Spectacular to Nashville this weekend, and the Cannery Ballroom was sold-out.
The night was set up like a variety show, starting off with Neil Hamburger, a lounge-y shock Grandfather-like character played by comedian/musician, Gregg Turkington. I was standing at the back of the room during the beginning of Hamburger's set, and although the stuff he was saying was raunchy and rude – it was absolutely hilarious.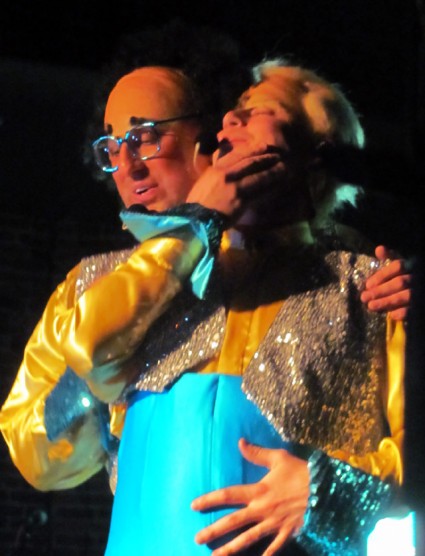 I decided to take advantage of my photo pass and check him out from the side stage – get a better grip on the whole act. Welp, when I walked through the backstage door, my path was cut off by Tim Heidecker and Eric Wareheim in full-Chrimbus costume splendor and, what's this?….JOHN C F*CKING REILLY!!!
I panicked, said "Heeeeey Guuuuysss," turned around, and found a security guard to walk me through to the photo area. The awkward experience threw me off for a bit, but the new viewing location was stellar, and Hamburger killed me with his closing Smash Mouth/Nickelback joke.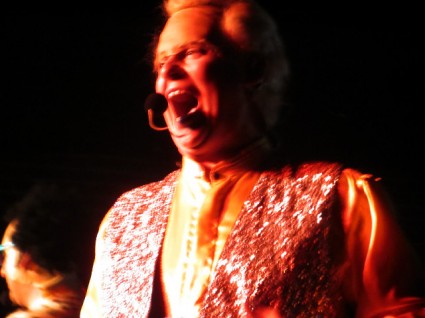 Hamburger left the stage, a sizzler of a "pump-up" reel played, and Tim & Eric entered for their colorful opening Chrimbus number. The show's backdrop was a large video screen playing the type of daft videos and production that makes Awesome Show! Great Job! the incomprehensible genius that it is.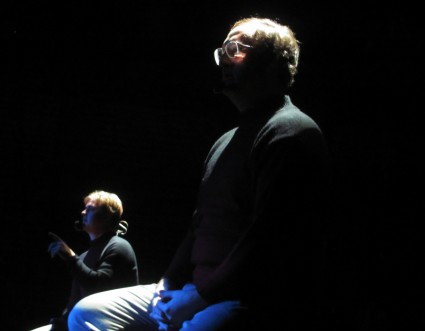 After about 10 minutes of comedy, Tim & Eric left the stage like they were exiting for good. I was baffled. There was no real way of telling what the format of this show would be like, I knew it wasn't completely over – but what the hell was going to happen next?!  I honestly thought that  the "comedy" portion of the set was over, but then again, I'm a gullible and confused person in general.
After about 2 minutes, the lights went back down and another video played, and you could almost feel everyone exhale with relief. We got punked – it was only the beginning.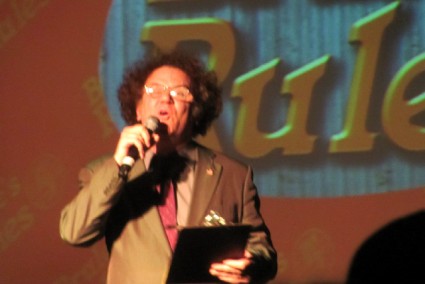 The Tim & Eric Comedy Show portion of the night lasted about and hour and 15 minutes and consisted of 5-10 minute live sketches tied together with bizarre videos – most featuring favorite characters from the TV show. There was also some fun crowd participation; a favorite being surprise guest John C. Reilly playing Dr. Steve Brule, and giving a woman in the audience a breast exam.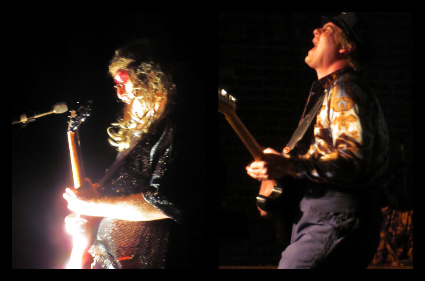 The evening closed with a set from Tim & Eric's band "Pusswhip Banggang," a psychedelic/classic rock outfit performing all the hits from the show. They were impressive.  I guess I didn't realize that they were actual musicians. I'm a sucker for gimmicky cover bands, so for me, this was the perfect way to close the night. That, and of course, meeting Eric outside after the show.
I love the Cannery. The staff rocks and it's just a cool looking venue, but I kind of wish this show was at the Ryman or War Memorial. It was a bit of a cluster at times. However, if you live in Nashville, you should know that you have to get to the Cannery early and prepare to root yourself in place for a good view.
If you didn't have a decent spot to stand, I'm sure your experience suffered a bit – whether that be distracting noise from the bar or not being able to see. As ridiculous as it is, Tim & Eric is the type of show that you need to pay attention or you'll get lost. Luckily, the skits are short enough that it's easy to jump back on if you fell off, but I wish I had a front row position for this event.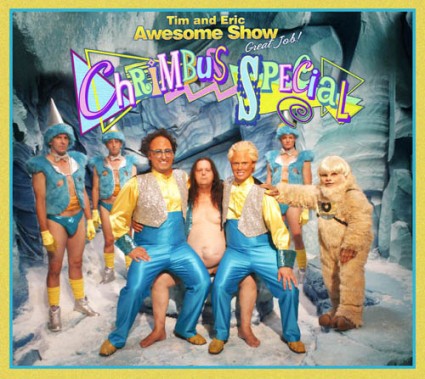 Tonight Tim & Eric Awesome Tour! Great Job! concludes it's run with a very special Chrimbus Spectacular in Atlanta, as today is actually Chrimbus! Happy Chrimbus everyone! Don't forget to watch the one-hour Chrimbus Special on Adult Swim tonight – Midnight/11pm Central.
Random Tidbits:
Overheard in the Ladies' Room: John C. Reilly made sure to visit Prince's Hot Chicken while in Nashville.
Lost in the Ladies' Room: My phone! If someone knows the whereabouts of my adorable purple Blackberry, please let me know.