Ep.428 – Roger Waters, The Wall @ Staples Center – Los Angeles,CA 11/29/10
EPIC!

Roger Waters' "The Wall" is by far the craziest and most insane show I have seen in my entire life. I was in awe the entire performance. The show featured a giant screen – "The Wall" that was built during the first half of the show. Crew members added pieces to "The Wall" periodically during the show until a giant screen that took up the width of the Staples center was constructed.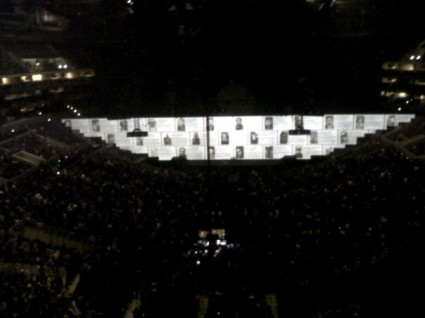 The screen displayed amazing visuals and at times had me so entranced, I completely forgot about the music. At points, I began to laugh because the show was just too cool for me to contain my enjoyment.
I had seen Waters perform "Dark Side Of The Moon" a few times and was more then impressed with the performance, but the theatrics and the visual display of "The Wall" was far superior.
In closing, I apologize for talking about the visuals and the theatrics of this show and didn't really touch on the musical aspect, but "The Wall" is something you really just have to see to believe. -lorn