Ep. 430 – Garth Brooks @ Bridgestone Arena – Nashville, TN
Don't hate me, just let the fans lead on this one, because that's what YouTellConcerts is all about. Plus, I have never been big on Garth Brooks. That said, when Garth Brooks comes to Nashville and sells out nine shows as part of a flood benefit, you can't just "not go." I decided to hit up Thursday night's 10pm (12/16) show. Yes, he pulled a double-shift.
My company holiday dinner had just finished at a restaurant across the street from the arena as the 7pm crowd spilled into the street. I had an hour or so to kill before the show, and still needed to find a ticket. It didn't take more than 30 seconds of stepping out the door. I bought one for $20, which was under face value, but way more than I needed to pay. You could have found floor seats for this late show for $5 to $10, if not free.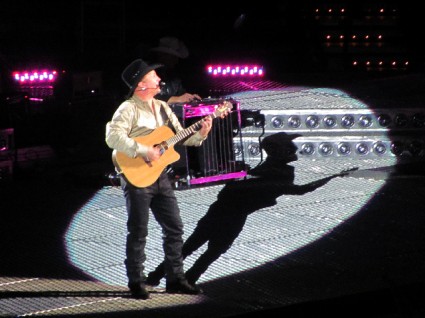 Downtown was stupid busy for a while. Thousands of people were crowded at the doors to get into the Bridgestone Arena. Broadway was blocked off, and banners thanking Garth and his fans hung in the bar windows. It was a cool scene.
I think I got into venue around 10:30ish, and although I was already exhausted, the rest of the crowd was ready to go. What a mixed bag of folks: young couples, old couples, kids, bros, BFFs,  fur coats, cowboy hats,  – they were all there. This audience was on their feet the whole show and singing their hearts out. I felt lame when I took breaks, because I never saw anyone else sit down.
I had an urge there for a minute to rush down to the floor and score a front row spot for a couple songs, as that always bumps up my appreciation, but certainly wasn't in the mood for confrontation with security.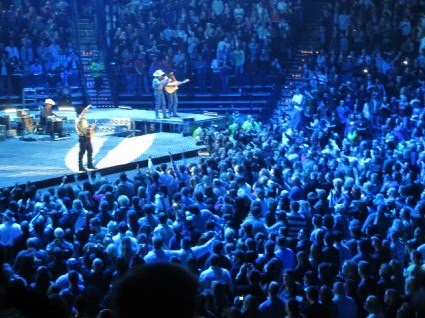 Brooks is a great performer – talkative with the audience, engaging, (he even took a picture of some fans in the front row with their camera, cute!) - and with his stage experience and hits to pick from – it was definitely worth the twenty bucks. I freaking LOVE "The Thunder Rolls" and have always wanted to hear an arena sing "Friends in Low Places." "The River" brought me back to middle school when we sang it in chorus.
The show moved quickly, which is a good thing; but still, (here's where you're going to hate me) I didn't feel like there was anything overly unique about the show, and we didn't get the extra love that I heard some of other shows got. I suppose this was probably the worst show to pick out of the nine (due to the day and time), but if you're a Garth fan and know his catalog – then, I bet this was the best night ever!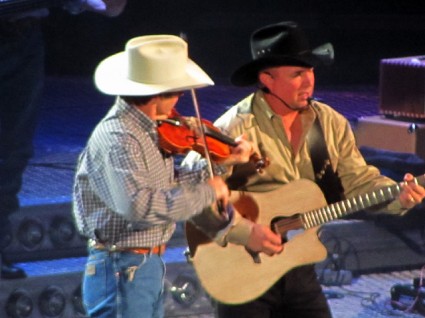 Although it wasn't one of the best concerts I've seen, it even had its moments for me. Remember, I was in a sourpuss mood, and this was the first time I really paid attention to Garth.
It's an unbelievably generous move for Garth to do this for the city, and during the holiday season while most are on vacation. He clearly loves his fans, and is an amazing person. I may even check out one of the closing shows…I suppose it's time I let you in Garth. You're more than just dorky Dad music.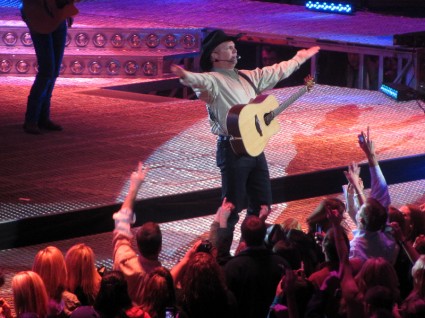 Follow-up 12/22/10: So, I decided to give it another go last night.  My little sister loves Garth, and she and her friend are in town for Christmas. Since it was so easy to find cheap seats to the late show last week, we got dropped off downtown and asked around.  As doors opened, some guys gave us free tickets.  So nice of them!  As we made our way to our seats, a guy named Tyson, who must have been with the production, pulled us aside and handed us three 2nd row tickets. We couldn't believe it.  Second row turned to first row as soon as the show started, and we could honestly rest our arms on the stage, and could see just how tight those jeans are. (hehe)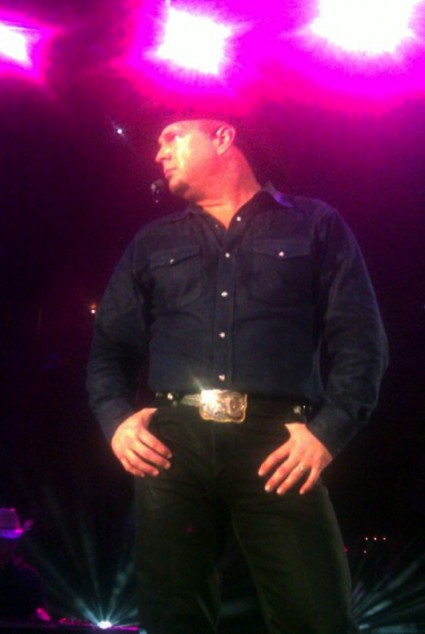 Being next to the stage intensified the show at least 70%.  After looking at my texts from last night, one actually says: "Seriously, this is the best!" That's a review from yours truly in the moment. We got the "love" that I felt was missing in the previous show.
He played WAY longer than last week's show – two or three encores (and he had just played a full 6:00 PM show too).  He gave everything he had, and actually had us complaining about our feet hurting from standing up all night before he threw in the towel. He played every song I knew, and even took audience requests. I got to relive the feeling of hearing "Piano Man" sung by a packed Bridgestone. (Last time was the man himself, Billy Joel).  Brooks closed the evening with "American Pie."  Also, as of now, I'm convinced that Trisha Yearwood has the prettiest voice in Country music.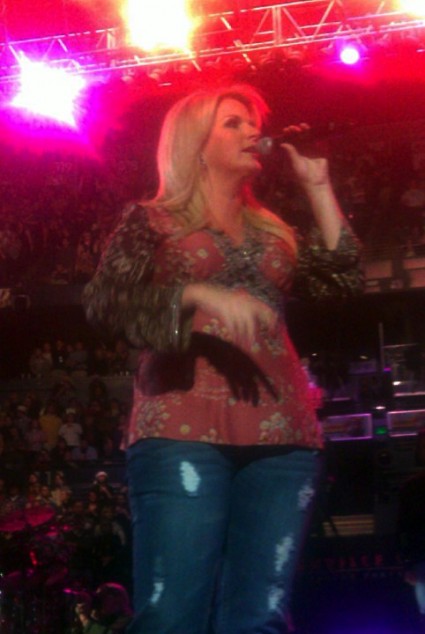 After sleeping on it, I still can't say that it held up to shows like McCartney, Springsteen or Joel/John's Face 2 Face tour, but those are a completely different format. I'm a production girl, so this was not my favorite style of arena show, and especially since I'm new to Country, it's takes exceptional seats and/or  a little "razzle dazzle" to keep me in it.   This was an affordable benefit show – and I understand why it was pretty straight on.  Last night was the ultimate in fun, and last I heard, these Garth and Trisha shows have raised 5 million dollars for the flood. That's insane!  Congrats to Garth, Trisha, their band and the entire Bridgestone Arena staff for an amazing run.  Thank you and Merry Garthmas!
PS. Thanks to www.tennesseeconcerts.com for the repost! Check out their site!
Garth Brooks - Friends in Low Places