Ep. 432 – Usher @ Bridgestone Arena – Nashville, TN 12-27-10
I closed out my 2010 concert year with the hotness that is Usher. Usher is one of those concerts that a woman diets for. Yup, diets for. Not like you're going to run off and sleep with the guy, but you want to look and feel sexy for him…so it feels like he's serenading you specifically. Look at all the work he has done to look good for you. It's only fair, right?
It was one of the best looking audiences that I've seen at the Bridgestone. The girls from the balcony to the front row were decked out in short skirts, stilettos, and flawless hair and makeup, while the men pimped their fedoras and formal threads.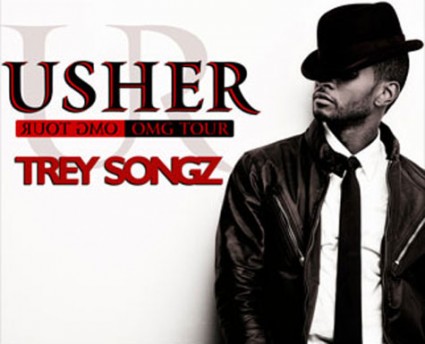 I didn't have any luck finding a ticket until I basically won one off a local radio station that had a tent set up in outside the arena. Thank you, 101.1 The Beat!
I made it to my seat in the stratosphere of the arena at the very end of Trey Songz set, but I could tell by the way people were rushing to get in and raving about him after his opening that it was something I shouldn't have missed.
Video Credit: YouTube User:
ColdHoshi
Waiting for Usher, I got a little antsy. I didn't mind sitting so far away, because I wanted to see all aspects of the show; but, then again, I really wanted to see him up close. After watching Usher's showstopper performance on the VMAs, I was ready for something I've never seen before.
The lights went down and a teaser video played as dancers marched onto the stage with some form of spear-like weapons. I love, love, love, love over-dramatic teasers! Especially, when they make no sense. I can't tell you for the life of me what the theme of this tour was. Still, it got me very excited.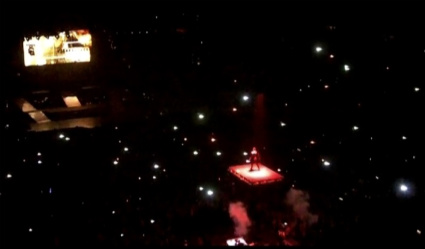 Suddenly, Usher appeared on a platform rising from the back of the floor and floating over the audience before landing on the stage. WTF?! Awesome!
About three songs into the show, he busted out "Yeah," and although afraid I was going to tumble to my death, I couldn't help but get up and try out some of my new XBOX Dance Central moves.
In the first 20 minutes of the show it was clear that this was going to be a dance-heavy, Michael Jackson-inspired show performance-wise.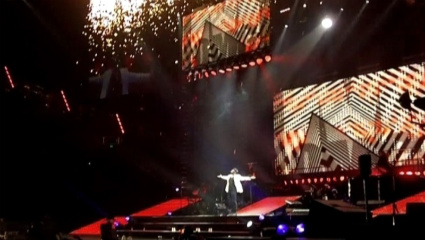 That's when I lost my seat…long story – but I found another one – a better one. I'm happy that I got closer, because the show seemed to plateau at that point.
I hyped this concert up to be much more advanced in the way of stage design and atmosphere. Granted, it was one of the bigger spectacle shows I've seen this year, yet I was expecting Black Eyed Peas to the tenth power, and it fell short of BEP.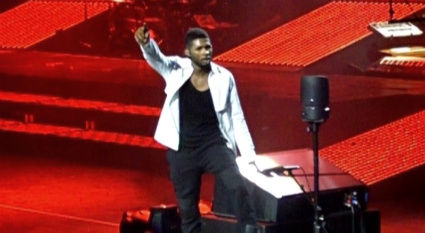 Don't get me wrong, I wasn't disappointed at all. Usher was out of control, and busted his ass more than Justin Timberlake. He rarely just stopped and sang, but when he did – the girls lost their minds.
A highlight for the ladies, was definitely when he picked out a girl from the audience for "Trading Places," brought her up on stage, and pretty much dry-humped her during the song.
Video Credit: YouTube User ColdHoshi
The closing was a club meets arena orgasm, and I left the Bridgestone spent.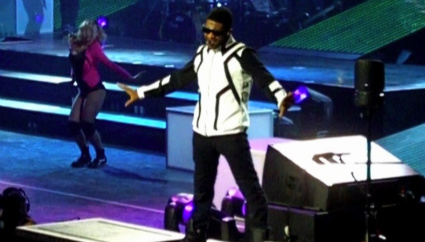 Usher has more hits than you may even realize, and I suggest you see him before he loses that fabulous body. (I don't see that happening anytime in the next decade) Plus, as someone on Twitter said, "I'll probably never see a better moonwalk in person." Keeping the MJ alive. Come back to Nashville, Usher! I'll start my workout regime now in preparation.
For WAY better pictures of this show, check out the ones Heather Byrd from the Tennessean HERE!
I'd also like to congratulate Bridgestone Arena for ranking 6th in the US for concert attendance in 2010 by Pollstar. Bridgestone also secured 17th in world. Kudos to a FANTASTIC venue!
Missed Usher?  Don't miss the next time he comes around. Facebook him, or Twitter him, or something: