Ep.438 – KoЯn, Disturbed, & Sevendust @ Bridgestone Arena – Nashville, TN
I think everyone has a memory that creeps in their head when they hear KoЯn. Whether it be a pissed off memory from childhood, or just an instance when KoЯn was playing. My story revolves around a school project where a couple of students brought their homemade marble maze in front of the class. In order to spruce up their presentation, they decided to soundtrack it with "Blind," and released the marble on its turbulent path right after the "ARE YOU READY?!?!"
Now, I don't remember said presentation, or who told me it happened, but it's all I can think about when I hear that song.
I can't say that I'm an avid Nu-Metal fan, but I can say that it gets my blood pumping, and I find it more enjoyable than full-out Metal. I like a groove. I don't feel as threatened by Nu-Metal, yet I feel the intensity.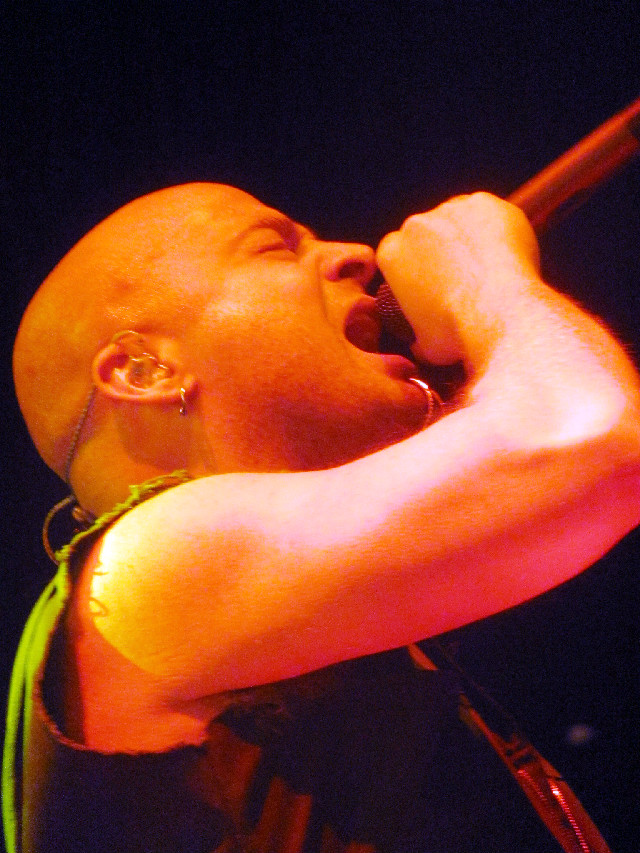 This year's Music as a Weapon tour featured a heavy lineup with Sevendust, Disturbed, and KoЯn. I made it out of work and Downtown in time to catch full sets from Disturbed and KoЯn; unfortunately, missing Sevendust. I guess I was in the dark with this band because they received a lot of praise from the audience, and a few of my friends gave them the nod of approval when I mentioned I was going to this show. I hope they show their faces around here again…perhaps a return to this year's Buzzfest?
When Disturbed made their entrance, I was floored. The sound was loud, but pristine and perfectly mixed. The design setup – a gigantic video screen with other video blocks planted on stage so the band was surrounded by dramatic video. Some of the images reminded me of something Trent Reznor or Tool would do, artistically shot through the eyes and mind of someone traumatized, lost, or neglected. Although, the subject matter may seem dark and morose, the show really satisfied the senses, and can help get those aggressions out in a positive way. I found myself rocking it out, and I don't know much from Disturbed.
KoЯn was up last with far less flair, but far more hits and flashback significance. I had to force myself to be professional and not start pumping my fist from the photo pit. They came out throwing punches from the very beginning with "Blind," all dreadlocked and A.D.I.D.A.S-ed up. Fieldy repped some sweet glow-in-the-dark bass strings. The backdrop was a light silky bunched up cloth, so when the colored lights hit, it created illusions. They soared through the set list playing a handful of hits, a favorite being the bagpipes and nursery rhymes of "Shoots and Ladders" transitioning into a short tease of Metallica's "One."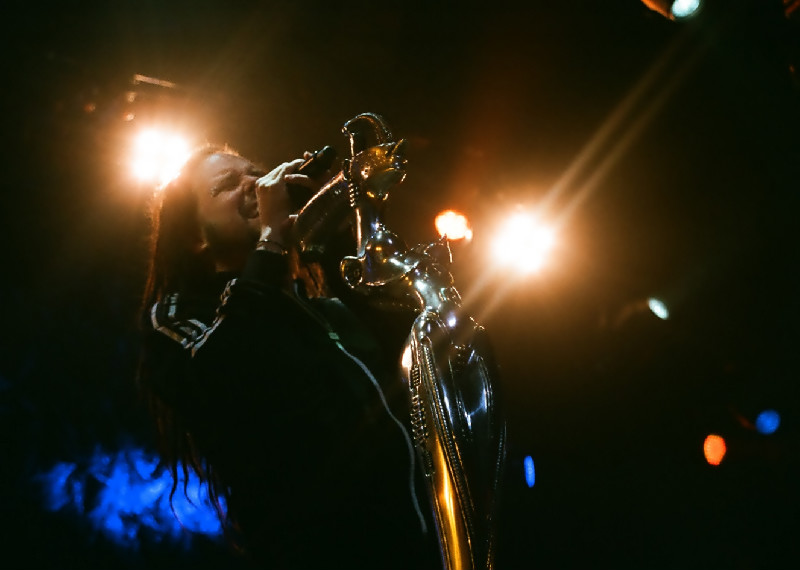 Although KoЯn's set seemed a little short, I think everyone had a healthy fill of moshing and crowd surfing as they headed into the cold Friday night to continue the party – slightly impaired in the hearing department. Sh*t was loud!