Ep.441 – Linkin Park @ Staples Center – Los Angeles, CA – 02/23/11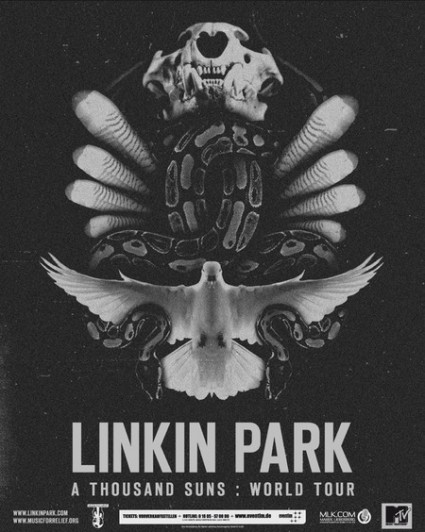 First off, I'd have to say that I am a pretty big Linkin Park fan. At least, a huge fan of their live show that is. They have yet to disappoint and I couldn't wait to see the again. This show landed on the perfect day for us to celebrate YTC's three year anniversary.

The first time we covered Linkin Park was all the way back in 2008 for YTC episode #6. I was bouncing off the wall to see these guys again. They always perform with such perfection. From the moment the band took the stage until the moment they left, the Staples Center was a giant ball of energy. There wasn't an empty seat in the house and each seat seemed to be filled by a fan.
One of the coolest things about this show, was the stage set-up.  It was in the shape of a triangle which made room for more fans into the arena and allowed everyone to be closer to the band.  The stage also had several ramps  that the band utilized throughout the show to run around and rock out on.
The band played a 25-song set that featured some of their biggest hits such as, "Papercut," "Faint," "Numb," "Breaking The Habit," " Shadow Of The Day," "Crawling," " One Step Closer," "In The End," "What I've Done" and " Bleed It Out."  I still couldn't believe how much these guys  rock.
All in all, this was an amazing show and I cant wait to see Linkin Park again. If you are for some reason or another not a fan of Linkin Park, but love to rock, I suggest you check them out because these guys always bring it.
Big ups to those who helped us get into this show and everyone who has supported YTC over the last three years, its been a fun ride and is a long way from being over so, HOLD ON! -lorn