Ep.444 – Yelawolf @ Mercy Lounge – Nashville, TN
After seeing Yelawolf destroy the Village Voice party at SXSW; I wasn't about to miss to miss this show. Heck, I'd even spend $20 to see it, and convince YTC Guy to do the same.
To tell you the truth, I was almost equally excited about seeing Chancellor Warhol and DJ Wick-It. I've seen Chance a couple times and he and his crew turn the crowd upside down when they take the stage.
They've been landing some serious gigs as of late including a Bonnaroo spot, sharing a bill with Questlove, and coming up tomorrow night, a show with Kid Cudi at MAI.
Video from Breakonacloud.com
We had never seen local DJ WICK-IT the Instigator's set, but had heard all the hype around his Black Keys/Big Boi mash-up. (which you can download for free here: http://mashville.bandcamp.com/album/the-brothers-of-chico-dusty ) Honestly, I think one of the guys in the video review put it perfectly. "He's like Girl Talk on acid."
I broke out my very "best" dance moves (which is horribly embarrassing to recollect) for this set. Everything from Ace of Base to Metallica, there was no stopping it. The audience was blown away, and probably didn't even realize that Yelawolf was running late.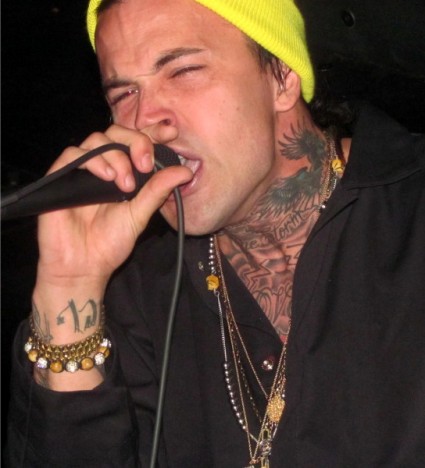 Now we know that Yela had a reasonable excuse. He calls Nashville his second home and was having dinner with his mother and some old friends before the show.
Yelawolf started it off with "Trunk Muzik," and as one Facebook user described, it felt like the floor was going to give out from all the jumping. Really, the Mercy wasn't that packed compared to some shows I've seen there, but the energy was at the highest level I've seen/felt at the club.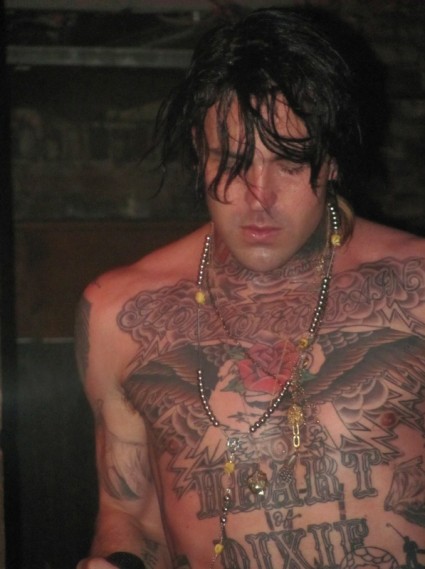 What do I love most about Yelawolf? Yes, skinny dudes covered in tattoos do it for me, but the main attraction is how fast he can rap. It's ridiculous; like a hot Micro Machine Man. Plus, he seems hard, but approachable.
At one point he brought his mother out on stage and she was glowing with pride. She was taking pictures of the audience and eating up every second of the "hometown" love. When her son asked for a shot of bourbon, she had no shame in handing him a bottle. How nurturing. (JK…my mother would probably do the same for me.) She's a cool mom.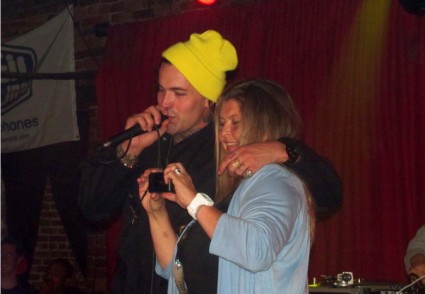 He went on to introduce the next song with a kind of uncomfortable intro, explaining that his mom had him at 15 years old and that she was how he discovered weed. I wondered if that bothered her, but it didn't seem like it. Then again, if my son making bank by rhyming about the life I gave him, I guess it wouldn't bother me either.
I'm not an expert on Yelawolf yet, but the set seemed to be the same as I saw at SXSW. Both shows were excellent; he didn't let up because this was a smaller crowd and club.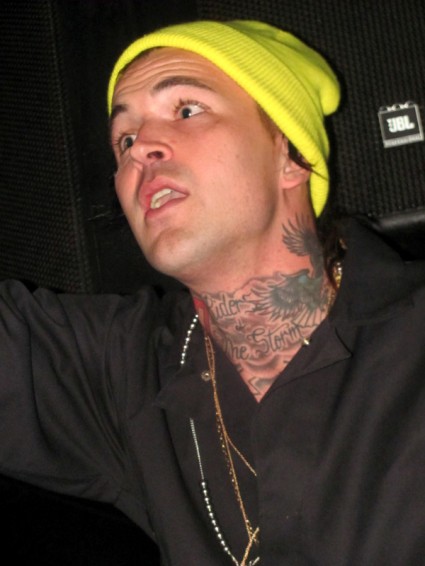 After sleeping on it though, I liked the SXSW show better because it was my first experience seeing him live. He was the best part of that party and Wu-Tang Clan was the headliner. It's not that the show was better, it's the factors around it: being at a huge music festival at a venue I've never been to, rolling VIP, not having to work in the morning, etc.
I left feeling that I got my $20 worth (Guy did too).  I would've felt super satisfied if I caught his yellow hat that he threw out into the audience.
If you're a fan of any of the bands mentioned or have seen them live, be sure to comment with your thoughts and reviews!