Ep.445 – SXSW 2011 Fan Reviews Part 1 – Austin, TX
After a month of recovery, I'm finally ready to relive SXSW with y'all. As I mentioned before, I decided to bus it to Austin. This was a whole other adventure in itself. If you care, I wrote some long-ass posts about it on my personal blog.
Fast forward through the 20 hours it took to get to my hotel. I checked into the Hilton at the airport, showered, and waited out front for the R&R shuttle. This shuttle pass was the best investment of my trip, and I highly suggest getting one. Cabs are pricey and seemed hard to come by.
For $50, you have rides for the week and peace of mind that you won't be stranded. Also, the shuttles are a great networking opportunity and a way to find out about what's going on. Everyone is exchanging business cards, talking about the best bands they've seen, listing shows they are going to see, and sharing rumors they've heard regarding secret shows. It gets really fun at night when everyone is a little silly.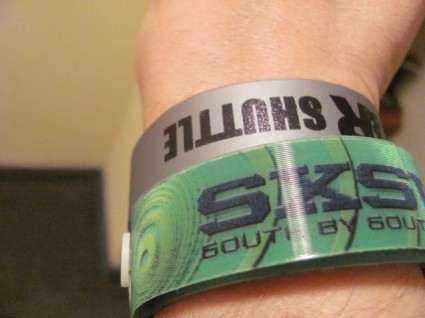 The shuttle actually helped me stay to my self-inflicted 2:00 AM curfew. The last thing I wanted was to be hungover in a hotel bed missing all the music I had yet to discover. Just make sure that your hotel is on the shuttle stop list.
The first person I saw when I got to the poster-plastered convention center was my brother-in-law, Stu. I got my wristband and we decided to walk around and just take it all in.
Austin rules. The main drag, 6th Street, reminds me of Nashville's Broadway except it's about three times bigger and the bands don't all play Country covers. It's a killer vibe.
Stu and I would hear something that sounded promising from the street, pop into the bar, have a beer, and then move on. It was the perfect way to figure out where everything was and ease into madness. Try suspending your agenda for a few hours upon arrival and let serendipity lead.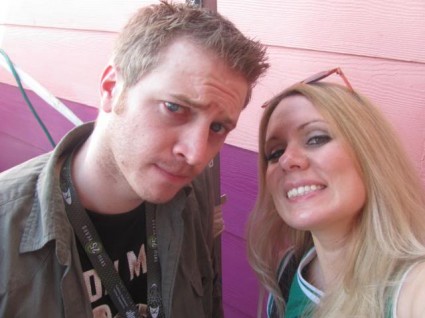 We met up with some of Stu's buddies for dinner; really smart guys, tech guys. If you're in the music industry you should really check out their service "RockDex." It tracks an artist's online presence, which is obviously a huge factor today. This data can show you where the artist's fans are, who's blogging about them, which of the artists songs are being played most, and it's really affordable.
I had an amazing goat cheese quesadilla that pretty much changed my life…until I had Hoboken Pie pizza later in my trip. The food in Austin is out of this world, and I love how there are a lot of healthy and vegetarian options around that are different and flavorful. Of course, I didn't care about calories since I was eating once a day and walking and dancing around all day, everyday.
However, it's nice to know that if I lived there, I wouldn't be forced to eat bland salads all the time. Don't get me wrong, Nashville's a great city and there are amazing restaurants and choices for conscious eaters, but a lot of the touristy stuff is all fatty and fried.
Let's get down to the music! After dinner, I headed to Emo's so that I could catch Bad Brains.
The words "Get There Early" were on every RSVP confirmation that I received, so I figured getting into shows at SXSW was going to be a lot of waiting in line. I got to showcases when they started or 30 minutes after and didn't have to wait at all. Of course, I also didn't bounce between showcases too much. I went to a party and usually stayed there until the end.
Bad Brains is one of my husband's favorites. He has Bad Brains sneakers. Dude would be so disappointed if I wasn't there to represent the Heidemanns. Luckily, Stu showed up too, so we could both rub it in his face via texts and pictures.
I literally bumped into three people I knew from Nashville – in different places in the club. As I watched this band called Skrew, I was wondering why more people weren't filing in. Then, I realized that I wasn't in the main room of the club. Total bottled-blonde moment.
OFF! played before Bad Brains, and we got a big kick out of their 90 seconds or less punk songs. It's not my genre of choice, but I'm totally down to get crazy at a punk show every once in a while. This band had it down…so, so, fun! Singer, Keith Morris of Circle Jerks/Black Flag is a huge stage presence with great stories, crazy eyes, and pure passion.
I read that on the way to Austin, OFF! got arrested for stealing vegetable oil to fuel their van, which scored them some extra cool points. I ended up checking out their set at the SPIN party a couple days later. Definitely one of my highlights.
As Bad Brains sound checked, I landed a spot at the front of the stage. Soon, I could feel more and more bodies squeezing in (mostly sweaty men) and realized I was in for trouble. The band came out and the audience went nuts.
I heard HR used to do back flips, but now he stood humbly with his hands crossed. The crowd did the exact opposite. Once they started up, I was immediately tossed around, moshed upon, crowd surfed on – but, really, what did I expect? After I recorded my 30 seconds of video, I squeezed my way to the safety of the outskirts and enjoyed the see-saw movement of the set teetering between reggae and hardcore punk.
I tried hitting up Duran Duran at Stubb's, but the line was all the way down the street and the show was about to start. I surrendered and made my way back to my Hilton headquarters.
The next morning was St. Patrick's Day. Being from Massachusetts originally, I decided to bring it back to my roots and get reckless with the Massholes at the Boston to Austin event presented by DigBoston.com and Converse. While there, I bumped into a friend of mine from high school who I hadn't seen in over ten years. He was in town playing with his band, The Wandas, who I checked out online recently and loved. They have this Neil Diamond quality that sets them apart from anything I've seen in the past couple of years. I was so proud of my old friend!
Check out their Balcony TV performance:
The band that caught my ear at the Boston to Austin party was Kingsley Flood. Maybe living in Nashville has made me a sucker for that root rock sound, but there was also something alternative and hip about this group. The use of so many instruments was a big attention-getter.
A list in their bio describing their 2010 Dust Windows release reads: "The band joins classic instrumentation—fiddle, banjo and mandolin—with offbeat contributions from toy organ, trumpet and even some peepers from a nearby swamp."
You'd think it might get too busy or overdone, but Kingsley Flood makes it work for a perfect balance where nothing gets lost. Nashville would love this group. Come play in Nashville, Kingsley Flood! Below is a video Converse (a sponsor of the event) put together.  "I Don't Wanna Go Home" by Kingsley Flood is the soundtrack.
Next, I went to Beauty Bar to catch a Canadian showcase that a buddy I met on the Greyhound told me about. (Yes, he took the bus from Canada!) This was where my only devastating moment occurred.
A quick scan of the crowd, and who is standing five feet in front of me? Michael Cera. He's in a band (Mr. Heavenly) that was playing the party. Of course, I pull out my phone hoping to snap a quick TwitPic, but Cera wasn't having it.
He responded to my fan request with a simple, "It's not a good time. Nice to meet you." Dumbfounded, disappointed, and a little embarrassed, I walked away with an uncomfortable smile on my face. Don't be famous then. Okay, that's harsh; dude just wanted some normalcy and can't have it. Still, I'm going to write about it and tell my friends about it, and those who hear the story will probably tell their friends at a future Juno screening.
I wanted to see his band even after "the incident," but something else came up. I didn't feel the need to stick around. Here's a video of their set from the PopMontreal YouTube channel:
We left the Nacho House to hook up with some friends that had just got back from the Warner Brother's shindig. Some of the crowd went to the conference for a bit, while Margo and I hit up the BureauExport tent for some French bands and free wine.
Tahiti 80 was on stage and their synth-pop got our toes a-tapping. Actually, by their closing song, "Crack Up," I was in full-out dance mode. According to their Wikipedia page, the band has been around since 1993. I just wondered why I hadn't heard more buzz about them, especially during the whole Phoenix craze. They may have been exploring other projects or styles at the complete wrong time, or maybe chose not to be lumped together with Phoenix's success.
Tahiti 80's live performance was fun to watch. They changed up instruments and connected with each other. That's something more bands need to do – show that they are having fun working together. Bands: acknowledge your fellow band mates and not just the audience. I left that tent a big fan.
Next on the agenda, was the Entertainment Weekly party, mostly to score some free pre-dinner cocktails. The band playing was Fitz & the Tantrums, and their name was all over the festival. I guess they opened some dates for Maroon 5 last year, which probably got them lots of exposure. They didn't do much for me, but the guests seemed into it. They were a good match for the type of party this was – kind of a swanky affair.
After dinner, we headed to the Village Voice party at Austin Music Hall, which featured a DJ set by Erykah Badu, Yelawolf (who was spotted showing off his skateboarding skills earlier in the day), and headliner, Wu-Tang Clan. We managed to get VIP passes to this party; hanging rooftop, which was the perfect place to enjoy the post-Strokes show firework display.
Yelawolf lived up to every single expectation, and as I said in my post from his past Nashville show, he was a thousand times more entertaining than Wu-Tang Clan. I hate to say that, because listening to Wu-Tang brings back many high school memories, but the show took forever to start and some of the true heavy-hitters of the group weren't there. It seemed a little lazy to me. I'm glad I went, but I did leave early.
It was recently announced that Yelawolf was added to Wu-Tang's UK tour. I think it's safe to say that Yelawolf impressed some of the hardest in the business. He should be proud.
Stay tuned for more belated SXSW coverage.