Ep.451 – Lady Gaga @ Bridgestone Arena – Nashville, TN 4-19-11
Lady Gaga @ Bridgestone Arena Video Concert Review
It's crazy to think that less than three years ago, I was driving through Encino, California jamming out to "Big Girl Now" on the New Kids on the Block reunion album thinking, "Daaaay-um, they got Xtina to sing on this track!" But it wasn't Christina Aguilera; it was Lady Gaga – and today she's the hugest female pop star since Britney, and the closest thing we've seen to the next Madonna.
This chick has blown up! It's amazing how fast it happens!
Colleen and I got dropped off at the Bridgestone Arena and it was a circus of glitter, caution tape, queens, blonde wigs, lightning bolts, even haters with microphone headsets calling people sinners. Yes, they too needed a piece of the Gaga action.
I mean, people rented limos for this thing. I was actually excited that we still had to hunt for tickets out front, because that display was better than Halloween!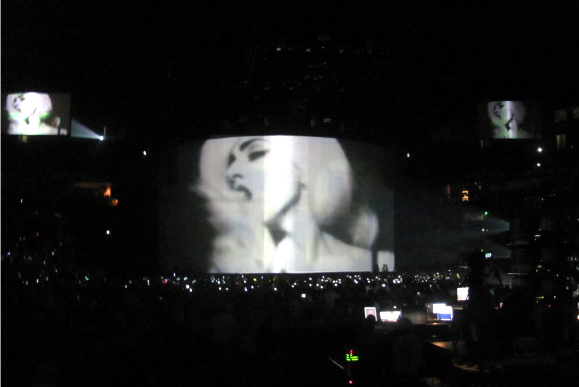 I had seen a few Gaga performances in the past – opening act and club shows. As awesome as it is to say that, this full-scale concert was much better. Before people really knew who she was, you could tell that she was putting on an act. The love changes her routine completely. She feeds off her little monsters, and what was once a costume and an act has meaning and life.
It was like being at the best self-help seminar ever. There was encouragement and positivity, as if everyone in the that venue was meant to be there by the forces that be, and everything going on outside the venue had froze for a few hours.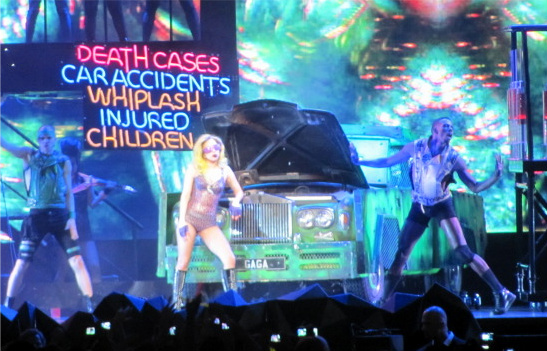 You hear it time and time again throughout life, the old "be yourself and love yourself" mumbo-jumbo, but it only hits home when you really need it and when the person saying it truly means it. Tears were shed during her speech…from thine eyes.
As much as her fans need a pep rally, I believe the Lady herself needs one too. It takes a lot of guts to wear a meat dress in front of A-list celebs, and simply do what she does. That's why I think the love plays such a big part for her performance.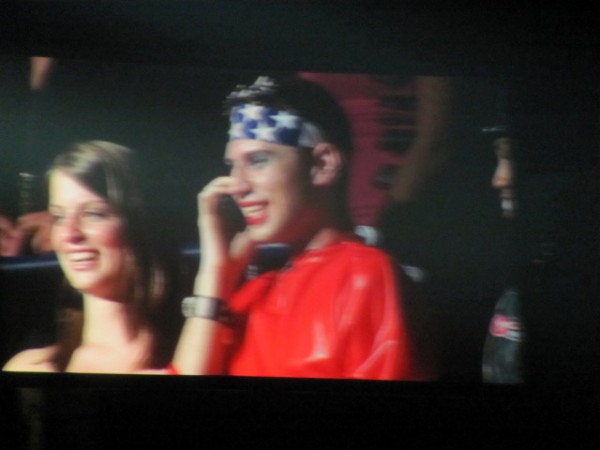 At one point in the show, Gaga calls someone from the audience. (You can sign up to win in the lobby before the show) I couldn't be happier with the recipient. He was a strong representative for the crowd – well-spoken and honest, and Gaga was touched by the kind words he had to say.

The show itself was fierce! Lots of skin, tons of dancing, actual theatrical stage sets (not just video), and costume changes up the wazoo! She didn't lip-sync, and her dancing has improved immensely. I was talking about the show at a party the other day, and someone reminded me that at one point she played the piano with her feet! C'mon now, how awesome is that?
The setlist was hot! Everything from "Boys, Boys, Boys" to "Born this Way." One of my favorite Gaga tunes that has never got enough credit is "Starstruck." She didn't play it, and that bummed me out a little. I also would have loved to hear "Speechless," but it's important to get the new songs out there.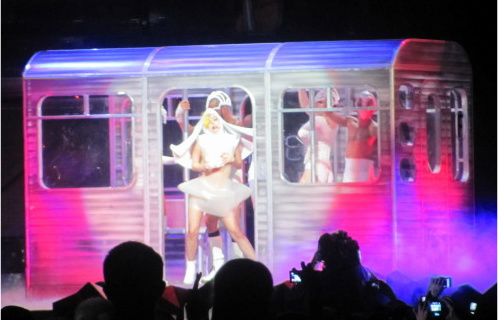 The show ended and we beat the tornado sirens to "Play" dance club for the after party. Rumors were that she would show up, but I never saw her. The Gaga look-a-like drag show was top-notch though, and as the high-winds tore up Nashville – we danced like we were extras in Britney's "Till the World Ends" video.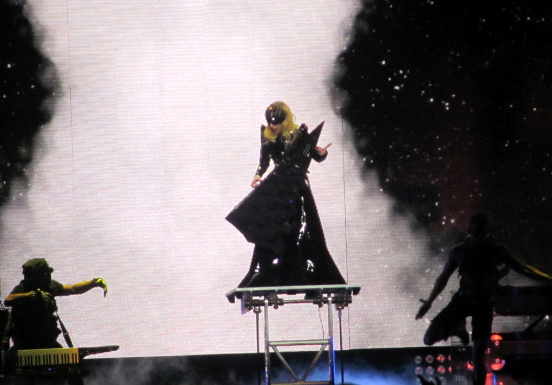 This post is dedicated to my Gaga Girl – Jennifer Quiroz!