Ep.452 – SXSW 2011 Part Two – Austin, TX
You thought I ditched the rest of my SXSW coverage, didn't you? Or maybe you didn't even notice…or care for that matter; too bad, you're getting it. Part Two comin' at ya!
I woke up early on Friday to indulge in the BMI Brunch at the Four Seasons, and check out The Civil Wars. Their name had been popping up all over the place, and then the one-and-only Taylor Swift pumped out lots of priceless online promotion through Twitter mentions and adding them to her published iTunes playlist. She even attended their show at Nashville's Belcourt Theater.
I got to the party right as The Civil Wars were being introduced. The strong breeze combined with a complimentary Bloody Mary and the duo's romantic folk made for a beautiful morning and start to the day.
BMI knows how to plan an event. This was a classy lawn party with a delicious buffet that blessed me with my first ever breakfast taco. Yum! After going to numerous #1 parties in Nashville and seeing how they roll at SXSW, I would suggest BMI to all musicians when choosing a P.R.O.
Next up, was the SPIN party at Stubb's. I got there and OFF! was playing, who I had seen at the Bad Brains show a couple nights before. Once again, they kicked ass, and this time I got to be right up front. Guitarist, Dimitris Coats, got my attention this time. Not only is he hot, but he busts out the best power poses and jumps. Turns out his other band, Burning Brides, is great too – throwback rock with grunge tendencies, and Coats' voice is a rock band's dream – gritty, but pleasurable.
It seemed that the acts most people were psyched about were TV on the Radio, The Kills, and The Vaccines. Personally, OMD was my favorite. I didn't have a clue who they were until I ran into an acquaintance who put me in check. "You know the song, 'If You Leave' from the '80s…" Ohhhhh, yeah!
Video Credit: YouTube User maitai212
First of all, OMD was introduced by Moby, which was a surprise and got people moving to the front. Then, OMD came out and brought the dance the crowd needed. Singer, Andy McCluskey, has moves like a zoned out festival dude, which is seriously contagious – especially when listening to synthpop. Watching him do his thing loosened everyone up, and when OMD got into that "Pretty in Pink" classic – those who weren't dancing gave in – bouncy sidesteps and snaps all around. Then, Moby came out again to play bass on a couple numbers! Loving something completely unexpected is the best part of SXSW.
SPIN also booked DJ's to play in between sets and Skrillex and Wolfgang Gartner lived up to their reputation.
As the party winded down, I started to get antsy. In just a few hours, I would see the sexiest, funkiest band in the land – Chromeo. Green Label Sound had a showcase set up at La Zona Rosa with Theophilus London, The Cool Kids, Mac Miller, and Chromeo.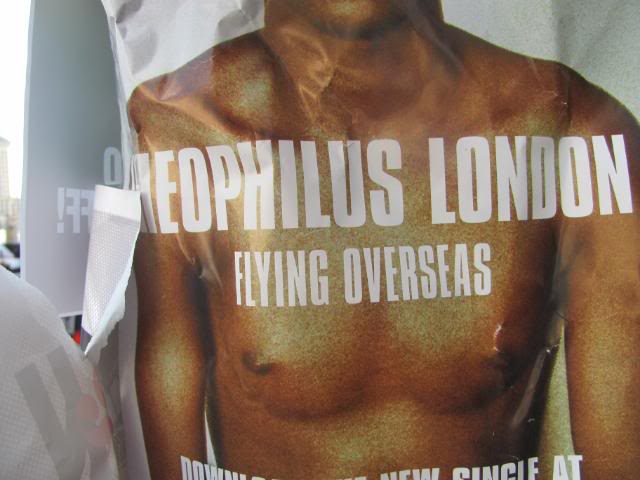 Theophilus London posters were an eye-catcher, displaying his hot bod and no head. When he got on stage I was a little confused – he looked like he could've been 40 years old, but I couldn't see his face. Maybe it was his attire or his movements that threw me off, but the show wasn't aged at all.
He dominated that opening slot, impressing the incoming crowd with his skills and closing by "making it rain" on the audience. I'm sure it wasn't real money, but it was still cool. I can't confirm how old he is online, but what I've read says he's in his early 20's and after seeing some pics – I buy it; nothing wrong with coming off mature. Especially, when the next acts looked like they came straight from a high school keg party.
That's not a bad thing either. The Cool Kids were party masters with a performance style and camaraderie similar to LMFAO (I know, LMFAO is always on my mind) without all the bells and whistles. Meaning, The Cool Kids are more serious than LMFAO and don't have that electro quality , but the show feels the same – like a couple of friends running the room. The name suits the situation – "The Cool Kids."
Mac Miller was great too – young, adorable, and having the time of his life on stage. I think we all have had one or two white kids in our high school that weren't afraid to get out there and start rapping. You probably laughed at it until they decided to play their demo or freestyle at a bonfire – and they ended up being really good!
The only two songs ever written for me were by high school rappers, so I have a soft spot for this Mac Miller character. I hope he gets a few big hits to live off of for the rest of his life.
Classixx DJ'ed between sets, catching the ear of a booker at Nashville's Mercy Lounge; we can only hope they saw that tweet asking them to gig at the venue.
The moment had arrived. I squished my way to the front of the stage and joined in with the "CHROOOOOMEEEEO- OOOOOH OH" chant. I also gave a long-winded sales pitch to the dude beside me, telling him how much fun he was going to have.
Dave 1 and P-Thugg delivered again. This time, I heard a few newer songs and they even did a little memorial for Nate Dogg (who died earlier in the week). They covered his solo in Snoop's "Ain't No Fun." Dirty, but appropriate. I can't stress enough how important it is to see Chromeo.
They look like they are having just as much fun as the audience, and you'll lose at least 300 calories from dancing. If you're lucky, maybe Dave 1 will hold your hand for a strong three seconds before heading backstage. Yeah, it happened to me, and it ruled.
On my way back to the shuttle, people asked who I saw because I looked so happy. I had sweet Chromeo dreams indeed.
My final installment of SXSW is coming soon. Hang tight!