Ep.458 – Sleigh Bells @ Cannery Ballroom – Nashville, TN 5-4-11
I've been saving this because as we approach Bonnaroo, I want to make sure all you lucky bastards attending the sold-out festival fit Sleigh Bells into your schedule if you haven't sent them yet; Thursday – 10:15 at "The Other Tent!"
After seeing the chaotic pictures from the Sleigh Bells show at The End in 2010, I knew I had to check them out when they returned last month. Accompanied by the amazing CSS (whose name is Beyoncé-inspired – Wikipedia it), this year's trip to Nashville put the duo in a much bigger venue – the Cannery Ballroom.
CSS took the stage first, which was a surprise, but I guess the bands shared the headliner spot throughout the tour, alternating back and forth. CSS's mix of foreign flare and playful electroclash was something we don't get here in Nashville very often. It was a lot of fun.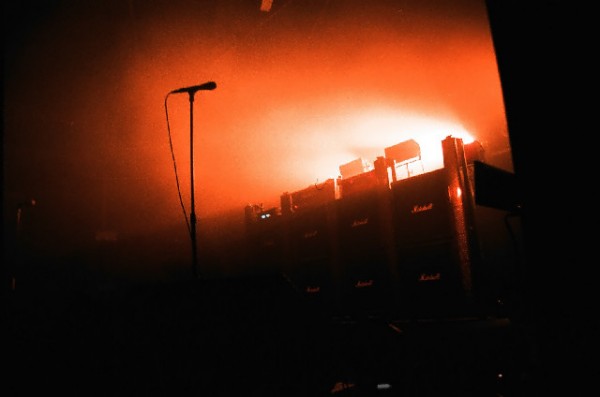 I'm not sure if it was the drinks kicking in amongst the crowd, but Sleigh Bells seemed to get an equal, if not stronger response when they started their set. A wall of amps served as the backdrop of show, and although there is only two of them, Sleigh Bells filled the stage and room with force and power.
It was hard to believe that just the night before frontwoman, Alexis Krauss, smashed her head open on a guitar during the Sleigh Bells set. You'd think she'd tone it down a notch, but nope, just as she continued performing with a bleeding head when the incident happened, she rocked the f**k out.
Although the music is completely different, Krauss reminds me a lot of Crystal Castles' Alice Glass. Both are strikingly gorgeous with sexual misfit stage intensity. Glass comes off darker, but they both know how to grab attention and work a strobe light.
I love when songs infuse claps and stomps, but as of late, the only tunes coming to my head that have that saucy zip are by Gwen Stefani and Avril Lavigne. If you're one of the many that refuse to admit that those thumping pop numbers get your head bopping, Sleigh Bells is for you.
Sleigh Bells is bad ass; like what you'd expect from the pep squad at a vocational school, or a team of high school outcasts making fun of the pre-big game assembly. They take that addictive cheerleader rock, dirty it up, "punkify" it, and add a tinge of Beastie Boyish accents and phrasing; tasty!
Instead of feeling the urge to bust into choreographed routines and toe touches, you want to head bang and mosh until you're a sweaty mess. Bonnaroo Class of 2011, do yourselves a favor and see Sleigh Bells. Have the greatest time ever, and feel free to share your pics, reviews, and stories with us. I'd love to post them.
You can send them to chrystal (at) youtellconcerts (dot) com.
Find out more about Sleigh Bells at www.infinitybells.com
Sleigh Bells – Infinity Guitars
Sleigh Bells Tour Dates

[bandsintown_events artist="sleigh bells" display_limit="10"]