Ep.461 – CMA Fest 2011 – Nashville, TN
CMA FEST 2011 VIDEO FAN REVIEWS
CMA FEST 2011 – NASHVILLE, TN – June 9th-12th, 2011
After receiving a big ole fat "declined" email in response to my Bonnaroo media application, I had to think long and hard about shelling out $300 to sweat it out on the farm without the luxuries of the press area.
Since CMA Fest is always scheduled for the same weekend, I decided it would be best to stay in town and see what goes down for the Country music fans. After all, it was CMA Fest's 40th Anniversary, and Bonnaroo's 10th. Seniority prevails.
Not only was this the proper decision for my wallet and physical well-being, it clearly was the best choice for You Tell Concerts purposes as well – for a couple of reasons. First, we've already covered Bonnaroo in the past; and second, YTC is all about the fans and CMA Fest is specifically labeled to be a fan experience.
In addition to four nights of concerts at LP Field, which feature the top artists in the genre, plus special surprise guests, there are tons of other events that go on throughout the week that cater to the fan – thanking them for their support.
* People can attend the "Fan Fair" exhibit hall at the Convention Center, which has a huge schedule of artist meet-and-greet opportunities.
* There are fan club parties all over town that you can find out about on your favorite artist's website, or a simple Google search for a list.
* The annual City of Hope celebrity softball challenge is always a fun time, where the Grand Ole Opry team takes on the After MidNite with Blair Garner team in a goofy game to raise money and awareness for cancer research. This year's players included American Idols Lauren Alaina and Scotty McCreery, Vince Gill, Dierks Bentley, David Nail, Chuck Wicks, and Jake Owen, among others.
I got to cover some of these side events for my day job. Check out the video highlights of the game below:
If you join the CMA Fest text "mob," you'll be notified of pop-up events and signings, as well as a ton of contests and scavenger hunts that could lead to ticket upgrades, autographed items and more.
As mentioned before, the A-list play LP Field. Free concerts are at the Riverfront all is kind of a mixed lineup of newcomers and "well-knowns." The up-and-comers usually play the Bridgestone Arena plaza stage. This way, Fest-goers get a taste of everything – the currents, the legends, and new faces.
While the CMA Fest patrons can get wild, it's also a very family-friendly festival. There's a kick-off parade to get everyone jazzed for the next few days. Broadway is shut down during Fest and divided into "zones" with sponsor booths, swag, misting stations (it's hot out), signings, games, and smaller stages with cover bands and public artist interviews. Not really an activity for the kids, but Jack Daniels even had a trailer set up so people could take a lightning round distillery tour.
Did you know Jack Daniels died from foot complications after kicking a safe in anger?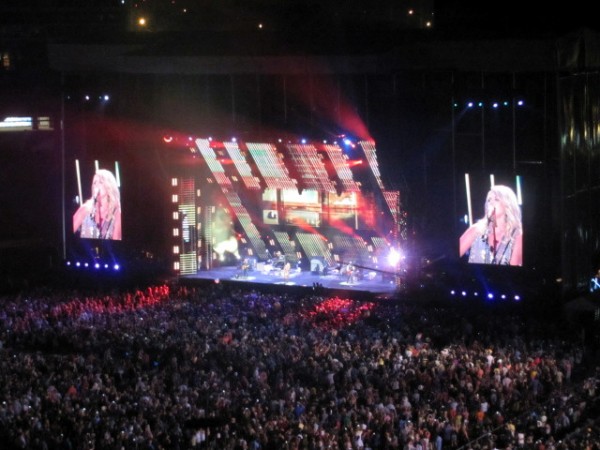 Now, I was very particular about the Country music I listened to prior to moving to Nashville, but I'll admit, it has grown on me after being submerged in it for a couple of years. After meeting a bunch of the artists face-to-face, I can't help but admire how thankful and how hard-working they are, and also, how comfortable they are in their own skin. The CMA Fest experience helped me "come out of the closet" and openly admit that I indeed like the format and the lifestyle surrounding it.
My sister and I went to all four nights at LP Field. I think I was the craziest for Reba, but Jason Aldean has won me over. Especially, because Kelly Clarkson took the stage for "Don't You Wanna Stay." I love her voice, effin' love it. Trace Adkins is the coolest dude ever. It's like watching a wrestler sing karaoke – really well.
Blake Shelton killed me with his version of "My Prerogative," while reliving growing up through a series of covers. Speaking of covers, Josh Kelley busted out Snoop's "Lodi Dodi" at the Riverfront and The Cleverlys rocked out The Bangles' "Walk Like an Egyptian" and Black Eyed Peas' "I Gotta Feeling" Bluegrass-style.
The LP shows were great, but my favorite part of the weekend was going to Keith Urban's fan club party, where we got a sneak peek at his "Get Closer" tour. It was a rehearsal, so there were some flub-ups, but that's what made it special. He obviously didn't do the whole show, but he played a good amount of songs, and it was a once-in-a-lifetime opportunity to have an inside look – seeing him and his band practice in a near-empty arena.
Here's my coverage video:
We also went to Miranda Lambert's fan party at Nashville Palace. I can't get enough of Miranda and her sassy-style. In a time of radio crossover, Miranda keeps it Southern and I think a lot of core Country fans appreciate that. Here new trio project, Pistol Annies, has that same vibe and I hope they get huge. She mentioned that it's been awhile since there's been a project like "The Highwaymen," and she believes it's important for artists to group together for side projects like this and expand on their creativity.
Here's my video from that event:
So, it turned out okay that I didn't get to Manchester this year. I mean, don't get me wrong, I would have loved to go. However, it was an eventful weekend – a lot of work and little sleep, but a lot of fun too.
Oh, and did I mention that I got my Tiffany album signed by the woman herself?
That's pretty cool!
For more information on CMA Fest, check out www.cmafest.com!