Ep.463 – Britney Spears @ Staples Center – Los Angeles, CA – 06/20/11
I have to admit, I have never been much of a Britney Spears fan. I have even been a hater. Looking back on it, I am not exactly sure why on either accounts, especially after seeing Britney Spears live. Britney Spears puts on a top-rate and extremely entertaining show where I, somehow, knew the words to almost every song.
Britney Spears @ Staples Center Video Concert Review
The show took place at Staples Center, and even with the cheapest Britney Spears tickets starting around $100 a piece the place was packed. The crowd was filled with energy and everyone was more than excited to see Britney Spears. There was def excitement in the air. From the moment Britney Spears hit the stage, the Staples Center became home to an all-out spectacle.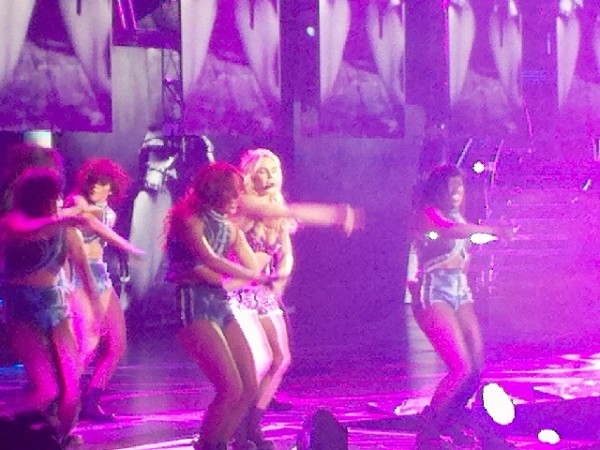 Britney Spears' "Femme Fatale" reminded me a lot of an adult version of a Disney parade.  That is not a bad thing by any means.  There were just a lot of floats and back-up dancers throughout the show.  During the show Britney Spears managed to ride a neon-pink Mini Cooper, a giant glittery silver guitar, motorcycles and even an old-school Egyptian-style boat.  Britney Spears did a lot of lip-syncing, which was expected, but she managed to sing a lot of the verses as well -which surprised me.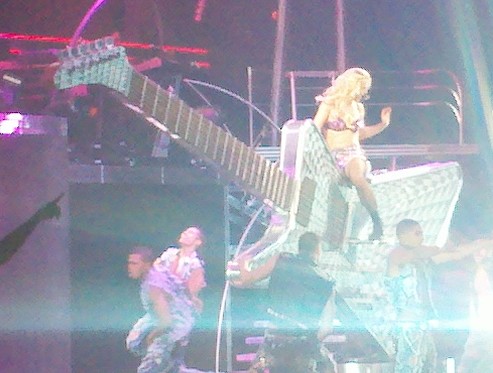 The set opened with Britney Spears first single off of her "Femme Fatale" album, "Hold It Against Me" and continued with such hits as "Piece of Me," "Gimme More," "Baby One More Time," "Womanizer," "Toxic," and "Till The World Ends."  She even did covers of Rihanna's "S&M" and Madonna's "Burning Up."  Nicki Manaj joined Britney Spears for the remix version of "Till The Worlds End," which I would have to say, ended up being my highlight of the show. Most of Britney Spears older songs were dub-step remixes, which made this show a lot more appealing to her younger fans and breathed a good amount of fresh air into Britney's "classic" tracks.
Britney Spears @ Staples Center 06/20/11 Setlist
Hold It Against Me
Up n' Down
3
Piece of Me
Big Fat Bass
How I Roll
Lace and Leather
If U Seek Amy
Gimme More
(Drop Dead) Beautiful
He About to Lose Me
Boys (The Co-Ed Remix)
Don't Let Me Be The Last To Know
…Baby One More Time
S&M (Rihanna cover)
Trouble for Me
I'm a Slave 4 U
Burning Up (Madonna cover)
I Wanna Go
Womanizer
Toxic
Till the World Ends (Remix) w/Nicki Minaj
I have to say,  I wish I would have seen Britney Spears a few times before this. The  Britney Spears show ended up being a lot more than I expected and is nothing to scoff at, if you aren't a Britney Spears fan.  I was shocked at how diverse the crowd was and that Britney Spears was able to bring so many different people out.  All in all, the Britney Spears "Femme Fatale" tour is worth catching especially if you are a fan of the music or just looking to see an over-the-top show.  -lorn