Ep.469 – Mötley Crüe & Poison @ Bridgestone Arena – Nashville, TN 7-3-11
Mötley Crüe & Poison Fan Reviews in Nashville
Mötley Crüe & Poison @ Bridgestone Arena – 7-3-11
Nashville was the place to be over 4th of July weekend.  While a more conscientious and reserved U2 crowd took the town on Saturday night, the Sabbath (oddly enough) brought out a wild & rowdy "crüe"  of sinners that were ready for an 80′s "extravaGLAMza."
This tour marked the 30th Anniversary for  Mötley Crüe, 25 years for Poison, and the band that instigated it all, New York Dolls, pushing 40.  Personally, Poison was my band of choice on the line-up. They've rocked my face since elementary school, when I bought "Open Up and Say…Ahh!"  to impress my crush, Scott Wrenn. My love for dear old Scotty has since fizzled, but part of my heart will always belong to Poison.
Those monster hits just got better throughout college parties, karaoke nights, and of course, the live shows. After seeing Poison a handful of times, yes, it's pretty much the same show every time; but, hey…if it ain't broke. The set list is strong. Bret's walk, sing, point routine is a trusty standby, and I respect their allegiance to the era in style and stage design.
Poison killed it. "Fallen Angel" – always my fav, and Bret gets increasing loveable year after year with his appreciation of life and support for our troops.
Mötley Crüe has a lot to live up to – for me anyway.  I saw them a couple of years back, and it was fun, but nothing I'd write home-sweet-home about (bah-bum-bum).  I found I was watching the crowd more than the band. Up until this show, the main Crüe attraction for me was Tommy Lee. I love me a drummer.

Video Credit: YouTube User Tiggy3323
Well, Mötley Crüe set me straight this time around. They had these two chicks actually singing, in addition to their seductive responsibilities.  It made the role far less trashy, spiced up the performance and the sound.  Mötley Crüe as a whole didn't seem as cheesy, but Tommy Lee still stole the show for me. Tommy's "Drum Coaster" was the coolest solo stunt I've seen, it was even cooler when he brought an audience member up on stage to ride  on it with him.   The backup tracks to the solo were bass-driven electronic beats that made me wonder if he's been working on some DJ projects – looks like he is: http://tommylee.com/category/tommy-lee-dj-aero/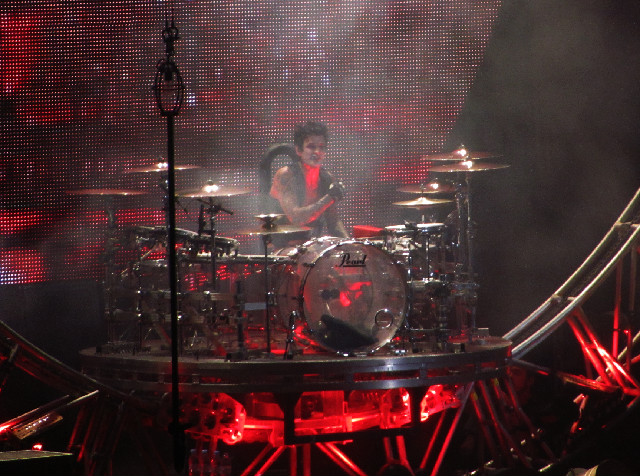 Another favorite moment was when a quick shot of Justin Bieber was shown in the slideshow during "Girls, Girls, Girls;" a fun and hilarious nod toward modern pop-culture.
When it comes down to it, Mötley Crüe  has all the ingredients.  Tommy Lee is the sex symbol. Vince Neil is a kick-ass showman and still has strong pipes, and the looks that kill. Nikki Sixx is a crowd favorite with a radio career moving full-force. Mick Mars = completely mysterious and creepy cool. They've got their shiz together.
Besides the fire, effects, and face paint, Mötley Crüe sounded great and the audience didn't stop rockin' for a second. Beer was spilled on me, lighters were lit in a power ballad sway, and panties were thrown on stage.
Rock 'n' Roll Sabbath…COMPLETE!
Visit www.motley.com for Mötley Crüe dates!