Ep.472 – American Idol Live @ Bridgestone Arena – Nashville, TN 7-30-11
American Idol Live @ Bridgestone Arena – Nashville, TN
American Idol Live Video Fan Reviews – July 30, 2011
Just over a year ago, Lauren Alaina and Paul McDonald were two of approximately 16,000 that auditioned at Nashville's Bridgestone Arena to compete in the 10th season of American Idol. On Saturday night, Lauren and Paul returned to the venue, this time as known stars in a big budget production highlighting Idol's top 11 finalists.
If you follow You Tell Concerts, you may have read that my sister made it to the celebrity judge round, and so, I got to see it all – the cameras, the contestants, the joy, the tears, even Ryan Seacrest (which is a big deal for me.) In just those three days, I felt so many emotions from anxiety and excitement to utter heartbreak – and I wasn't even the one auditioning. I can only imagine what it must be like for this cast to be on this stage night after night filling arenas.
I fell off the American Idol bandwagon long ago, but this season I climbed back on. When I saw that a dude we met (Paul McDonald) at the second round of auditions made it to Hollywood and was surviving eliminations, I couldn't stop watching. I actually took the time to vote this year, and eventually became one of those tagging their Facebook posts with "#TeamPaul."
Needless to say, I was beside myself when I got to interview him before the show, check it out:
I went to the American Idol TV show finale years ago, but have never seen the touring production. If there is any concert where the whole family can go and have a legit great time, it's this concert. They even had karaoke going on outside the arena for hours prior to the show, so people could make a day out of it.
The concert reminded me of a Las Vegas show, being that there's a "variety" nature to it; it moves quickly and colorfully, and there's an intermission which gives it a theatrical semblance.  It's the ultimate Idol experience, a recreation of the best moments of the season, but this time you're in the audience and there isn't any judging or commercials. There are songs for all musical tastes, and the talent is no longer hopefuls praying for a chance – they are trained, experienced, and professional performers.  They were thrown into the deep end and transformed into celebrities in what seemed like overnight.
Since it was more of a "prime-time" crowd, the audience wasn't on their feet the whole time. It was more formal – practically the exact opposite what we saw at Mötley Crüe. Certainly none of this going on:
The show started with the girls performing Lady Gaga's "Born This Way," and went into some Pia Toscano action. Pia had a good amount of stage time throughout the night and was quite the eye-catcher. Her vocals add so much body to the background arrangements, her debut single ("This Time") shows that Pia's voice does work with a little beat behind it, and her duet with Stefano Langone on Rihanna's "California King Bed" was riveting. Pia has complete control of her instrument and grace; no doubt, she could be the next Celine Dion given the right songs and management.

Video Credit – YouTube User: MoorePhotos
And let's talk about Stefano! I was so surprised! I don't know if it's that his voice has improved since the show and touring, but he comes off so much more confident and musically gifted live (and I noted that before he took off his shirt when performing Usher's "DJ Got Us Fallin' in Love Again").
That little Chippendale tease got everyone ready for the big "guy number," Neon Tree's "Animal."  The only other male besides Stefano that had graced that stage at that point was Paul McDonald, who got a huge welcome and successfully amped up the arena, getting them out of their seats for his cover of Rod Stewart's, "Maggie May."
Other highlights in the first act included a beautiful African dance performed by Naima Adedapo, which was worked into her song choice, Jennifer Lopez's "On the Floor." Casey Abrams (who I thought would win the show) killed me with his scatting that mimicked an electric guitar solo. I beg of you to tell me, is there anything this guy can't do? I couldn't look away, and I'm not even a fan of the Santana/Rob Thomas hit, "Smooth." Casey made it his own and in turn, I appreciated the song, for once.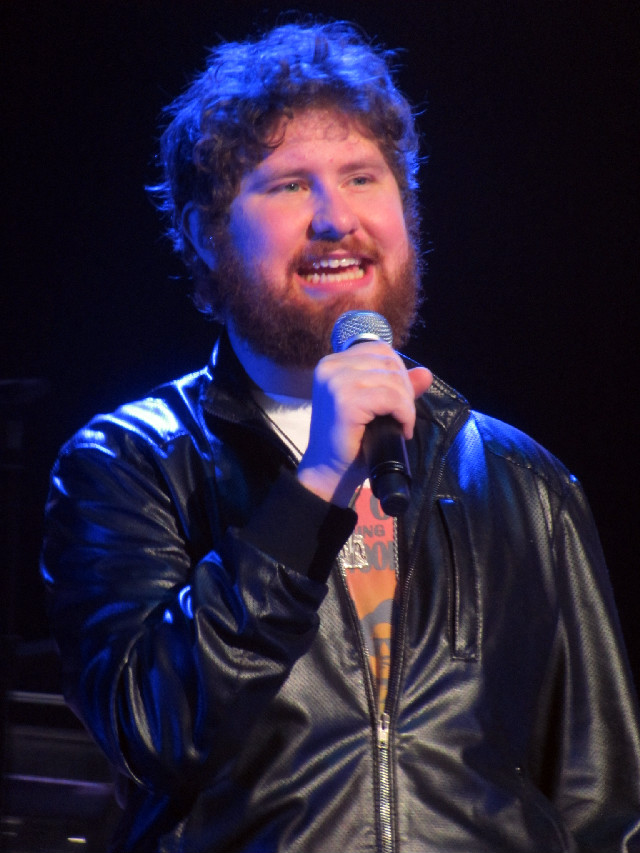 He did a couple more songs, including a lounge-y blues duet with the striking Haley Reinhart. Every second of his stage time, Casey filled it with all the character and passion that he could.
The crew, minus Scotty (who we hadn't seen yet at all), came out for an adorable rendition of Cee Lo Green's "Forget You," Motown-inspired in costume and choreography to close out the first half. Paul was the most enjoyable to watch during the routine. He had this grin as if he had friends in the audience and knew he'd never be able to live this down. Actually, it looked like he was having fun, and when you think about it, this was probably the most natural way he has ever done those dance moves.

Video Credit – YouTube User: MoorePhotos
After intermission, Lauren Alaina took the stage and received a huge applause. In an interview session earlier in the day, you could tell that Lauren was "taking it easy," trying not to speak to loudly and give her voice a break. This precious and responsible care of her money-maker works, because I didn't hear a smidgen of trouble in her three-song showcase.
Unfortunately, after Lauren, I had to leave to meet with media to take photos. I pouted all the way listening to James Durbin rock out Guns N' Roses' "Sweet Child o' Mine." I also missed Haley and Jacob Lusk, so if someone could comment with their reviews on that would be spectacular. Of course, we encourage all of your reviews on any of the contestants. Just comment below.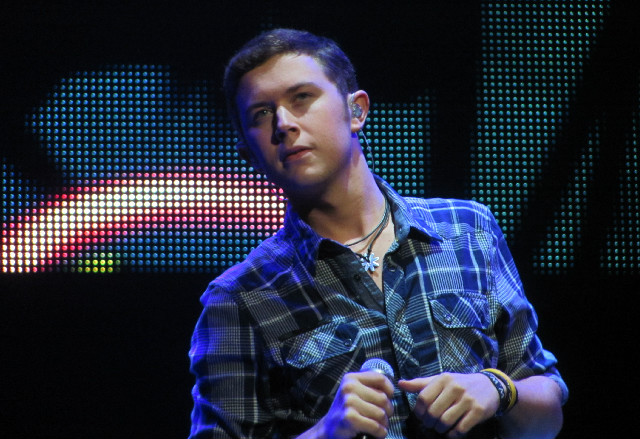 As Scotty McCreery made his grand entrance, the girls lost it. Finally, a Country boy for the little ladies. With his low voice and baby blues, Scotty sang numbers by Josh Turner and Thompson Square, as well as a sweet-as-sugar duet of "When You Say Nothing at All" with Lauren. They are too cute.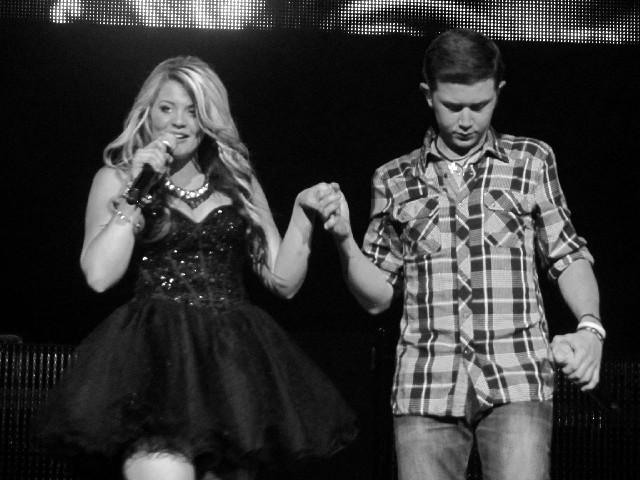 The closer was a Classic Rock rager – a Journey-heavy medley with some Aerosmith and Whitesnake tossed in. Then, it was over. The lights went up and LMFAO's "Party Rock Anthem" played as people literally shuffled their way toward the exit. It wasn't even 11:00 yet, and we saw 30+ songs. That's how it's done in the musical theater world. American Idol Live is a well-put together show with expert minds behind it – an exceptional cast and a obviously a great crew.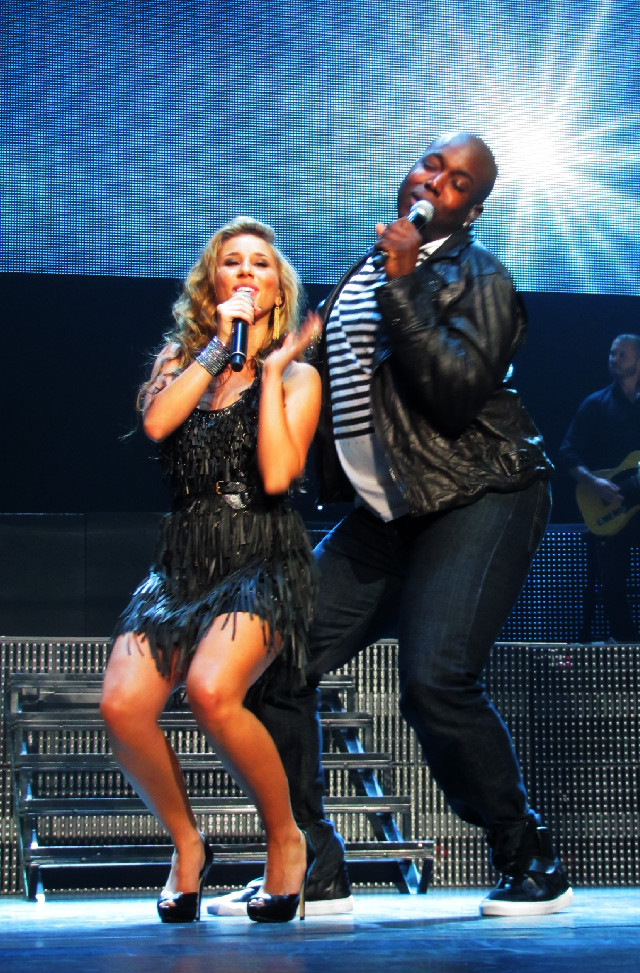 The only thing that bothered me was a personal issue. I felt like I was judging the contestants like I did for the TV show. I was annoyed with myself, because I kept looking for anything awkward or flat, simply because that's kind of the viewer's job while watching American Idol. You have to determine why one singer deserves your vote and why one must be eliminated. I hope others were able to curb that habit. Luckily, there were very few of those "awkward or flat" moments anyway.
Fact is, these singers/musicians have more skill and put on a better show than a lot of the artists I've seen this year. I'm sure it helps that it's all that diversity and talent working together as a unit, but because of the quality of American Idols Live, I will definitely see each finalist separately when they come to town.
In addition to the Paul McDonald interview above, we were able to talk to both Lauren Alaina and Scotty McCreery.  Those interviews can be found at the links below.
CLICK HERE: Interview w/ Lauren Alaina
CLICK HERE: Interview w/ Scotty McCreery