Ep.476 – Train / Maroon 5 @ Bridgestone Arena – Nashville, TN 8-17-11
Train / Maroon 5 Video Concert Reviews
Review – Train / Maroon 5 @ Bridgestone Arena – Nashville, TN 8-17-11
With the insane amount of radio spins between Train & Maroon 5, I'm not sure why I was so taken aback by the strong turnout for their show last week at Bridgestone Arena, but I was. We're talking about a Wednesday night here with school back in session. Yet, eyeballing it, this concert brought in about the same size crowd as the Katy Perry show the following Friday night.
I took my time getting to the arena, as my original motivation to go to this show was Gavin Degraw. As most of us are aware, he had to cancel some shows (Nashville included) to recover after getting assaulted and hit by a cab a few weeks ago. Get well soon, Gavin.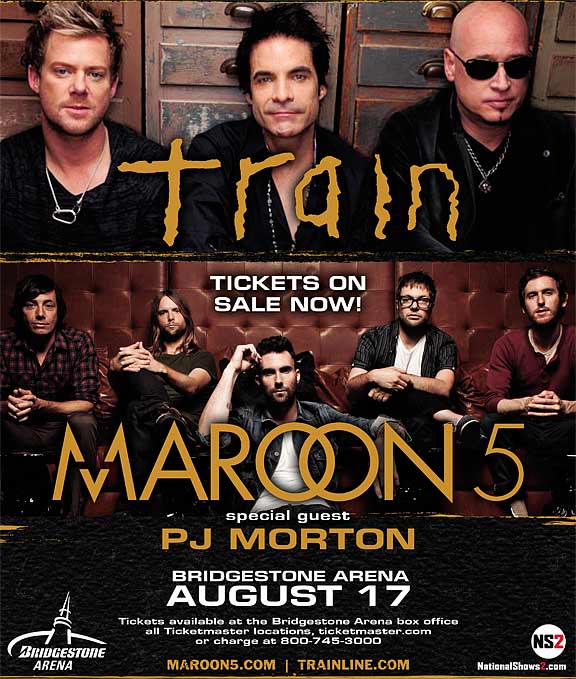 I found my seat during Maroon 5, and the audience made up of mom/son combos, teenage crews, high school to late 20's BFFs, and 30+'ers filled the place to the top. None of the sections were blacked out with curtains. Apparently, Nashville and surrounding really loves their Hot AC!
I've always been neutral on Maroon 5. I like their sunny style and kudize (new word alert) their individuality, as it's pretty easy to pick a Maroon 5 song out of a playlist. However, I haven't gone to any extra lengths for them. Most of my Maroon 5 listenership has been on my car radio or playing on someone else's radio at the pool; great tanning tunes.
Maroon 5's stage was subtle, but sharp – black with red accents, stacked amps, a V-shaped staircase and couple of platforms which allowed each member to have their own designated space and spotlight.
Photo Gallery Credit: Karen Lee Defriez
Instantly, I noticed how pristine the sound was. The mix was rich and the live element added so much merit to the songs I have heard a million times. Levine's buttery vocals slapped me in the face saying, "This is why I'm a judge on 'The Voice,' beeyatch!" Plus, the band looked totally into it. They weren't going through the motions or putting on an act.
The crowd was just as lively and sang those catchy choruses loud and proud. At one point Levine split the arena down the middle and conducted the audience in a two-part sing-a-long of "She Will Be Loved."
I'd see Maroon 5 again. Although, next time, I would like to see them at an outdoor venue, and uncover some more of those organic undertones.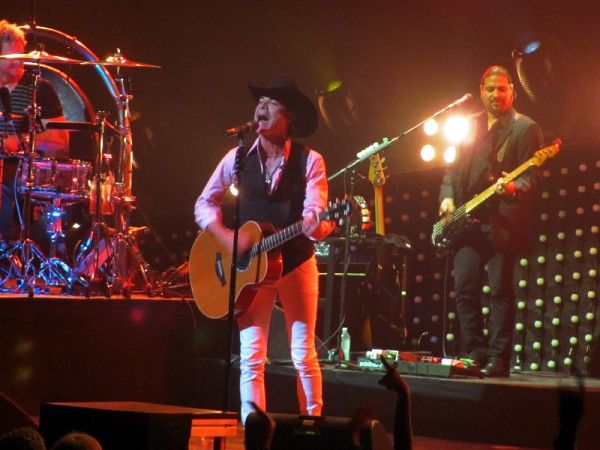 Next stop, Train! The room went black, a loud whistle blared from the darkness followed by the sounds of an oncoming locomotive, and the branded Train logo appeared on the stage screen. The audience went nuts. The young girls next to me belted out every lyric with bright eyes and uncontrollable smiles, and I wondered how they ever became fans of a group that seems so out of their age bracket.
Then, Train played "Meet Virginia," and I figured it out. I remembered the nights driving back to college after spending the weekend at my parents' house – a major perk of living an hour and a half from school. I loved singing "Meet Virginia" on those trips, and so it occurred to me. Train keeps writing these euphonious melodies that impress into your brain like silly putty. Complete with lyrics that are slightly cryptic and significantly relative, if subjected to a Train song at a turning point in life, you fall under the spell. Women are the primary target, but men are prone to succumb by way of female influence.
Personally, I can say that I told myself everyday, "If I hear 'Hey Soul Sister' one more time, I'm going to jump out of my office window." I work at a radio station. That song pumped through the corridor like oxygen at the Bellagio. Still, I happily sang along when they played it at the show, because no matter how bad ass I think I am, I still have a heart and that song killed me with kindness.
There's no denying that Train is a talented band. They could take on a harder approach without a problem, but then they wouldn't have the emotional impact that makes them who they are. Like Country artists, Train attracts a kind and wholesome crowd, which actually brings a lighter mood to arena – and it's a nice switch up.
You could tell that this was a big night for Train. Apparently, guitarist, Jimmy Stafford, is from Nashville, and frontman, Pat Monahan, was fired up to be performing in Music City. Little did we know that he had some surprises up his sleeves. Speaking of sleeves, Pat changed shirts like every other song. The dude's a fashionisto!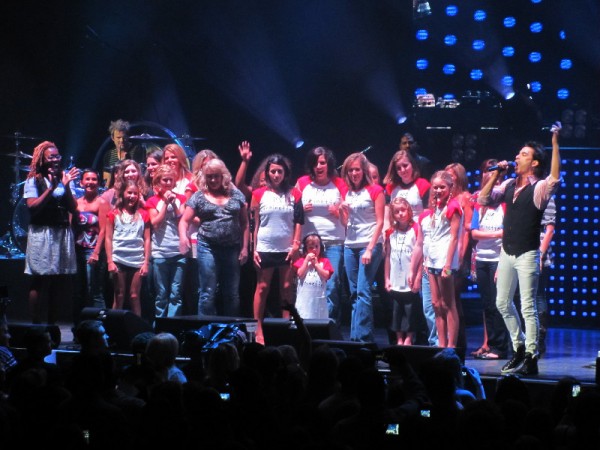 The first stunt was when Pat started picking girls out of the audience and telling them to come up on stage. There must have been 20 women up there when everyone settled. This is a new trend at concerts. It's no longer one lucky needle in the haystack. Basically, if you think someone pointed at you, you can go up there.
Another unexpected moment that I loved was a broken down worldly version of Blondie's "Heart of Glass" piggybacked by U2's "Still Haven't Found What I'm Looking For."
Next shocker, Train brought out Martina McBride to perform her song, "A Broken Wing." If you've ever heard Martina live, you know that it's hard to put into words how it makes you feel. There's an uplifting passion in her delivery that takes your breath away. Pair that up with Pat's pipes and you've got yourself a hell of a duet that takes you to church.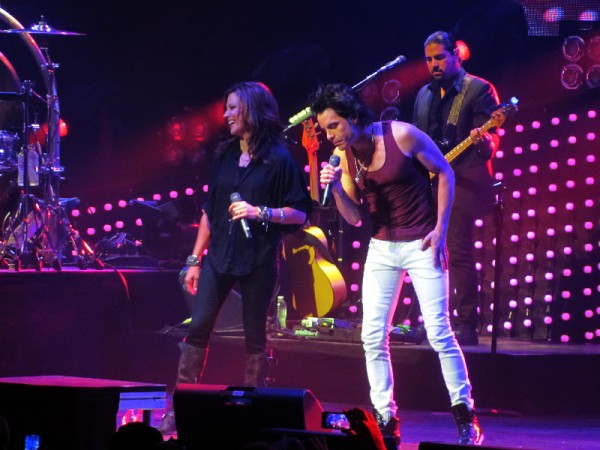 However, the most profound moment was "Marry Me," when Pat made his way around the venue touching hands with the fans. Usually this type of contact is done during an uptempo song, so seeing the response was something new. The audience was calm, quiet, and respectful. Then, Pat addressed the audience saying that he reached out to fans asking them to share their stories for a chance to get engaged on stage during their show.
Pat then introduced the Allens: a mother, two daughters, and a father in a wheelchair who lost both of his legs while serving in Afghanistan. The couple were already married, but used this opportunity to renew their vows. There were dewy eyes and sniffles all around – plus, a loud and an encouraging applause for Sgt. Chaz Allen. It was simply beautiful.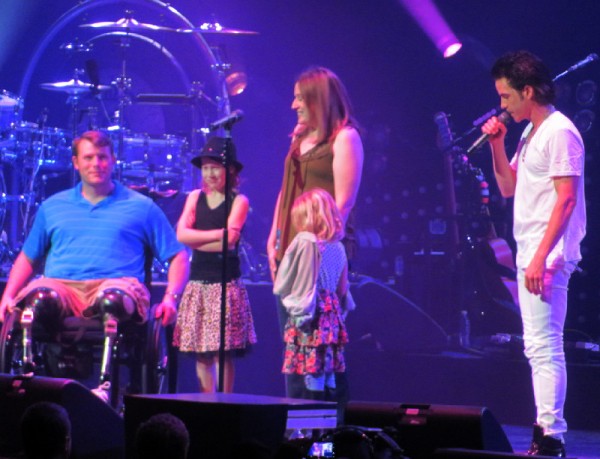 I can't remember if it was Train or Maroon 5, but one of the bands thanked Nashville for making this night the best of the tour. I'm not sure if other cities were lucky enough to receive the special moments we got, so I'm extra thankful that I was there to be a part of it.
If you are a Train or Maroon 5 fan, please comment with your thoughts of the bands and/or the show that you've seen, because "When You Tell Concerts…It's Cooler!"