Ep.477 – Katy Perry @ Bridgestone Arena – Nashville, TN 8-19-11
Katy Perry Video Concert Reviews – Nashville
Chrystal's Review of Katy Perry

I can tell you right now that Katy Perry's "California Dreams Tour" is going to be on my list of top shows of 2011, and it will likely be the most memorable concert in general for many of the kids in attendance last Friday night at Bridgestone Arena.
I wasn't at all happy with myself as I heard Janelle Monáe closing up shop while I walked through the front doors. Was the vanity worth missing her set? Definitely not when sitting up in the 300 sections. (Let me say this right now. Get decent seats for this show.)
Monáe was one of our driving forces to attend Voodoo Festival last year. This little woman is a firecracker and brings maximum originality to her music, but lays it down with a familiar throwback treatment. Being late was a complete disappointment to start out the night, but things started to look up.
Well, at first they looked down, because we were in God's view seating. We watched DJ Skeet Skeet from there – trying to scout out any empty areas below. Since I interviewed Skeet several days before, I was looking forward to seeing him. He's a very interesting fella. I figured the after party at Mai would give me a better idea of his style, as I'm sure he had to fluff up the arena set.
I found it unusual that the audience gave the biggest response when Skeet played his recently released original, "I Like It Loud." I can't imagine that the crowd had ever heard it before, but the beat is just so toxic that it zaps your body into moving the moment it drops. Trying to dance in the balcony is amusing. Everyone rocks back and forth in their chair flapping their arms around. It's way too scary to stand up.
Interview with DJ Skeet Skeet
Guy and I were honestly freaked out being that high up, so we tracked down some upgrades with a slightly obstructed view, which I wouldn't even call an obstruction. While we waited for Katy Perry, we read the #nashvilledreams tweets sent to the video screens, gawked at costumes and people buying $20 flashing headbands, laughed at the "Smooch Cam" where bromances and motorboats took place, and I teased Guy about how he basically asked if he could come with me to see Katy Perry. Clearly I know his motive, as trying to get Guy to a Pop show is usually a waste of breath.
This was my fourth time seeing Katy Perry, but I have never seen her like this. The concert was a total sensory experience; they even scented the arena with the aroma of cotton candy.
The show started with a cinematic intro, establishing the story that ran the show. It was a fairytale about a young girl (Katy Perry) who worked for a hideous butcher. A man behind me was a big fan of the butcher and proceeded to yell, "That guy is AWESOME!" every time he was on screen. Anyway, Katy gets fired from her job and on her way home stops to pick up a cupcake from a handsome baker boy.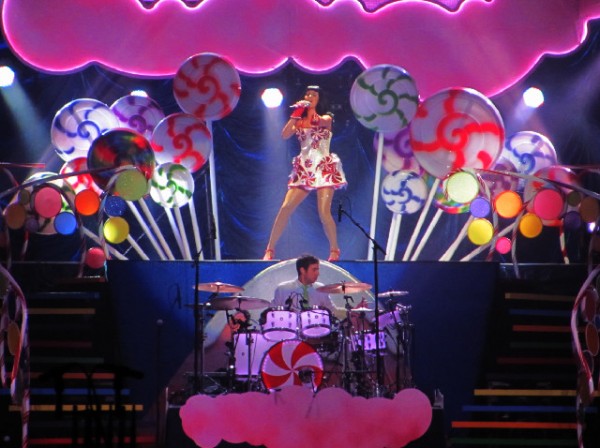 When she gets home she shares the cupcake with her cat, Kitty Purry, and goes to bed. This is where the Candyland adventure begins, as Kitty runs out into a colorful world of gumdrops and lollipops, and Katy needs to find her. Then, there she is, Katy Perry – the real thing, in a peppermint-inspired little number.
Katy wore a new ensemble for nearly every song, and actually changed seven times during "Hot n Cold," but it was in context with the story, so it's all good. Actually, her dedication to the story scored big appreciation points with me. I loved the Britney Spears show this year, but there wasn't a clear attachment between the transition movie and what was happening onstage. Katy Perry melded the stage and the video together, and it let her play a character.
The concert showed off Katy's personality, especially when the curtain was lowered and Katy and her band came out on the bare stage for some "Katyoke." Katy sang hits like Willow Smith's "Whip My Hair," and Rebecca Black's "Friday." She addressed the crowd and accused Nashville of judging her; name-dropping some artists in the audience: Faith Hill, Reba, and Lady Antebellum. She used this portion of the concert to show off her vocal abilities and prove herself.
Katy also said that she learned everything she knows in Nashville and joked that she "lost" something here as well. Hmm, wonder what that could be.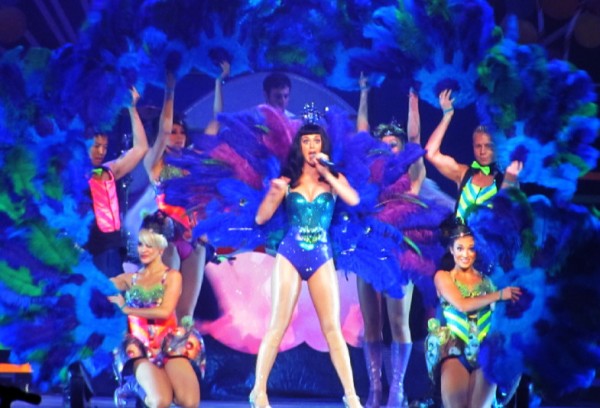 Katy snuck in a few other adult innuendos like eating a homemade brownie from California that made her feel funny, and a suggestive dance move that involved the neck and microphone during "Peacock" – hilarious bits that made it entertaining for all ages.  She tried to trick the audience now and then, faking a stage faint and making it like we caught her playing the recorder to track. Smart move, because if she did make a mistake everyone would think it was a gag.
The "Katyoke" section of the show lasted a long time, almost like it was an intermission in the play. Pop stars don't usually talk as much as Katy did. It didn't sound like a preplanned speech, and she was very comfortable gabbing with over 10,000 people.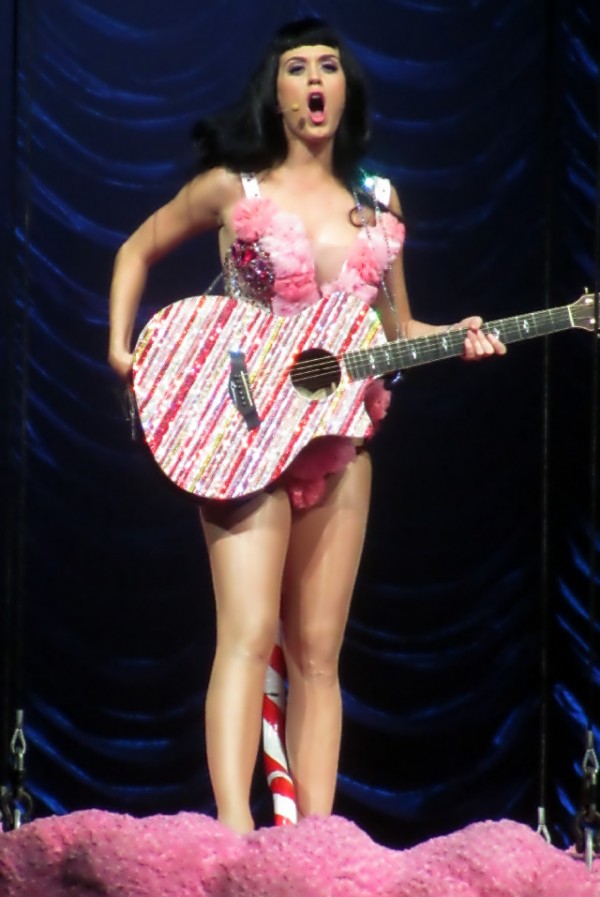 She finished it off with a shout-out to the Bluebird Café, saying that she was going to play the next song as if she was in that cozy listening room. She strapped on her ribbon candy guitar, buckled herself to a candy cane pole, and rode a cotton candy cloud over the audience as she performed, "Thinking of You."
One of my favorite parts of the show was when a soft white fabric draped across the stage, and Katy sat upon a swing trimmed with flowers singing "Not Like the Movies," while cartoons of characters in love projected on the fabric in the background like a drive-in.
"Last Friday Night (T.G.I.F )" was another great production with Kathy Beth Terry making an appearance, and even Guy was pleased with Katy's cover choice of Whitney Houston's "I Wanna Dance With Somebody."
Maybe that's why I loved this concert so much. The "California Dreams Tour" circled in on the pop culture I grew up with – from the dancer's choreography to artwork of the cartoons I mentioned in the swing sequence.
I'm still gushing about how awesome it was to everyone. She's come a long way from that Cannery Ballroom show two years ago. You may not think you're a Katy Perry fan, but you might find out that you are if you give this tour a chance.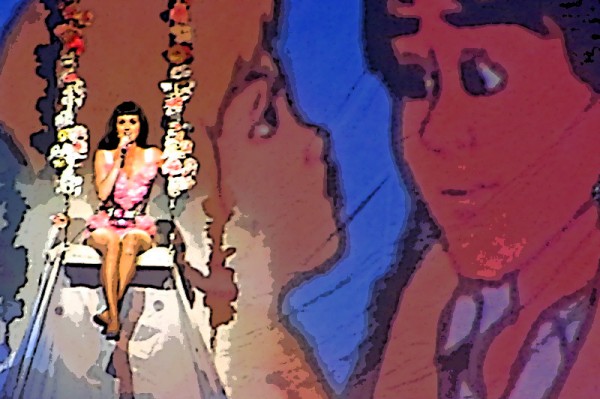 Guy's Review of Katy Perry

"Guy basically asked to go to the show," said Chrystal to a few friends and co-workers. Yes, I did. I think she's hot, not gonna lie. Her music? Meh. It's Pop; it's catchy, and if you know me, I'm not a big on Pop music. Maybe it's because it's beat into my brain. It's everywhere…so are they…Pop music fans.
When I walked through those doors at the Bridgestone, BAM! It smelled like perfume. Usually the shows I go to smell like beer, sweat, and cigarettes. There were loud girls, dudes that were not into those loud girls, and a few other like me…going with the wife on a "date" to see Katy Perry.
The original seats we had were way up top, but eventually, we got hooked up and closer to the action.
The first act, DJ Skeet Skeet, skeeted pop tunes all over the audience – playing top 20 jams with a little "ump-tis" rhythms got the crowd going (not me, though). When shit got boring, he would grab the mic and the crowd do some "woos." Lots of "woos." I actually continued to hear the "woos" in my dreams later that night.
Before Katy Perry, they did the old crowd favorite, the smooch cam: couples making out, BFF's (men & women) making out, and a shot of cleveage that got motorboated.
The theme of Katy Perry's show was an "Alice in Candyland with Pot Brownies!" I never expected stoner humor from a Katy Perry show, but is from Cali, so she probably blazes from time-to-time.
I can't say the performance was bad, but I got bored. Visually, it was cool, but I was starting to get pretty buzz-wisered, so it was hard to keep focus.  Favorite part of the night was when she flew over the crowd to us, clearly not actually playing her acoustic. Why did I like it? I was close to my celeb crush.
So, days later, I still smell the scent of cotton candy reminding me of my three-way date with Chrystal and Katy Perry. Great times! And even better? The people watching…if you're into that sort of thing.
Love (with sparkles, puppies, and chocolate bunnies),
Guy