Ep.482 – Classixx (Girls & Boys Nashville) @ Cannery Ballroom – Nashville, TN 9-9-11
Girls & Boys Nashville Presents Classixx Video Review
Classixx @ Cannery Ballroom – Nashville, TN
This show kind of came out of nowhere.  Since seeing Classixx open for Chromeo at SXSW this year, I've been keeping an eye out for a mention of the DJ-ing duo coming to town.  It was only a matter of time, since I knew the manager at Mercy Lounge/Cannery Ballroom had been dying to get them into the venue after seeing that Green Label Sound showcase in Austin.
I found out about this event the traditional way – in the midst of a pee-squat in the Mercy Lounge bathroom. I saw a party flyer stuck to the back of the door – Classixx was headling it! The show marked the first of our city's "Girls & Boys" parties.  Being completely oblivious to anything cool, I seriously thought it was a charitable event for the Boys & Girls Club.  Huh…odd, but sweet.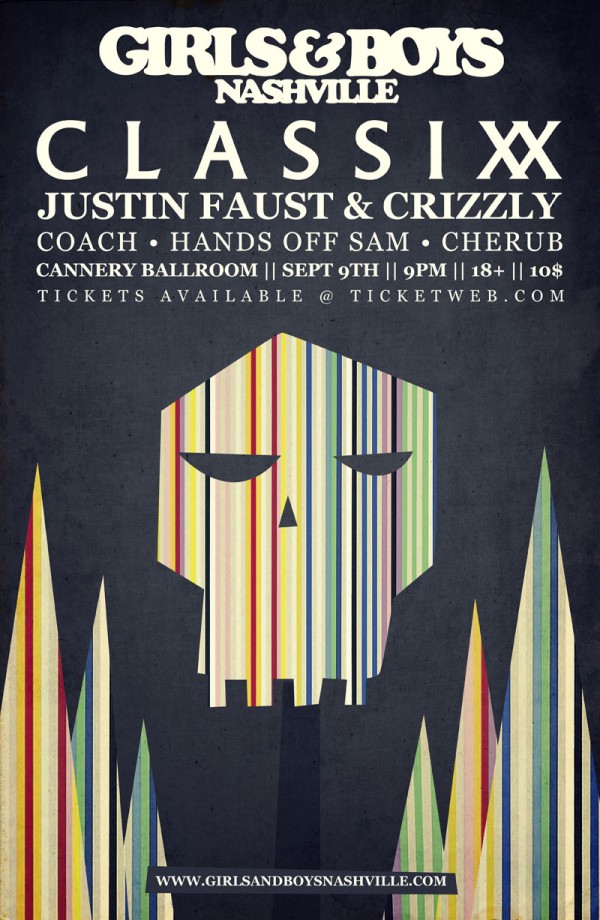 After a little research, I found out that Girls & Boys is a party promo brand, making a national name by establishing chapters in areas hip to the dance scene. We have some super talented and connected DJs in Nashville, so in collaboration the peeps behind the Girls & Boys name, Nashville should be very excited about this new monthly series.  We are going to get the best of the buzzed about.
Before leaving my apartment, I took a glance at the Facebook event page, and something like 550 people had RSVP'ed!  That's when I realized that the party wasn't at Mercy Lounge – it was at the Cannery.  I was going to need another drink if I was going to attend this thing by myself.
I arrived as Cherub was rounding off their energetic set.  The crowd was thin, but the layout looked amazing.  You walked into the lobby where there was a check-in photo booth, some merch, and a guest wall that you could sign.
Immediately, I was greeted by a birthday boy having the time of his life, and the bright rainbow lights of the stage set up – another drink, please.  I talked to a friend who let me know that my wristband gave me access to the VIP area.  Posh it up? Yes please, oh, and another drink.
I had been doing the desk-bounce to Justin Faust's "Girl Talk" EP to close out my Friday workday, so I was having a blast wiggling and watching him from the platform behind the stage, which was furnished with cocktail tables, couches, and a private bar. (uh-oh) That's when I got the text that my sister got out early and was on her way to join me. (double uh-oh)
Queen Irene  got there in time to see Classixx, and so did many of the people that RSVP'ed on Facebook.  It was still a light crowd for the size of the room, but that's a relief at the Cannery.  That place can pack up to a very uncomfortable point. Having the space to spin around like a jackass to an act of Classixx's status is something that can only happen at a first-time event like this.  These Girls & Boys events will surely grow in size each month.
I'm not educated on the subject of dance music and its different "shades," but Classixx oozes originality and swagger. I mean, they got where they are by simply being cool – throwing LA dance parties and meeting more and more friends who were into their style. From my perspective, Classixx are like production archaeologists that dig for old songs that most have never heard (which we all know gets major music-enthusiasts hot), but songs that contain recognizable faddisms that attract the masses. They warp and knead these old songs and sounds with new songs (also somewhat unfamiliar) into something completely new that is their own creation.
Yeah, maybe a lot of DJs do this, but not as successfully as Classixx. Your ears do some work while listening to their remixes in a solo setting – analyzing different elements and mechanics that these guys are playing with.  In the live setting, you can just let it jive, and that works too.  That was apparently my approach at this event. (PS. We were thoroughly amused by the vibrations making beer bottles gyrate off the table.)
I watched Classixx work all their fancy equipment and admired their dashing good looks for a few, but then all that party fuel led me to the floor, where we danced like bridesmaids during the last hour of a best friend's wedding.  It was crazy dumb, but crazy fun, and I'll definitely be back the Nashville Girls & Boys event. Hopefully, I'll have the chance to see Classixx again too.
Crizzly took over the decks to finish up the night, and as the clock ticked past 2 AM – I started to shut down…or blackout. (whatever you want to call it)
There is a time for fan reviews and a time to PUT THE CAMERA AWAY.  I should've talked to people earlier in the night, but I was enjoying myself.  That's my disclaimer for the nightmare of the YTC video embedded above.  Please comment with your thoughts on this (or any) Girls & Boys event and/or your thoughts on any of the artists who performed:  Classixx, Crizzly, Justin Faust, Hands Off Sam, Cherub, and DJ Coach.
Justin Faust – Girl Talk EP (Discotexas) by Justin Faust