Ep.497 – Misfits @ Gilligan's – Murfreesboro, TN 10-19-11
Misfits Video Concert Reviews

You can't ignore the Misfits. They are everywhere. A buddy of mine that works at a venue says that it's nearly impossible to find a night where there isn't at least one person wearing a Misfits tee at his establishment. I believe it. My husband has worn his shirt out to the point where you can barely see the outline of the trademark skull. He's a pretty big fan, so, we decided to make the trip out to Murfreesboro to check out Misfits' live show.
That was a big Punk week for us. OFF! had come through Nashville earlier in the week and blitzed through their set (which was probably every single one of their songs) in about 30 minutes. They even played the first two songs of their set over again for the encore. I loved that show, and it warmed me up for the upcoming Misfits concert, since I don't "do" Punk often.
The show was at Gilligan's, about a half-hour from Nashville. It's a great-looking venue and the people of the 'Boro radiate a friendly energy. I can see why the band chose Murfreesboro. These people aren't slammed with shows every night, so they will not only show up…but they'll gel their mohawks, slap on the face paint and party hard. Weeknight? Much like the crazy nastyass honey badger…"Murfreesboro don't care."
Clearly, the universal rule of not wearing the shirt of the band you're seeing doesn't apply with the Misfits. The Misfits' stage had me amped from the moment I walked in the room. It was evilly adorned with skeleton mic stands and skull sculptures with glowing eyes and mouths, so I knew I was in for something a little gimmicky, but I love that sh*t. The band psyched up the venue with a thumping suspended entrance, sparking devil horns, hollers, and excessive stomping from the audience that made the whole platform beneath us shake.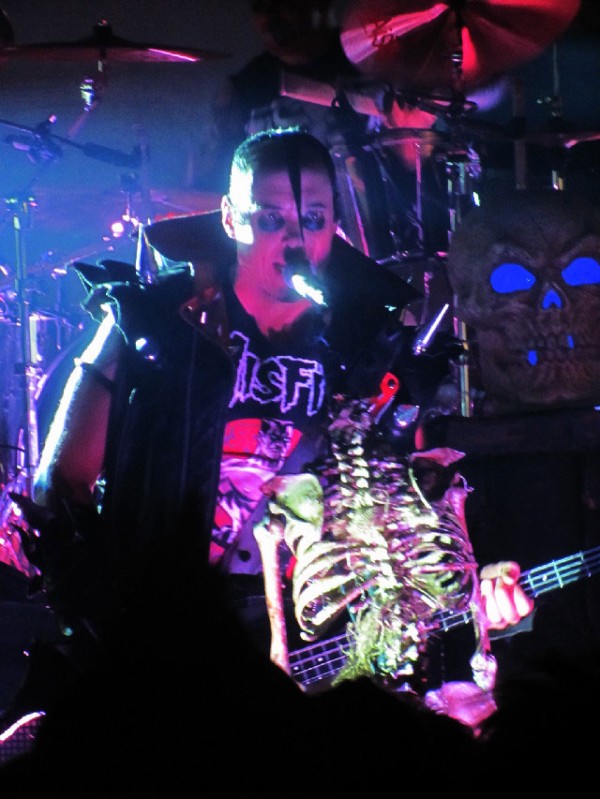 As soon as Misfits came into the stage lights, it was on – and it went on and on and on. A band of such a huge reputation really doesn't have to play that long if they don't want to. Kudos, specifically to Jerry Only, for keeping the Misfits name vigorous by continuing to put on a quality show – fitting in as much material as possible and giving the audience what the want to see and hear. (Even though he responds to requests with, "F*ck you. I'm gonna play what I want, when I want.")
That said, there was a certain "heart" missing from the performance, as if the band was on auto-pilot, but a strong auto-pilot – not an "I don't want to be here" auto-pilot. Like a Vegas show…it's spot on, but there's a lack of spontaneity. One of the best moments of the show was when Only kicked a kid off the stage for body surfing into his mic, and after the song, he slightly reprimanded the crowd. Those are things you can't plan for and add so much to a concert.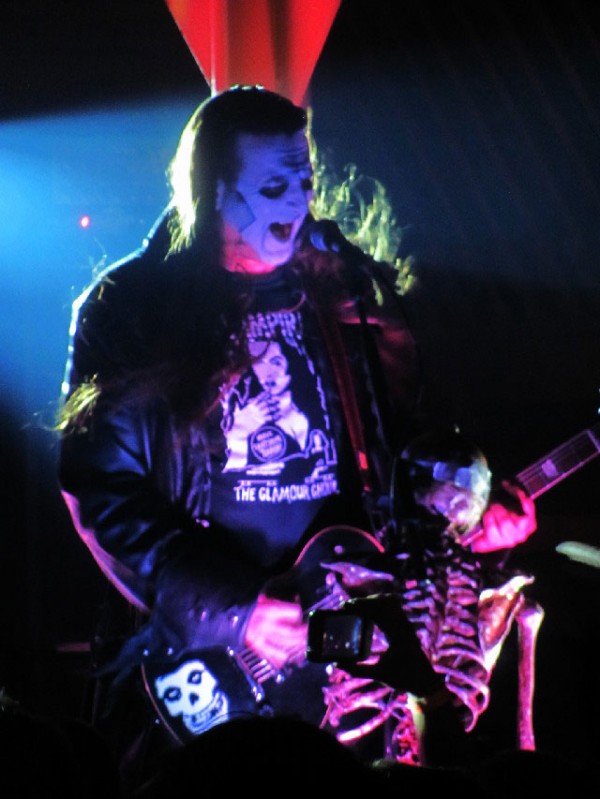 I also cracked up watching orphan shoes lost in the pit, floating around from hand to hand trying to make their way back to their owners. How the heck do you lose your shoe? Also funny to me – was Jerry Only chewing gum the whole time? I was worried for his safety. I hope someone on the road crew knows the Heimlich; now THAT would be spontaneous.
There's really nothing to knock with this show. Misfits have this thing down. Looking around at the crowd, which spanned from the pierced and tattooed youth to adorable teen hipster couples and cool-ass dads, they can keep it going for as long as the wish.
Guy's Misfits Review:
Being a Misfits fan for quite some time, I can honestly say I wasn't too pumped up about this show, but I still wanted to go regardless – just to see the Misfits, or just Jerry Only.  It was also cool to see Dez Cadena, ex-singer/guitarist of Black Flag, but still not as cool as seeing the original line-up.
The Misfits started off with mostly newer material…stuff I'm not too familiar with.  It's not that I don't like it, it's just that I'm more a fan of their early dirty Horror-Punk sounding stuff.  After about 10 songs, they started to get into their older material (I believe the first was "Static Age"), and that's when the crowd really started going nuts.  Maybe I'm like a majority of Misfit fans (or at least the ones at the show) and really only like the old stuff.  Sure, it's not Glenn singing, but to hear some of my favorite tunes live is always a cool experience!  Two thumbs (or two \m/ \m/) up from this Guy!!!