Ep. 502 – The Cordovas @ 3rd and Lindsley – Nashville, TN 11-8-11
Video Concert Reviews – The Cordovas

The Cordovas show fell smack-dab in the middle of CMA Awards week, but I'd be damned if I didn't show my run-ragged face at 3rd & Lindsley for the final concert of the band's tour.
We were first turned onto the group over the summer, before they were "The Cordovas" actually.  While tirelessly editing videos during CMA Fest week, we watched an interview with Jaron Lowenstein of Jaron and the Long Road to Love (also half of the twin pop sensation, Evan & Jaron.  You might remember their '00 hit, "Crazy for this Girl").
Jaron spoke of a project he was involved in called "Sunday Supper" -  a night where he and some of Nashville's best musicians would perform hippie covers by the likes of Grateful Dead and Bob Dylan.  This happened every Sunday at a local listening room – Douglas Corner Café.
On our first "Sunday Supper," special guest performances included Charles Kelley of Lady Antebellum singing The Band's "The Weight" and James Otto doing The Commodores' "Easy" all the justice it deserves and more.  Co-spotlighting with Jaron was Joe Firstman, a brilliant singer-songwriter that had been recommended to me as a "must-see" numerous times during my years in Los Angeles.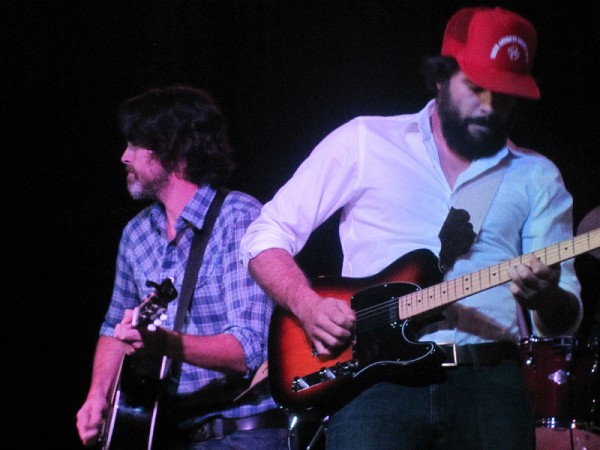 We were immediately hooked to this weekly event – the songs, the talent, the surprises, the opening acts…even the bartender.   It became a ritual for us.  Word got out and attendance began to grow, but before you knew it, summer was over and so was "Sunday Supper."
The band was born during "Sunday Supper" practice sessions.  The final Douglas Corner show introduced The Cordovas as an original band – an album was recorded and made available for free download. The Cordovas album brings a sound detached from anything current, yet one that locks into a style that was once ridiculously popular – that peaceful down-home Southern Rock jam that my parents have mixtapes of.
The Cordovas – Free Download
Being huge fans of the album and wanting to relive the fun of summer, we made sure to be at the venue right on time for this show, and indeed, The Cordovas started right on time. The Cordovas were the matinee of two shows that evening, so they had to stay in their time slot. They packed it as full as they could by keeping the chatting between songs to a minimum.
Firstman seems to be the dominant character on the record, and live, he tends to unintentionally steal the spotlight. While people come out to see Jaron, it's not long before they lock in on charisma and talents of this mystery man. Joe's definitely an artist that you Google when you get home. He's really, really, really freakin' good.
It's interesting to hear how Firstman's music adapts to his environment.  There's more Country flavor and lighthearted soul in the Cordovas project, as opposed to the heavy, wounded "Counting Crows" – like mood I've heard in solo Firstman albums.
At this particular show, my favorite Joe moment was his roof-raising execution of the Gospel intro to Jaron's "Pray For You."  I wish we got to hear more of Joe's solo songs in the set (preferably "Lies"), but he's touring on his on now – so hopefully, he'll come back through Nashville and my wish will come true. Oh wait, he will be here  in a few days – November 21st at Hard Rock Cafe Nashville!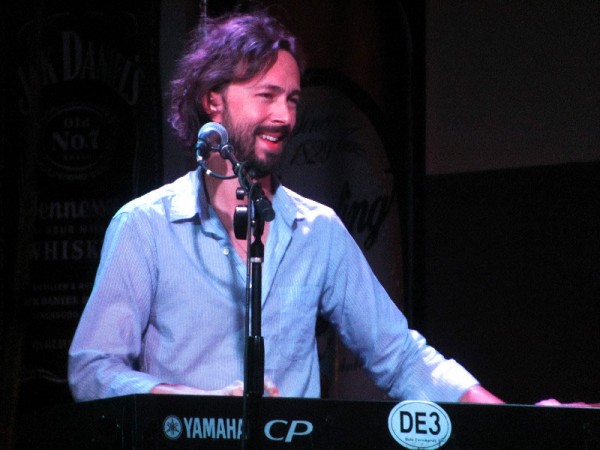 Although Firstman tends to be the focal point, an underlying, yet prominent part of The Cordovas is the piano/keys work by Jon Loyd.  Loyd's voice blends into the mix with a pleasant twang that makes for an indispensable part of the band's tone.  This was especially apparent at the 3rd & Lindsley show when the bass player broke a string,  sending Jaron, Joe, and Jon up to the mic to sing "Salome" acapella.
Of course, Jaron is the star power in the group, proving that he is not just another one-hit-wonder, but a true musician. He's testing out all avenues to stay active in the game and seeing what sticks.  His fans (or "Frans" as they call themselves) are right by his side, traveling from show to show in support.  You will never have the proper respect for Jaron and his creativity if you don't see what he can do live.  You can honestly see in his eyes how much he loves performing.  It's not about getting rich or being a star, it's about making music.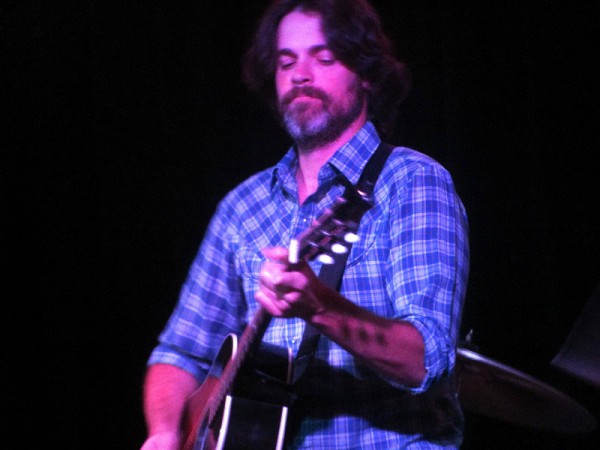 Besides the frontmen, The Cordovas have amazing backing musicians. A beautifully eerie highlight of the concert was the ending breakdown of "Louisiana Hurricane," which musically created the noises, chaos, emotions of a storm.
I can only hope that there will be another Cordovas album, but this group is something that can only work organically.  I will say that my first "Sunday Supper" has been my favorite show of 2011 so far, and I'm sure that when I think back on the years that I spent in Nashville,  some of my fondest memories will be of those summer "Sunday Suppers."
As we patiently wait for a new Cordovas record, you can keep up with Jaron and Joe on Facebook and see what they are up to.
I know Jaron has been putting on online performances through his brother's brainchild website, StageIt.com – so check it out!
If you're a Cordovas fan, or have ever seen the band, Jaron or Joe perform live, be sure to comment on this post with your thoughts on their music/show, because "When You Tell Concerts…It's Cooler!"