Ep. 505 – Harlott @ The Muse – Nashville, TN
Harlott Interview & Fan Reviews
With this post, my hope is to not only promote Harlott's show at The End in Nashville tonight, but to celebrate all the hard-working, under-appreciated, local bands that go unnoticed. It's such a hard gig – everywhere. Each city has its own close-knit circle, and unless you can find a way to break in and play with the bands getting press…it's many a-night playing to a 10 person or less crowd.
I've been on the sidelines, watching the guys of Harlott for years – from the days the two Nebraska boys in the band were in a group called Ether, playing clubs in Los Angeles. Mingling might be a little easier in the LA melting pot, but the temptations are also pretty high. Over three years ago, Josh James (lead guitarist) heard about the songwriter scene in Nashville and was convinced to move. My husband, Guy Christopher (rhythm guitarist) and I followed suit a year or so later.
Check out Harlott tonight (12/1/11) @ The End!
Harlott was born and produced a sound very different from what was and is hip and happening in Nashville. Their sound is radio-friendly, but imperfect and dirty – Punk, Hard Rock, and Metal intertwined with a Lemmy-like vocal. Harlott is definitely injected with a taste of Sunset Strip's hey day, which might be too much of a guilty pleasure for today's indie crowd to admit liking or taking a chance on without some cool musician endorsement (Jack White, take note).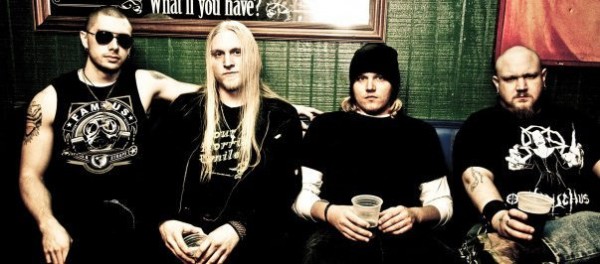 With the band branding, a music fan might jump straight to the conclusion that Harlott is what modern rock radio is playing, and actually, Harlott has been granted a handful of spins on "The Local Buzz." Still, without hearing Harlott and seeing their name on a 102.9 The Buzz show flyer gets the band caught in another stereotype – new rock. Chances are…Harlott is not what you think. They are a band you'll party to, a band you'll drink too, and if the night plays out right…a band you'll have sex to.
Over the past year, Harlott has done what a lot of indie bands have done. They worked their day jobs, played a few local shows per month, funded their own recording sessions, saved up for a bunch of weekend tours up and down the coast, lost money on fixing a broken down van, did their own marketing and promotion, etc, etc…and they had a ton of fun doing it.
So, congratulations and happy holidays to all the indie bands working their asses off to do what they love. Wishing you much luck and success! Also, come out to The End tonight and see Harlott with Big Gunz (from NYC) and Brother Thunderbolt!