Ep.507 – Guns N' Roses @ Bridgestone Arena – Nashville, TN 12-4-11
Guns N' Roses Video Concert Reviews – Nashville, TN
For those of you who went to see Guns N' Roses at Nashville's Bridgestone Arena on Sunday, you're probably like me…wishing it was last Friday again. This time last week, I had no idea what I was in for. Sure, I was pumped when we finally had the tickets in hand, but I didn't realize that Axl was going to put on a three-hour performance packed with pyro and every GN'R song I could ever dream of hearing live.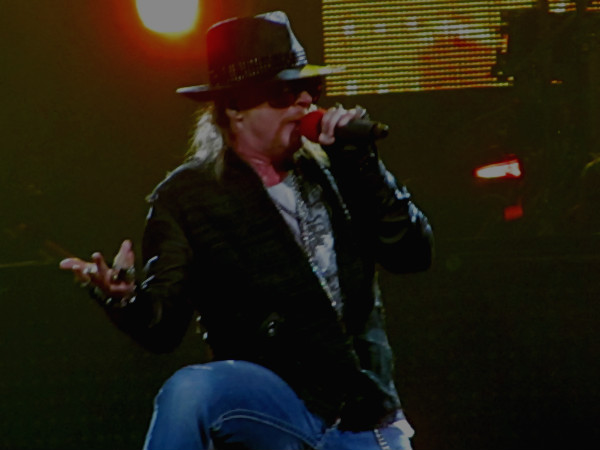 Earlier this year, Slash n' his crew played some Guns N' Roses when opening for Ozzy, which was an insane thrill, but Sunday night's concert squashed that memory flat.
First off all, the build to the show played a huge factor in the night. Starting from the moment I woke up and checked out recent set lists online, to the pre-show living room Guns N' Roses jam sesh and beer slam that took place at our apartment until about 9 PM. Axl's notorious late start (11:00 PM) was totally effective. By then, my blood was pumping, my eyes were wide, and I was dying to relive the classics.
The show got underway with a puzzling intro of scary images and the Dexter theme. I got worried. Crap! Did I set the DVR? How will I know whether Travis killed Dr. Gellar or not?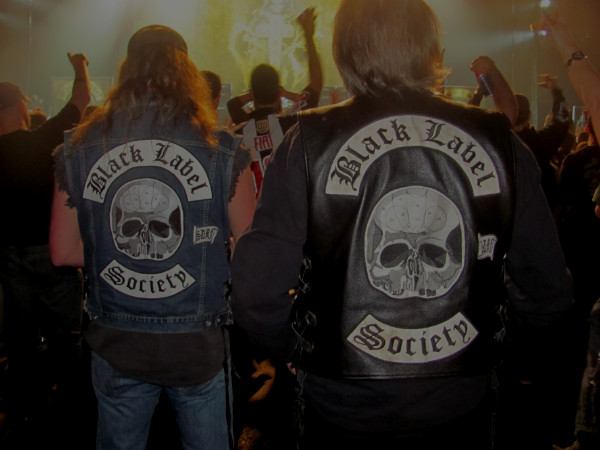 As soon as the first fire sprays exploded, I immediately stopped caring.
I was in my element. Up until experiencing Axl's unparalleled voice in an arena setting, my fondest GN'R memory was being a chubby 10-year-old soaring around a roller rink to "Welcome to the Jungle" wearing neon green zebra-stripped spandex. Now, I could drink and wear a slutty dress and a studded leather jacket – just like all the video girls I envied growing up. *goals*
After the first few songs, Guns N' Roses were off to a bullish start, and there was no way I was going to do it alone. I sought out the friends with the best seats and crashed them for much longer than I planned to. The show was a steamroller with each song being better than the last. No one was paying attention to time; they were rocking out with every fiber of their being. The only disappointment for me, was realizing that 75% of the Guns N' Roses lyrics I've been singing for the past 20 years are wrong.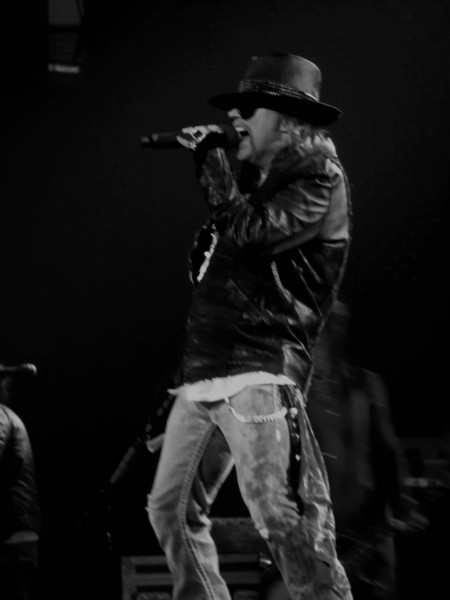 There were some moments when I snickered at costume choices, but what's that got to do with the price of democracy in China? Fact is…the show was way better than I imagined, and I really can't believe that arena wasn't packed. With ticket prices so cheap, I'm baffled. Still, the participation of those that were there made up for the empty seats. If I had the travel money to spare, I'd be in that Las Vegas audience on New Year's Eve celebrating the music of the 2012 Rock and Roll Hall of Fame inductees.
There are a few shows remaining on this tour. If Guns N' Roses is in your area, don't be dumb…GO! Also, let's make a wish for a reunion, shall we?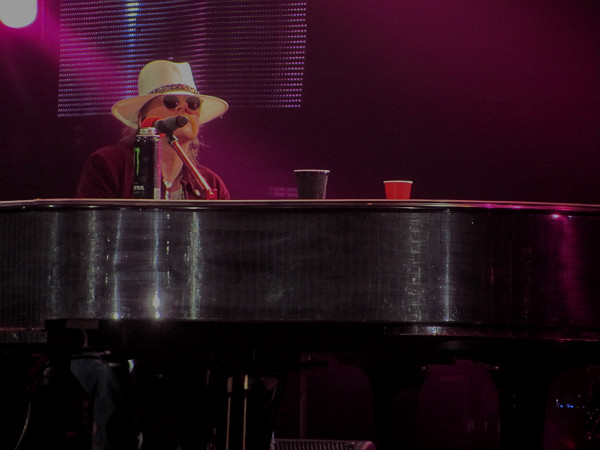 Please comment with your thoughts on Guns N' Roses and/or the show you've seen, because – "When You Tell Concerts…It's Cooler!"

Video Credit: Youtube User – artzpot
PS.  Axl's a babe.