Ep.512 – Bassnectar @ Bridgestone Arena – Nashville, TN 12-31-11
Bassnectar New Year's Eve Video Concert Reviews
Bassnectar New Year's Eve Review – Bridgestone Arena – Nashville, TN
There were many fantastic New Year's Eve parties to choose from in Nashville, but there's no doubt that You Tell Concerts made the right decision by celebrating the start of 2012 with Bassnectar.
In the heart of downtown, a barrier closed off lower Broadway for the city's free Lynyrd Skynyrd show and music note "ball" drop. Just outside that barrier, a faction totally opposite your average Southern Rock fan gathered for a night of severe bass-dropping Dubstep, that can only be described as unworldly.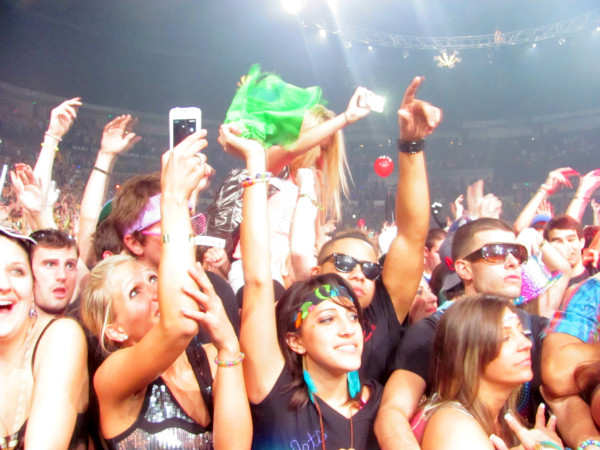 The sold-out Bridgestone Arena was swarming with teenagers and twenty-somethings armed with LED "rage toys" and dressed in prismatic ensembles of fur, feathers, body paint, and animal garb. Large illuminated black and white striped space-shaped ornaments hung from the ceiling and the sounds of Break Science thundered through the venue as we made our way through the aisles down to the liberating luxury of the floor.
Break Science was a prime opener, incorporating live drums and Hip-Hop elements warming up the audience with something a little smoother than Bassnectar and serving up a selection of styles to dance to. Even the senior citizen security guard standing next to me enjoyed them. I know because he was sashaying at his post; so precious and equally awesome.
Bassnectar took the stage around 11:00 PM and the arena lost it. Like some form of colossal Gypsy powwow, tribal sticks were raised high and the kids were jumping, twisting, and gyrating in bliss, as if a spirit of bass had taken over their bodies, or maybe it was the 110 decibels these Bassnectar shows reach.
This is kind of crazy, because I noted the following before seeing the artwork that won the poster contest for this NYE event.  From the viewpoint of a balcony seat, it felt as if Lorin (Bassnectar) was the "Queen," and we were all honeybees in the hive. Of course the throne was made of monstrous screens displaying psychedelic imagery that made my sober mind a little hazy. Let us not forget the use of multi-colored lasers and fire balls…I can only imagine how magical this show must have been for those experimenting with a 'higher level of consciousness."
The Bassnectar family is a loving one though, so I feel there's little room for freak-outs. During the show, there were crew members in the front of the stage stocked with water bottles, keeping those squashed in the pit (many who had been waiting at the venue several hours prior to the doors opening) hydrated. At one point, a young lady offered me grapes on a silver platter; how thoughtful.
About a minute before midnight, a loud holler came from the back of the floor area, and a group of extra-peacockish Bass Heads on Parade (some on stilts) snaked through the floor crowd. Bassnectar cued the ten-second countdown to 2012, which triggered a balloon-bass drop. This gave a whole new life to the party, which continued until 2:00 in the morning.
Bassnectar began to wind down his three-hour set with a short speech thanking Nashville and everyone that put the show together.  He also shared his New Year's resolution, which was also posted on his Facebook page.
"I am so thankful for this magical life and the chance to share it with all of you…My resolution for 2012 is to constantly remember how precious this life is, how much i have to be thankful for, and to continue giving back."
Video Credit: YouTube User – hollisd09
He then went into what I think was an appropriately tender song for that moment, Imogen Heap's "Hide and Seek." The concert continued for awhile after that, but the intensity started to turn into a euphoric side of Bassnectar. It was still powerful and certainly not putting anyone to sleep…just lowering the heart rate a tad.
The show let out and some went on to after parties. I'm sure some ended up at Broadway's honky-tonks hanging with the leftover Skynyrd fans. Some waited hours sitting on the sidewalk trying to hail a cab. Wherever we ended up after the historical Bassnectar NYE arena show…we all had some interesting stories to tell, and most likely, some sore muscles. Dancing is serious business.
At first, I thought seeing a DJ at an arena was such a weird concept.  I guess I felt this way because back in my rave days, everything was so secretive and underground. This makes perfect sense and the security adds a comforting level of safety for both kids and parents. Surely, we'll be seeing more of these dance parties coming through Bridgestone now that Bassnectar has broken the ground so successfully.
If you were at this Bassnectar show, please comment and let us know your experience…because – "When You Tell Concerts…It's Cooler!"