Ep.539 – That 1 Guy Interview & Fan Reviews @ 3rd & Lindsley – Nashville, TN
That 1 Guy Interview & Fan Reviews – Nashville, TN
Have you ever decided to stay over at a friend's house after the party is over? Did that friend suggest watching a PBS special before passing out? At first I was all "Say Whaaaaa"?, but within a few minutes I was completely engaged and tuned into the 30-Minute Music Hour featuring That 1 Guy.
I kept an eye on That 1 Guy's calendar for years, hoping he'd make his way through Nashville, and he did just that on Wednesday. On this tour, Mike Silverman (That 1 Guy) has a special "Magic Mustache Club" VIP option for fans. If you can secure a spot, I recommend taking advantage of the opportunity. Before the show, Silverman performs some close-up magic (cards & coins) for 5-10 fans and hangs for a lengthy meet-n-greet. The package also includes a t-shirt, admission to the show, and a VIP pass.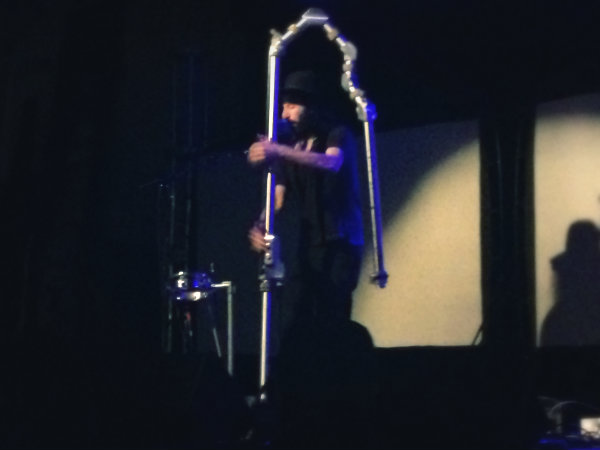 A meet-n-greet with That 1 Guy is so much more than a simple "hello"/picture/autograph. Silverman is hands-down the most interesting person I've ever met and had the pleasure of listening to. This man has a beautiful mind and so many interesting stories and experiences. I'm usually intimidated by people this brilliant and talented, but Silverman is humble, personable, and speaks to you as a creative buddy without ego or agenda.
That 1 Guy is a born entertainer, able to wow a small crowd with the vulnerable art of illusion one minute, and in the next, perform solo in front of a packed house (or an entire festival audience for that matter.) He has revolutionized the concept of the one-man-band, making it futuristic and electronic, and therefore, hip with today's dance generation.
This video reminds me of getting fan reviews after shows:
I'm a sucker for a live-loop demonstration in concert, as it gives merit to the artists who use computers and other digital advancements during shows. I feel they get a lot of abuse from Classic Rock lovers, and those skeptics need to see artists like That 1 Guy to appreciate the changes. Of course, That 1 Guy invents his own technology and instruments, which gives him more credibility than your average DJ.
In addition to the live loop, That 1 Guy showcases the variety of styles he can produce using the Magic Pipe. There are metal moments, symphonic moments, funky moments…all the colors of the sonic rainbow pressed into what I believe was an hour and a half show. He also works in puppets, magic, humor, and sound-triggered video that makes for a unique Vegas-like experience that seemed to fly by and had the crowd hootin' and hollerin'.
There's a certain innocence to That 1 Guy's music that makes me think he could be the next Raffi meets Jim Henson. As a new mom, I'm seeing a whole franchise here…from Saturday morning cartoons to a "That 1 Kid" line of toys and kits that assist kids in inventing their own musical instruments. Just watching this dude gets the old wheels turning.
That 1 Guy closed the show with a killer cover of Cameo's "Word Up," and afterwards, had a line of people waiting to meet him. Check out the link below of That 1 Guy's upcoming shows. Seriously, if he's coming near you, don't miss it. Mind blown.
 Score a Free That 1 Guy Download!