Ep.547 – NKOTB & One Direction @ Bridgestone Arena – Nashville, TN
NKOTB & One Direction Video Concert Reviews – Nashville, TN – June 18/19, 2013
Nashville has been bursting with an array of music fans this month, from CMA Music Fest's Country connoisseurs and Bonnaroo's bohemians, to this past week's back-to-back multi-generational Boy Band mania: NKOTB (with Boyz II Men and 98°) and One Direction.
I was able to witness both NKOTB's "The Package Tour" and One Direction's British invasion of the Bridgestone Arena, and these groups are so blessed. Personally, watching the audience was by far the best part of both concerts. That's not to downplay the talent and performance of these boys …and, er, men, but the adoration and dedication of the fan radiates to the point where you can physically see the bands growing stronger with each ear-piercing scream.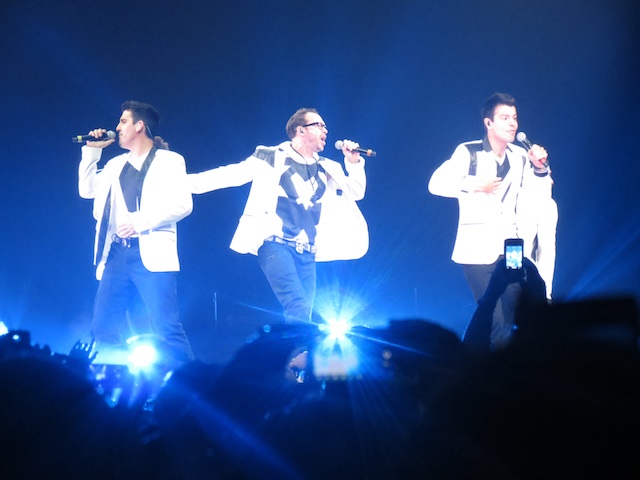 Night One – NKOTB:
The Package Tour took place on Tuesday night. Live and direct from Philly Town, Boyz II Men took the stage first after a video sizzle reel reminding us of all their hits (like we could ever forget), and they sang every one of those tunes. It was also a memorable night for Boyz II Men, as it was Nate Morris's birthday! An inside source told me that in celebration, the band's manager arranged for a local drum line to follow the founding member around for a few hours prior to the show. It sounds like all the groups on the tour had a lot of fun with that.
Then, without break or warning, came the eye candy -98°. To be honest, I thought 98° sounded the best out of the lineup with their silky harmonies, vocal blend perfection, and in-sync phrasing. I can't hate on those muscles either. I love a good fan serenade, and 98° went there, bringing four lucky women up on stage.
Before long, it was time to take the NKOTB pledge:
I do hereby pledge to spend the next 2 hours having the time of my life. I will leave all the drama, all my worries, and all my fears behind me.
I promise to celebrate tonight like there is no tomorrow. For this is my night.
I worked hard for this night.
I deserve this night.
I earned this night.
And together: we own tonight.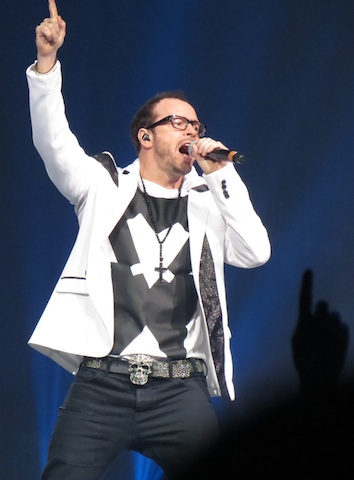 I've been to a few NKOTB shows since the band reunited in 2008, and it seems that the shows have simplified a bit, which I don't mind. We don't really care about the spectacle. We just want to be crazy young girls again for a few hours; have some drinks and hear our favorite boys sing the songs we grew up with. Oh, and we want to be as close as possible to them.
NKOTB knows this, so they use the second stage, which stands in the middle of the arena, for a majority of the set. At points, individual platforms would raise, bringing the guys closer to the upper level seats – giving me heart palpitations in the process. I don't need to see my lifelong celebrity crush plunge to his death. Get those guys some harnesses!
I absolutely love their wardrobe choices. They keep it classy and don't try any crazy new styles that belong on dudes less than half their age.
As always, NKOTB performs all the mainstream classics on this tour from "Please Don't Go Girl" to my favorite,"Games." They throw in a handful of new stuff. "Remix (I Like the)" was a highlight.
NKOTB continues to live up to my expectations. As long as their around, I'll keep going to see them. I find it fascinating that a group with minimal recent airplay can keep bringing out crowds like this, much like legendary respected Rock bands like The Rolling Stones. The fans proved that a "fad" can last forever, and that's why I think the fan is the most amazing part of these concerts.
PS.  If anyone has the NKOTB Meet & Greet pic password for this show, please email me at chrystal(at) youtellconcerts (dot) com.  I was in Group N and am having a heck of a time tracking that password down.  Thanks!
Night Two – One Direction:
I was told there was "no shot" that I would get into this show. I was told I would have better luck getting into a John Lennon concert. Well, have the angels point me to Will Call, because I saw One Direction for a whopping $20. Take that, Mr. "I'll sell you my tickets for $1,200!"
I watched a Hummer limo pull up and a group of about seven pre-teens in matching puffy-painted shirts pile out with their parents in tow. They were so precious; I started to get emotional. To think that over 20 years ago, that was me headed to my first NKOTB concert. Now, I was nursing a hangover from my last (well, until the next one) NKOTB concert. Bittersweet.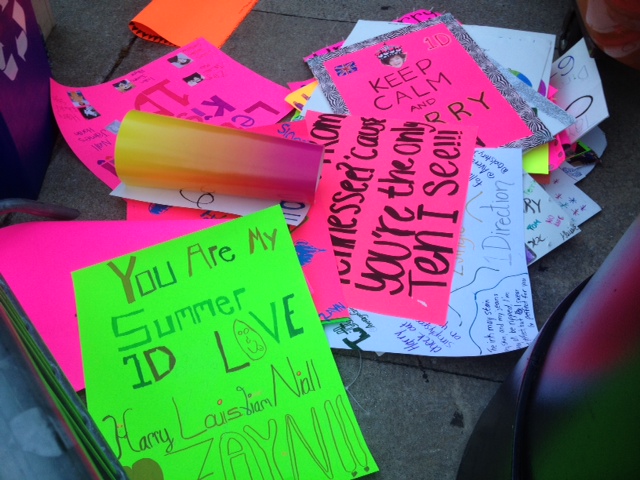 My heart sank to see a pile of homemade signs being collected on the sidewalk, as they were not allowed into the arena. How some kids got their signs in and others didn't, baffles me.
The venue was packed to just about the max. The only seats available were those in the mix shadow and other obstructed views. The crowd was loud…super loud. However, sorry to say it, Jonas Brothers was louder. I could actually hear the music at One Direction.
I don't know much about One Direction, but I'm familiar with a few of their songs, and I love that irresistible feel-good vibe. The live show matches that style. The boys are fun and have great chemistry with each other. They work the stage, so everyone is gets a piece of the action the whole time. They are attentive and play with the audience, making the fans a part of the experience not just spectators.
I saw a little girl's life change when one member waved at her. This was her first concert. She was in bliss the whole night, jumping and shaking with screams. It was beautiful.
I loved how they called out a girl for double-fisting drinks at the beginning of the show, and then, revisited her at the end; "As expected, she's wasted." She wasn't; it was a funny comment though. Before the final song, one of the guys called out a group that he noticed walking toward the exit. He promised that it would be the last song and asked them to stay. All this is done with their adorable accents and proper English.
I'm glad One Direction didn't revisit the recent "candy thong" routine that has been publicized over the past couple of days. That would have thrown me off.
A vendor tried to tell me that One Direction lip-sync, and I was expecting that. I don't think they were though. There may have been some backing tracks, but their choreography was limited; I'm not convinced they needed to lip-sync.
One Direction was totally worth seeing. I couldn't stop smiling and even left having a favorite member: Niall.  Also,  I'm a big supporter of tour volunteers passing out free Nabisco treats after the show. Nice touch!
So after two nights of Boy Band pandemonium, I can say with confidence that the quality of genre is staying strong. Although, it's getting pricier to be a part of it all. I've been told NKOTB "Meet & Greets" start at $300, times that by 10 to get your picture with the lads of 1D. Hey, I guess that's how artists have to make their money in a digital world. Merchandise and touring is where it's at. Clearly, people are willing to pay it, or it wouldn't exist.
If you've seen NKOTB or One Direction, please comment on this post and let everyone know what you think of the live show. Because When You Tell Concerts, It's Cooler!