Ep.170 – Yelle @ The El Rey – Los Angeles , CA
Lorn rolls to the SOLD OUT!! YELLE concert at The El Rey and talks to fans about the show and Yelle's over all awesomeness!!!
For those of you that weren't at the show and couldn't make out who was introducing Yelle at the 57 second mark due to my incredible filming skills, it was internet blogger and Yelle SUPER FAN… Perez Hilton !!
WOW Perez looks nothing like that now, and by that I mean he doesn't look like complete shit.  I guess with all his big time blogging money he was able to get some veneers and a decent hair cut.
Concert Reflections :
1. Having never listened to Yelle before in my life (and not being able to understand half of what she was saying) I was blown away, and able to get my boogie on !!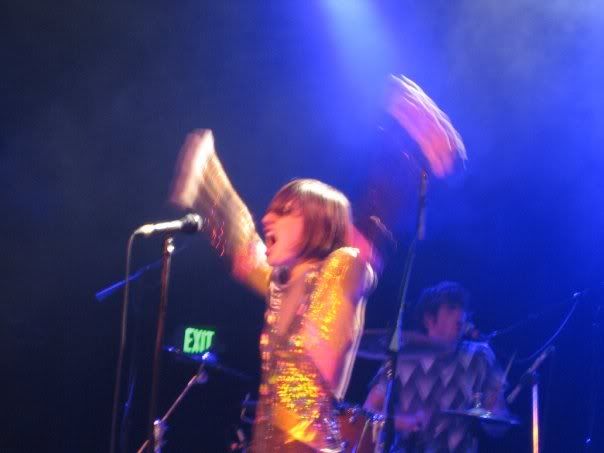 max props to Sebastian for getting this pic
2.  I thought it was really cool to hear Yelle talking to the crowd in broken English. I don't think I would have put forth the effort to learn another language, yet alone speak it with such passion and emotion.
3. Yelle's backup band brought a lot of energy to the stage and got the crowd jumping while Yelle was resting her voice.
4. Everyone really seemed to like my hat not matching my jacket. ( Can you believe that's not always the case?)
5.  You should check out Yelle even if you don't speak french (or even like the French) because she has got it going on!!
This was one of Yelle's very last US dates for 2009 as of this point in time 

Here are the remaining Yelle tour dates as seen on her myspace http://www.myspace.com/iloveyelle