Ep.172 – Felix Cartal @ 12th and Porter – Nashville, TN
Friday night, I went to see Felix Cartal at 12th and Porter in Nashville, and I learned a lot about a Nashville Electro scene that I thought was nonexistent.
The crowd was skimpy, and most of the people didn't show up until 11:30 PM/Midnight.  The entrance bar had a lounge area with a few couches and a dance floor.  I'm not really sure how to categorize Electro music, but the DJs in the upper bar seemed to be playing more urban/pop mixes (which are more my style).  The main stage was in the back, and was a large black box room with a stage and some cool lighting set up.  It had an underground rave feel to it, and the DJs down there seemed to play more techno/house-heavy electro.
I discovered that there is a DJ here in Nashville, that is very well-respected – and rightfully so.  His name is Justin Kase, and I caught a little bit of his set before Felix came on.  He was a lot of fun, and his mixes were a nice combination of both that heavy dance vibe and that poppy urban sound I like. http://www.myspace.com/justinkase
Kase is opening for Ghostland Observatory at the Cannery Ballroom on March 27th.  Unfortunately, I'm going out of town, but YTC is a huge G.O. fan, and I suggest you go to this show if you know what's good for you

http://www.myspace.com/ghostlandobservatory
Have you ever taken the time to watch DJs switch over sets without stopping the music?  OMG, it's the coolest thing.  When Felix took over, the crowd erupted in dance.  However, I think Justin Kase wore them out. About 45 minutes into the set, people started to leave.
Maybe Felix's music wasn't what they are used to, or maybe it was just the weird Friday the 13th rainy night vibe – but it was disappointing.
Although it was a light crowd, I loved every second of it.  I'm such a bad dancer, but there I was jumping around like crazy.  How can you not, really?
How do you even describe Felix Cartal?  He's the Justin Timberlake of Electro. (Don't hate.) All the girls were googley-eyed (and some of the guys too).  He's adorable, talented, experienced, comfortable, focused, smart, and kicking some serious ass. http://www.myspace.com/felixcartal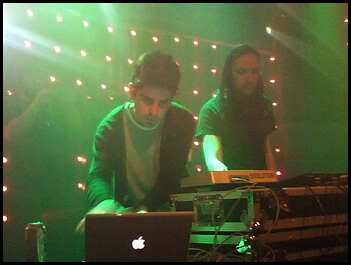 I'm excited to see that there is a bit of a scene here, because Electro was starting to grow on me, before I left LA. Although it may not be an all-out lifestyle like it is in Los Angeles – Nashville is making progress. Thanks for all the info DJ Jane Dupree! http://www.myspace.com/janedupree
Mashville on March 20th at The Mercy Lounge-Check it out!
Upcoming Felix Cartal Tour Dates as seen on his MySpace<
| | | |
| --- | --- | --- |
| | FELIX CARTAL @ 12TH & PORTER | NASHVILLE, Tennessee |
| | FELIX CARTAL @ OGDEN THEATRE W/MSTRKRFT | DENVER, Colorado |
| | FELIX CARTAL @ THE ROXY (MSTRKRFT RECORD RELEASE PARTY) | LOS ANGELES, California |
| | FELIX CARTAL @ THE INDEPENDANT W/MSTRKRFT | SAN FRANCISCO, California |
| | FELIX CARTAL @ PONTIAC GARAGE W/MSTRKRFT | DALLAS, Texas |
| | FELIX CARTAL @ SXSW W/ MSTRKRFT, KLEVER, BIRDY PETERSON, LA RIOTS AT RADIO ROOM | AUSTIN, Texas |
| | FELIX CARTAL @ FOUNTAINBLEU-BLADE (DIM MAK PARTY) | MIAMI, Florida |
| | FELIX CARTAL @ LOUIS W/ MSTRKRFT, LA RIOTS, BEETROOTS, BIRDY PETERSON, KLEVER (UNDOCUMENTED PARTY) | MIAMI, Florida |
| | FELIX CARTAL @ RED JACKET | VICTORIA, British Columbia |
| | FELIX CARTAL @ 48HRS RENU HIPSTIVAL | TAIWAN |
| | FELIX CARTAL @ TLA W/MSTRKRFT | PHILADELPHIA, Pennsylvania |
| | FELIX CARTAL @ METROPOLIS W/MSTRKRFT | MONTREAL, Quebec |
| | FELIX CARTAL @ TBC W/BIRDY PETERSON | AUSTIN, Texas |
| | FELIX CARTAL @ UCSB | SANTA BARBARA, California |
| | FELIX CARTAL @ HABITAT | CALGARY, Alberta |
| | FELIX CARTAL @ HIFI | WINNIPEG, Manitoba |
| | FELIX CARTAL @ FLUID | EDMONTON, Alberta |
| | FELIX CARTAL @ ETD POP FESTIVAL | DALY CITY, California |