Busy P's Birthday @ Cinespace – Hollywood, CA (Daft Bangalter Special Guest!!!!)
Bryan and Lorn roll to Cinespace to celebrate Busy P's Birthday and catch sets from THOMAS BANGALTER (Daft Punk), Busy P, A-Trak and many many more
What an absolutely ridiculous evening at Dim Mak Tuesday's @ Cinespace this week. Busy P and the COOL CATS crew were in the house to celebrate the Ed Banger Record's boss man's BDay and per usual they brought the party.
http://blog.coolcats.fr/
http://www.myspace.com/busyp
This is how I blog


Photo by CobraSnake
On top of having Busy P, Kavinsky, SebastiAn, Mehdi, SoMe, Gaspard from Justice, and A-Trak all jumping on the CDJs a completely unreal special guest arrived just in time for last call and before the bar closed… THOMAS BANGALTER from DAFT PUNK!!!

Photo from http://clubsoda.fm/
Here is a little treat for you. An unmasked mini-set by 1/2 of Daft Punk mixing Prince's Raspberry Beret on CDJs while the COOL CATS and ED BANGER party LA style with Belevedere in tow.
I also met this cool dude outside (Ahmad? Armahn? Hit me up dude.) who had a ridiculous piece of memorabilia. This Daft Punk vinyl with the slip cover autographed by Thomas Bangalter on one side with THE PYRAMID!! and by several of the Cool Cats on the other. Don't let that out of your sight!!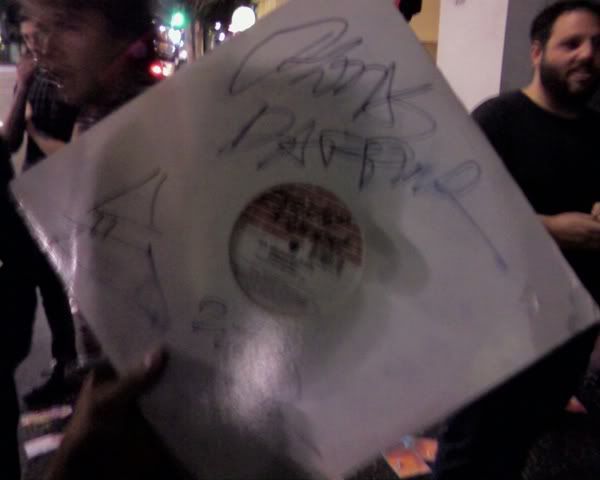 Some other highlights from the night include…
- Kavinsky pouring shots on stage
- Kavinsky then giving them to the crowd
- SoMe and Mehdi as MCs. More MCs!!
- Some dude being a douche and hassling me about asking for his review of the show because he was a "celebrity" and me responding with "I sure as hell have no idea who you are." LOL This is Hollywood guy… we're all celebrities.
Cinespace is always difficult to talk to people with afterward because it's usually the "too cool" crowd mixed with the "fucked up" crowd. Would have liked to get more reaction to this show, but peeps just weren't havin' it.
Also, MAD PROPS to Dim Mak and Them Jeans for throwing this event. Anything I ever said about them not following through on their promotional promises has been completely shattered by this ultimate special guest. Thanks you guys.
http://www.DimMak.com
http://www.myspace.com/themjeans
UPDATE!!
Ed Banger crew FIGHTS Cinespace bouncers!!! WHAT?!@!?!

Photo by Ronys Photo Booth more info at HipsterRunOff.com