Ep.190 – Nashville4Africa @The Schermerhorn Symphony Center – Nashville, TN
Chrystal has a magical evening at the 2009 Nashville 4 Africa benefit
Nashville4Africa was a once-in-a-lifetime concert opportunity that seemed to pop up out of nowhere last week with the addition of Keith Urban and Faith Hill to the list of performances.Other participants included Dierks Bentley, Third Day, Jars of Clay, Brad Arnold (3 Doors Down), Ashley Cleveland, The Steeldrivers, Brandon Young and Michael Rhodes. Big Kenny (Big & Rich) and Damien Horne hosted the event in a friendly, relaxed manner that brought an overwhelming sense of unity and hope that filled the gorgeous Schermerhorn Symphony Center.
Listen, I loved Big Kenny before, but seeing him live and in person made me a diehard fan. Not only does he rock as a performer, he rocks as a person. In 2008, Big Kenny collaborated with other organizations to help start a medical clinic and build the Kunyuk School for Girls in the Sudanese Village of Akon. His next mission is scheduled for this year, and will provide additional medical and educational supplies to Sudanese villages through the Love Everybody Fund of The Community Foundation of Middle Tennessee. Proceeds of the Nashville4Africa concert will go towards building two
new schools in Africa.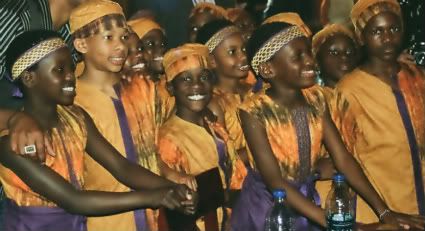 There were so many moments that moved me at this show, like Brandon Young's beautiful acapella version of "His Eye Is On the Sparrow" and the children singing with Dierks Bentley to "Beautiful World." Most of all I enjoyed when the children sang Numbers 6:24-26. It was a lovely evening, and I hope Nashville continues to do this every year.
http://www.africanchildrenschoir.com
http://www.invisiblechildren.com
http://www.thelostboysfoundation.org