Ep.200 – Gavin Degraw @ Exit/IN – Nashville,TN
Gavin Degraw played a sold-out show at the Exit/In on Monday promoting his new album "Free." On this new CD, Gavin says his intention was "to stay out of the way of the songs," keeping production elements to a minimum, so the listener can focus on the songwriting.
Gavin took my breath away. I've never seen anyone so flawless live. I've seen him three or four times, and he's perfect at every show. If you see him once, you'll make it a point to see him again and again.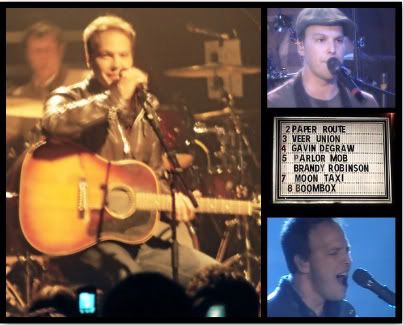 I fell in love with Gavin when he opened for someone I saw at The Greek Theater in Los Angeles. Avril, I think. When I heard him sing "Follow Through," I told my cousin – "I want this to be my wedding song." Smitten, I tell you. I must have listened to the Chariot album for 6 months straight after that show.
Gavin obviously makes good use of his sound checks, and he clearly understands the importance of feeling the song when he's singing it. In turn, the audience understands every word, and feels the emotion of the lyrics.
They were taping this specific show, so Gavin wasn't as relaxed as the last times I saw him, and I was hoping for a different song selection from the Chariot CD. Maybe adding "Just Friends" and "Meaning," but for taping purposes – I think he put together a nice mixed set list.
After the show, Gavin came out for pictures and autographs. What a genuine and sweet guy, introducing himself to everyone and not assuming that people just know who he is.
Three cheers for Gavin Degraw – a live music experience not to be missed.
Upcoming Shows – Listed on http://www.myspace.com/gavindegraw
| | | |
| --- | --- | --- |
| | The Loft | Atlanta, Georgia |
| | Jack Rabbits | Jacksonville, Florida |
| | State Theatre | Saint Petersburg, Florida |
| | Cipriani – Wall Street | New York, New York |
| | Foodline Speedstreet Festival | Charlotte, North Carolina |
| | Heritage Park Ampitheatre | Simpsonville, North Carolina |
| | Paradiso | Amsterdam |
| | Paradiso | Amsterdam |
| | KB | Copenhagen |
| | Festival | Skive |
| | Outdoor Festival, Skien | SkienTorg |
| | Mejereit | Lund |
| | Volkshaus | Zurich |
| | La Cigale | Paris |
| | Summerfest | Milwaukee, Wisconsin |
| | Heritage and Freedom Festival | O'Fallon, Missouri |
| | Freedom Hall – Kentucky State Fair | Louisville, Kentucky |
| | New York State Fair | Syracuse, New York |