Ep.203 – The Veronicas @ Rocketown – Nashville , TN
It's 10:47 PM on Saturday, and I just got back from seeing The Veronicas at Rocketown. It's actually kind of nice being home early enough to write my review before bed.
We arrived in time to see Taylor Momsen's (of the TV show Gossip Girl) band, The Pretty Reckless. I liked what she brought to the table. There's definitely some grunge influence there, which I can appreciate. I believe The Pretty Reckless can compete with the likes of Paramore with a little more work on stage presence. I just can't get over the fact that she's 15. Her voice is strong and full, and from the back of the room, she looked in her mid-20s. I want to shake her and say, "You rock that Courtney Love look, but darling – you're 15! Don't grow up too fast." However, it might actually work out well for her, and prevent her from automatically getting tossed into the teeny bopper rock pile. No matter how her music career turns out, Momsen is obviously very talented, and would be a great cast for Ms. Love in a future film biography.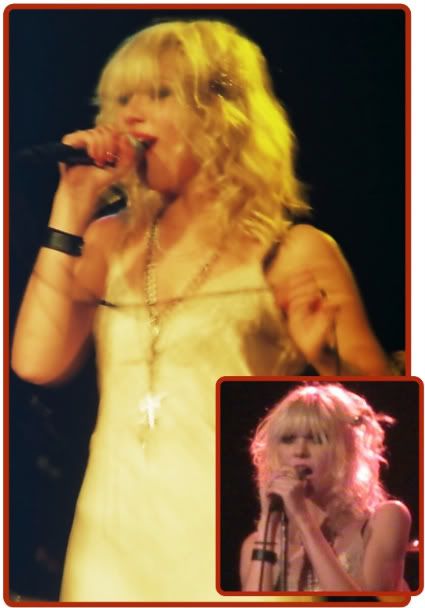 Ahhh…The Veronicas. So adorable. So Gemini-esque. So Aussie. I loved them. The twins started with their hit "Untouched," which shocked me. What would I have to look forward to?! That's the only song I know! I love it, but is this going to be torture?

Not at all. The girls brought it the entire set. I'm sure I unintentionally had a smile on my face the whole time. The kids in the crowd were LOVING it – jumping up and down, squishing up to the stage to get as close as possible, and throwing up the hand hearts and rock on signs. Jessica and Lisa love being on stage and have amazing style. Not to mention, they sound great. Very pop, but I can tell they are capable of a more mature sound. It's funny, their sound kind of reminds me of that 80s cartoon, Jem. Once they get older, I would love to hear a couple of songs that are more detailed and earthy. Less produced. Something where we can really hear those harmonies and see what those voices can do.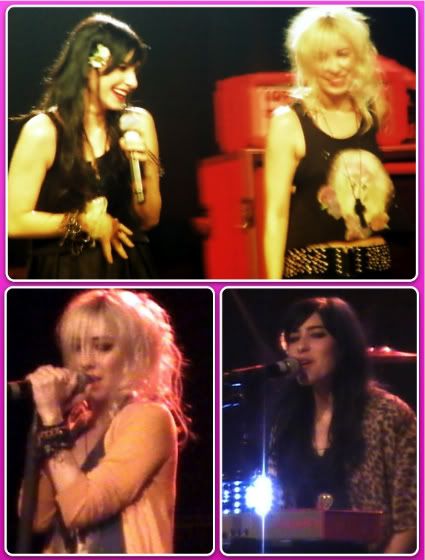 Granted – this show isn't for everyone; but if you can appreciate radio-friendly pop music, and a group that has fun on stage, has incredible fashion sense, can play instruments, and are cute as kittens – than you'll be entertained by The Veronicas. – Chrystal
Upcoming Shows as listed on: http://www.myspace.com/theveronicas
| | | |
| --- | --- | --- |
| | Headliners | Louisville, Kentucky |
| | Skullys | Columbus, Ohio |
| | Diesel Club Lounge | Pittsburgh, Pennsylvania |
| | Susquehanna Bank Center | Philadelphia, Pennsylvania |
| | Comcast Center | Boston, Massachusetts |
| | Lupos | Providence, Rhode Island |
| | Duchess Stadium | Poughkeepsie, New York |
| | The Norva | Virginia Beach, Virginia |
| | Handlebar | Greenville, South Carolina |
| | House Of Blues | New Orleans, Louisiana |
| | Varsity Theatre | Baton Rouge, Louisiana |
| | Hi-Tone | Memphis, Tennessee |
| | Hi Tone | Memphis, Tennessee |
| | House of Blues Dallas | Dallas, Texas |
| | The Meridian | Houston, Texas |
| | Capitol Fed Park | Kansas City, Missouri |
| | Golden Gate Park | San Francisco, California |
| | Henry Fonda Theater | Los Angeles, California |
| | Six Flags Discovery Kingdom | San Francisco, California |
| | Hawthorne Theatre | Portland, Oregon |
| | Neumos | Seattle, Washington |
| | Club Sound | Salt Lake City, Utah |
| | Alabama Adventure Theme Park | Bessemer, Alabama |
| | Summerfest 2009 | Milwaukee, Wisconsin |
| | Pops | St Louis, Missouri |
| | Peoples Court | Des Moines, Iowa |
| | Station 4 | Minneapolis, Minnesota |
| | Metro | Chicago, Illinois |
| | The Intersection | Grand Rapids, Michigan |
| | Grog Shop | Cleveland Heights, Ohio |
| | Fillmore at TLA | Philadelphia, Pennsylvania |
| | PARC-Elitch Gardens – PARC-Elitch Gardens | Denver, Colorado |