Ep.205 – Gwar @ The Exit/In – Nashville, TN
Chrystal has her first GWAR experience, meets Oderus, and gets fan reviews after the show.
As I type this, my hair, hands, and face are stained red from a glorious night at GWAR! The Exit/In was a sold-out, hot, sweaty, bloody mess. Seeing a GWAR show has been on my "bucket list" since high school. Now, I'm addicted, and will attend every GWAR show that comes to my area. When I have kids, I'll tell them it's a "must-see."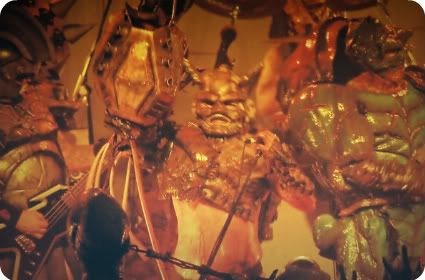 Yes, it seems shocking, but it's obviously all in good fun, and is not meant to be taken seriously. The White Zombie show that I went to was more frightening. I feel that GWAR fans turn to GWAR music and shows as a stress reliever. For me, seeing GWAR was the best way to spend a Friday night after a hectic week and a crazy weekend ahead. It's fun to be a part of such a unique art form. GWAR fans rule!
I heard a lot about the costumes, mutilations, and blood, but I never realized how much theatre was involved. A GWAR show is a legit play. Being a musical theatre geek, I dig it.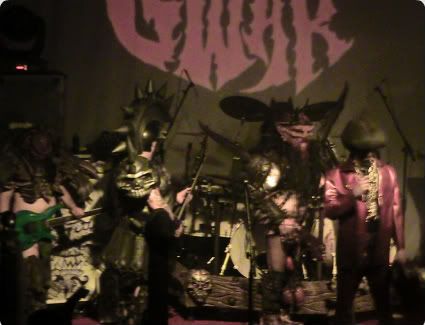 While we were waiting backstage to interview Oderus, the room looked like a demonic male version of our ladies dressing room before college productions. People walking around in their undergarments (or lack there of), getting in the zone mentally and vocally, and sharing private jokes with other cast members that only that cast would understand. I was so impressed with their professionalism. Their tour manager was so on top of everything, just like a stage manager.
I only got 2 minutes with Oderus, after thinking I had 10 minutes for the interview, so I just asked the questions that came to mind. Unfortunately, I didn't get to ask the really great questions that the fans in the GWAR forum gave me. If we're lucky, maybe Oderus will email me back answers to the questions I sent their management.
Update! Oderus answered those Fan Forum questions!  CHECK IT OUT!
Big Chunky Charlie asks: What leadership characteristics are the most important in managing a stage show like GWAR has?
HE/SHE /IT MUST BE A BRUTISH AND VIOLENT SON-OF-A-BITCH, NOT WILLING TO ACCEPT FAILURE OR TOLERATE ANYTHING OTHER THAN MATCHLESS SUPREMACY. GOOD CONNECTIONS IN THE DRUG AND BANKING COMMUNITY ARE ALSO A PLUS.
When it's time to find a replacement for yourself, what will you look for in a candidate?
NOTHING LESS THAN MY SON, WHO MUST BE EVEN MORE OF A SHIT-KICKER THAN ME. THE ONLY WAY I WILL EVER RELINQUISH MY GRIP ON THE CROWN OF GWAR IS WHEN MY FINGERS ARE BROKEN AND CUT FROM IT.
What would you ultimately like to see happen with GWAR? What's the goal?
NO GOAL, NO REASON, NOTHING BUT WHAT HAS COME BEFORE STRETCHING INTO FOREVER.
Captain Awesome asks: Are any old characters going to make appearances on the upcoming albums and tours?
GWAR'S RETURN TO OUTER SPACE FINDS US IN THE COMPANY OF MANY OLD FRIENDS AND FOES. THESE ENCOUNTERS USUALLY BECOME SEXUAL.
Son of Oderus asks: Is there a GWAR video game coming out, and are you going to tour Japan?
BOTH OF THESE THINGS ARE CHERISHED GOALS WE HAVE NURTURED FOR YEARS THAT TIME AND TIME AGAIN WE HAVE FAILED TO ACHIEVE. ALL THAT MEANS IS THAT WHEN THEY FINALLY DO BECOME REALITIES, IT WILL FUCKING RULE. MAYBE THIS YEAR, AFTER ALL IT IS ONLY OUR 25TH ANNIVERSARY, YA THINK THEY WOULD HOOK US UP BY NOW!
Special Thanks to Forum Members: Big Chunky Charlie, Captain Awesome, and Son_of_Oderus!
Don't deprive yourself of such a fun experience. It's true. You can despise metal music and still have a kick-ass time at a GWAR show.
I suggest getting there early, and getting as close as possible. Getting soaked with fake blood is fun, and don't worry – it washes right off.
Ladies, refrain from taking a pocketbook to the show. Besides being a hassle, you'll need to have it cleaned.
Upcoming GWAR shows as seen on: www.myspace.com/gwarofficial: