Ep.217- Sasqutch 2009 day 1 coverage – The Gorge @ George , WA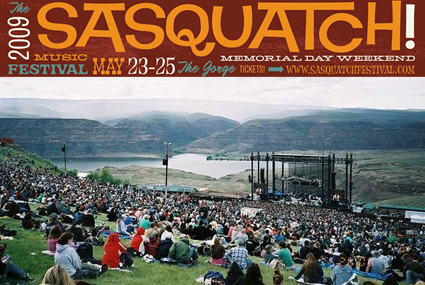 Lorn heads to the Gorge at George to attend the 2009 Sasquatch Music Festival and talk with attendees about the event.
First off, for those of you who have never been to the Gorge you are missing out. It has been voted 'Best Outdoor Amphitheatre' nine times by Pollstar Magazine and is the most gorgeous venue I have been to in my life.

Secondly the lineup is possibly one of the most diverse for a festival in the United States.
Saturdays line up included performances by :
Kings Of Leon ( Incredible bass player and a great stage presence, although a lot of people told me they felt like they just weren't into it)

Kings Of Leon – Notion
The Yeah Yeah Yeahs ( I missed this set to check out Bon Iver but heard it rocked and am not surprised by that at all)

Yeah Yeah Yeahs – Skeletons
Animal Collective ( I wasn't very impressed by this set but feel it had a lot to do with their set time. Animal Collective isn't a band you can really get down to in the hot sun)

Animal Collective – My Girls
Mos Def ( The set started off rocky with Mos Def singing along to some crappy tracks but as the set progressed he definintely improved and won over the crowd)

Mos Def – Life In Marvelous Times
The Doves ( I honestly could never stand the Doves and dreaded seeing them, but they rocked me at Sasquatch and I would be willing to see them again)
M.Ward ( I didn't see the entire set because I wanted to cruse over to Passion Pit but what I caught was groovy)

M.Ward – One Hundred Million Years
Passion Pit ( This set comes in at a close second to Kings Of Leon as my favorite set of the day. They got the crowd dancing and jumping around and brought some fresh beats to Saturday's festivities)
Bon Ivar ( I had all ways heard great things about this band so decided to skip the Yeah Yeah Yeahs. In retrospect I wish I would have caught the Yeah Yeahs. Bon Ivar has a great sound, but isnt a band I would want to see while the sun is up again, although I am sure it was beautiful to watch the sunset to. )

Bon Iver – Creature Fear
Chrystal Castles ( WOW some one shut Alice Glass up !! She is horrible !!! and intolerable!)
All and all, Day 1 of Sasquatch was the start to what would become an amazing weekend ! – lorn