Ep.237 – Fleetwood Mac @ Sommet Center – Nashville, TN – 06/19/09
Chrystal sees Fleetwood Mac at the Sommet Center and gathers reviews from audience members after the show.

I'm so happy that I got to see Fleetwood Mac live, and I had killer seats! Seeing Stevie that close up was a dream come true. Very inspirational! I want to be a gypsy rock goddess too.

Photo by: Steve Cross http://www.nashvillescene.com
Like many twenty-somethings of today, I was raised on Fleetwood Mac. Mac was our soundtrack on nearly every family car trip. When I was around 6 or 7, we would gather in the living room and listen to records, and I'd dance around. "Rumours" was always a favorite.
When I moved to LA, my friend/co-worker, Ray, gave me Stevie's "Enchanted" collection and I've been obsessed ever since. Those CDs are always on stand-by at home and in my car. "After the Glitter Fades," is a karaoke staple for me. I wish they would have played that the other night at the Sommet Center, but it's all good.
I loved the whole evening. Each member had their share of the solo spotlight. The backup singers were fantastic, and the band was so thankful for the response Nashville gave them.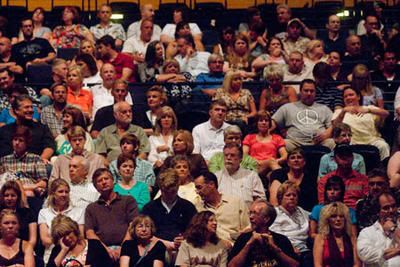 Photo by: Steve Cross http://www.nashvillescene.com
Stevie mentioned that Michelle Branch and Sheryl Crow where in the audience. Sheryl was at Eddie Vedder the night before as well. She must be on the YTC schedule J
The stage set consisted of lighting/video panels that changed direction and angles throughout the show. Modern, but subtle, so it didn't compete or take away from the band. The set list was packed with hit after hit. Each song was better than the last.
Another great show at the Sommet! I love summer!