Ep.238 – Elvis Costello @ Amoeba Music – Hollywood, CA
Lorn catches Elvis Costello at a special in store performance at Amoeba Music in Hollywood CA and gets fan reviews of the show, and also has a chance to chat with Jim Lauderdale.
This was my first time really listening to Elvis Costello, and I was impressed. He has an amazing stage presence that can only come with experience. He knows how to work a crowd and entertain even when he isn't playing. I heard a lot of people talking about how they wished he didn't play so many Bluegrass tunes, but I personally thought it was great. The backing band was also fantastic, and Elvis is lucky to have those dudes rolling with him (Jim Lauderdale on acoustic guitar and Mike Compton on mandolin).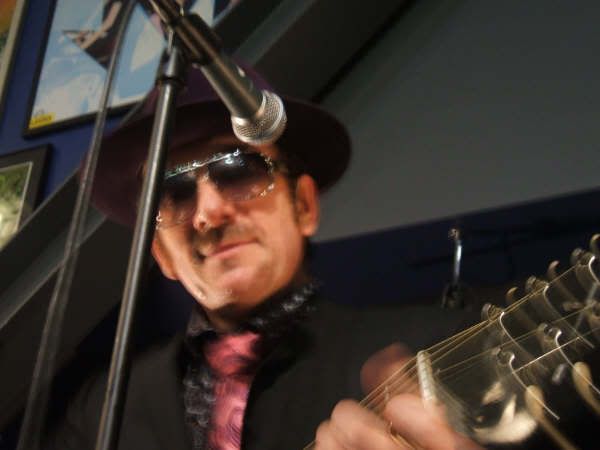 Photo by : JD Motte

Set list courtesy of DJ Motte
In addition to this awesome set,Elvis also played Buddy Holly's "Not Fade Away." and The Grateful Dead's "Friend of the Devil"
Current Elvis Costello tour dates as seen at http://www.elviscostello.com/
9 June 2009
Red Bank
New Jersey
USA
Count Basie Theatre
Elvis Costello & The Sugarcanes
Buy Tickets
10 June 2009
New York
New York
USA
Beacon Theatre
Elvis Costello & The Sugarcanes
Buy Tickets
11 June 2009
Wolf Trap Vienna
Virginia
USA
Wolf Trap Vienna
Elvis Costello & The Sugarcanes
Buy Tickets
13 June 2009
Manchester
Tennessee
USA
Bonnaroo Festival
Elvis Costello & The Sugarcanes
Buy Tickets
14 June 2009
Cary
North
Carolina
USA
Booth Amphitheatre
Elvis Costello & The Sugarcanes
Buy Tickets
16 June 2009
Nashville
Tennessee
USA
Ryman Auditorium
Elvis Costello & The Sugarcanes
Buy Tickets
19 June 2009
Telluride
Colorado
USA
Telluride Festival
Elvis Costello & The Sugarcanes
Buy Tickets
4 July 2009
St Paul
Minnesota
USA
Harriet Island
Elvis Costello & The Imposters.
Buy Tickets
5 July 2009
Milwaukee
Wisconsin
USA
Summerfest
Elvis Costello & The Imposters.
Buy Tickets
8 July 2009
Winnipeg Folk Festival
Winnipeg, Manitoba
Canada
Winnipeg Folk Festival
Elvis Costello & The Imposters.
Buy Tickets
10 July 2009
Rancho Mirage
California
USA
Agua Caliente Casino
Elvis Costello & The Imposters.
Buy Tickets
8 August 2009
Summer Sonic Festival
Tokyo
Japan
Elvis Costello & The Imposters
Buy Tickets
9 August 2009
Summer Sonic Festival
Osaka
Japan
Elvis Costello & The Imposters
Buy Tickets
15 August 2009
Salt Lake City
Utah
USA
Dear Valley Music Festival
Elvis Costello & Steve Nieve with the Utah Symphony
Buy Tickets
17 August 2009
Saratoga
California
USA
Mountain Winery
Elvis Costello & The Sugarcanes
Buy Tickets
18 August 2009
Los Angeles
California
USA
Greek Theatre
Elvis Costello & The Sugarcanes