Ep.284 – The Black Crowes @ Ryman Auditorium – Nashville, TN
I left the bar of Nebraska Cornhusker fans to walk down to the Ryman to see The Black Crowes. I had never seen them before and have always wanted to. I wasn't sure if I was going to find a ticket to the show, but I figured I'd try. Then a nice guy who was a big Black Crowes fan asked me to name 3 songs, and I blanked completely. Even if I remembered the names of the songs I knew, they all would have been the hits I heard on the radio. He still gave me his extra ticket. Thanks Mark!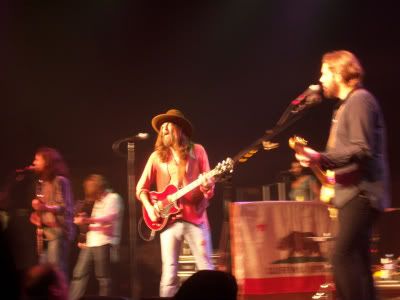 I enjoyed the show, but I compare it too my thoughts of The Raconteurs. (I actually liked The Raconteurs live show more.) Good, but it blends in with so many other shows. It was what I expected; earthly mellow rock.. Although I was swaying and 'feeling the groove,' I felt the urge to move around the venue throughout the show to get some variety and keep my interest up.
One guy in this video puts my thoughts into words when he explains that you have to do your research if you are going to enjoy this show. I needed to be in a different frame of mind. I was still in the intense jock-like football mode walking into the concert. Maybe I should've been stoned or something  The Black Crowes play for the real fans, not the people like me that only listen to them when they are played on the radio.
They are incredible musicians and sound great. The background singers add a super soulful layer that doesn't come through in the recordings like it does live. I'm going to listen to more of their catalogue and hit up the next show they play in town. I wasn't prepared, so I didn't get the full effect and wasn't able to give the performance the appreciation it deserves. But, that's why we leave it up to the fans at YTC.