Ep.303 – Willie Nelson @ Ryman Auditorium – Nashville, TN
Willie Nelson Video Concert Reviews – Nashville, TN 11-5-09 from Chrystal Heidemann on Vimeo.
"Eeeeeveryboody Loooves Willie!" – I don't know if that's a common chant at Willie Nelson concerts, but it's my favorite audience reaction of all time. It's so true. If I had to use two older men to describe American style, I choose Hugh Hefner and Willie Nelson.

As I watched the wise and talented 76-year-old man sing, I could actually feel that he was guided through each song by the emotion and memory of life experience – not the teleprompter that ran in front of his feet. (Really, why was it even there?) I hung onto every word, and even shivered a couple of times because it was so touching. I love the Hawaiian tones in his sound. It reminded me of our beautiful trip to Maui, and the little town of Paia before the Road to Hana that Willie is fond of.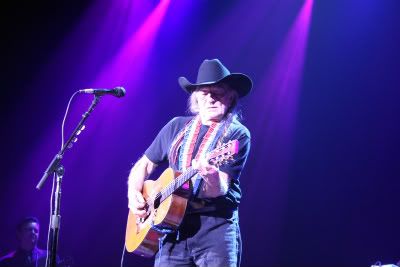 Photo Credit: Mark Boone
From the worn guitar he played to his long braids, Willie is a man who has stayed true to himself and his music. It was precious when he tried to reach a higher note, and it came in a smidgen late. At the next brief pause in the song he laughed and said, "I lost my voice." <3 It took me at least 5 songs to notice that there wasn't any percussion on stage. The band stayed to tempo and kept the sound clean using musical precision and following eachother. They made it look so easy!
The audience was loving the show. Willie reciprocated with sparkling eyes and a bright smile. He threw his hat into the audience, and then someone threw theirs up on stage, which he wore the rest of the show.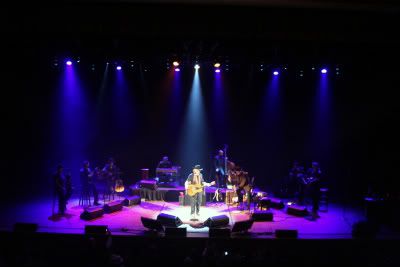 Photo Credit: Mark Boone
After his final song, he shook hands and signed a bunch of autographs at the front of the stage. I was one of those lucky ones. I'll never forget looking into his eyes that have seen so much and shaking his hand. What a moment.
Check out upcoming Willie Nelson tour dates here!