Ep.308 – Bruce Springsteen & the E Street Band @ Sommet Center – Nashville, TN
First off, many thanks to Phil who donated his extra ticket so YTC could see Bruce Springsteen at the Sommet Center. I consider this my first time actively seeing The Boss. I caught about an hour of his Bonnaroo set, but I couldn't see anything, and dancing in mud lost its thrills pretty quick; so, I headed to the Ferris Wheel.
Phil is a Bruce concert veteran, and said that he couldn't believe all the empty seats, as he's never seen a seat open at the other shows he's been to. Springsteen sells-out stadiums. What's up Nashvegas?
It really didn't matter, because the true fans were giving it their all. The show didn't actually start until 8:24, but the guy in the green shirt in section 207 played cheer conductor getting everyone warmed up for what would be 3 hours of city rock magic.
When the show started, I literally thought Bruce was going to have a heart attack. He looked like he was in pain, but I guess he's just a forceful singer. He opened with a new song, "Wrecking Ball," and it sounded like everyone was a little off. It wasn't until after I got home that I found out the song is a new one, which would explain why it's not as tight as the other songs. It was a little rough at the beginning, but once he played "Trapped" three songs in, things were in motion and coming together. Had I known that I wasn't going to get "Born in the USA," I would've loved that as an opener. Too much, too soon? Yeah, maybe.
Photo Credit: Steve Cross with Nashville Scene
The next big 'to do' was 'Hungry Heart,' where he came through the audience onto a platform in the center of the floor and crowd surfed his way to the front. I wonder how many ass grabs he got. Really, how could anyone resist? The Boss is a stud.

Video from Youtube User: KJastremski
The lights would go up full blast every now and then like football game lighting, which was a huge energy booster. I had a field day watching all the Baby Boomers in their collared shirts tucked into jeans (with belts) dance like my Dad does at weddings. I've never seen bigger smiles on so many grown men. Usually guys just stand there and nod their heads or scream songs at the stage.
These people were in heaven, having so much fun – movin' and shakin.' There was one family dancing with their kids (or grandkids) swinging them around in circles. It was precious.  It took me back to when I was about 6 years old. My parents would put Born in the USA on the record player and we'd dance around the living room. The coffee table was my stage.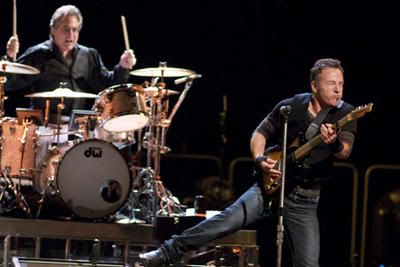 Photo Credit: Steve Cross with Nashville Scene
Bruce and the E Street Band played "Born to Run" in full with a most dramatic "Jungleland" ending, which was the highlight of my night. I would love to see them perform that song in Times Square for New Year's Eve or something. That would be an experience. I could listen to Clarence on the sax all day, and I adore his gold fingernails that match his instrument. It was a perfect manicure. I wonder if he uses Minx Nails like Katy Perry. They bowed after completing the album, and went into "Waiting on a Sunny Day" where Bruce brought a little girl on stage to sing the chorus.
Photo Credit: Steve Cross with Nashville Scene
Then, it was sign time. Everyone held up their homemade signs with their song requests written on them, and Bruce started gathering them and adding requests to the set list. We got "Santa Claus Is Coming to Town" (could have done without that one. Saw it at Bonnaroo. "Glory Days" would have been a good substitute), "Two Hearts," "Darlington County," and a cover of Johnny Cash's "Ring of Fire" (which he said they have never played before.)
Video from Youtube User: KJastremski
The night went on and on – "American Land," "Rosalita," "Dancing in the Dark," a handful more, and the closer "Higher and Higher." I loved his speech at the end saying something like "you just saw the most earthquakin', lovemakin,' Viagra-takin' band in the world…" Funny stuff.
I left the venue with a new respect for Mr. Springsteen. He has a big heart, great vocal range, and he's an incredible lyricist. He and the band tell stories with their compositions. You can paint pictures in your mind with the sound, and then the lyrics that follow support your mental images. It's something else. I just hope to see them play "Glory Days" sometime, so I can relieve that fun car ride with my friend, The Woz, back in high school. We jammed the F out. The Boss….Forever!