Ep.315 – Acoustic Christmas 2009 @ War Memorial Auditorium – Nashville, TN
Dec 7th, 2009 | By Chrystal
Category: 107.5 The River's Acoustic Christmas, Boys Like Girls, Elliott Yamin, Fray, The, Iyaz, Justin Kase, Ke$ha, Nashville, Owl City, Sean Kingston, Uncategorized, Uncle Kracker, Video Concert Reviews, War Memorial Auditorium
Acoustic Christmas 2009, presented by Nashville's 107.5 the River, took place at the War Memorial Auditorium on Saturday, and what a jolly old time it was! From what I heard, nobody paid for a ticket to this show. They were all station contest winners. What an awesome holiday gift for the dedicated listeners! The lineup: Elliott Yamin, Iyaz, Ke$ha, Uncle Kracker, Sean Kingston, Owl City, Boys Like Girls, and The Fray.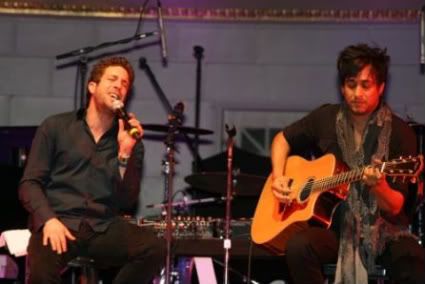 Photo Credit: Lazyday.com
Elliott Yamin started out the night right, and was the only act who actually performed an acoustic set. Really, what else do you need with a voice like that? It's so precise and pure; the less instrumentation – the better. Yamin gets extra points for agreeing to do an interview with me (coming soon), and also for being the only artist to go out into the lobby to sign CDs after his performance.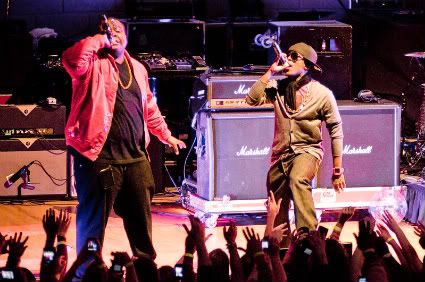 Photo Credit: Russ Loyd (More Acoustic Christmas HERE)
Iyaz was up next, and had The River's DJ Lunchbox working the "ones and twos." That was a neat part about this show. You got to see the faces behind the voices you hear on the radio. Iyaz was good, but I didn't get a true feel for his vocal talent until later in the show when Sean Kingston brought him out on stage. It was a little bizarre and rather ironic that he did his hit "Replay" again, but it was better the second time around. I loved when Kingston and Iyaz did "Beautiful Girls," and broke down into acapella with Iyaz on the "Stand By Me" sample. It sounded niiiiice.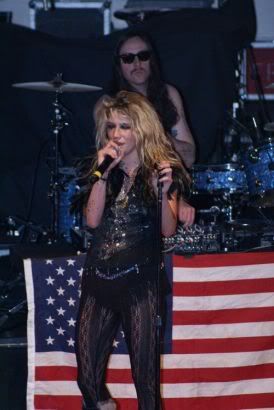 Photo Credit: Lazyday.com
I've already received some hate because of this, but (in my opinion) Ke$ha put on the best show of the night. From just the image of her band to the glitter guns and sizzling moxie – Ke$ha's set was fast-paced dance party USA.
This girl is hot mess done right. I hope the success of "Tik Tok" (over 38,000 reported terrestrial radio spins since 7/29/09) leads her to more hits, maybe some acting roles, and more gigs for her DJ – Justin Kase (or Thrustin' Justin' as Ke$ha calls him.)
Photo Credit: Russ Loyd (More Acoustic Christmas HERE)
I was especially anxious to see Ke$ha after I heard Kase had agreed to go on the road with her. Kase is one of Nashville's most popular DJs, and it was interesting to see him in a mainstream setting. He adapted well, and adds so much to the group. I hope he's enjoying it, because the crowd loved it.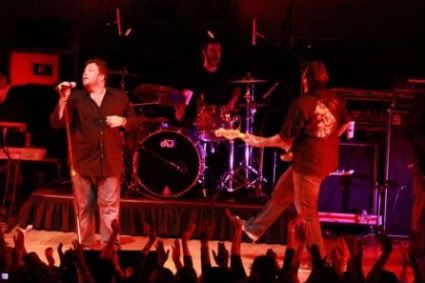 Photo Credit: Lazyday.com
I was surprised to see Uncle Kracker on the lineup. I wasn't sure if they'd fit. They did, and it wasn't only the mothers in the house singing along.
I wish Owl City had a better sound mix. They needed to bring up Adam Young's vocals. I loved the elegance of the band; the girls on strings and keys in black cocktail dresses and natural makeup and Young with his Indie suit jacket and tie – costuming reminiscent of a formal high school band recital or prom performance. I appreciate the sound that Owl City is bringing, but they are not ready to replace Postal Service in my heart yet.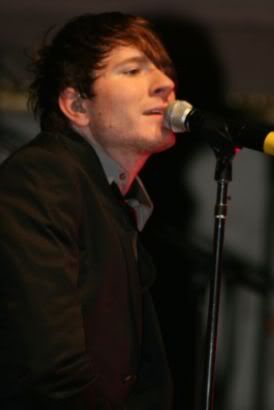 Photo Credit: Lazyday.com
Boys Like Girls was a much anticipated performance. I can't tell how many "I Used To Be Love Drunk" shirts I saw. I guess they are the only band that have played Nashville's Acoustic Christmas two years in a row.
As the audience's favorite River personality, Intern Adam, circled the venue from balcony to the stage, getting everyone amped up for the band's entrance – he announced that a huge surprise was in store. Apparently, Adam had been tweeting about said "surprise" all day.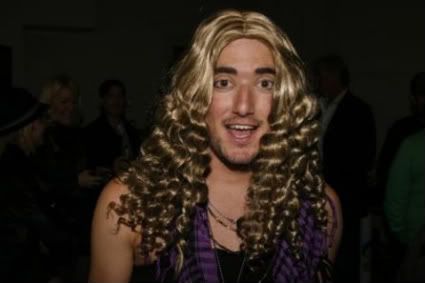 Photo Credit: Lazyday.com
During Boys Like Girls' ballad of "Two is Better Than One," a curly blonde figure came out on stage whom everyone thought was Taylor Swift. After a few moments, it was clear that the guest was just Intern Adam dressed as the Country superstar (who was actually playing KIIS's Jingle Ball in Los Angeles). Still, the few notes that Intern Adam actually sang on stage were great. I think he might have intimidated BLG's frontman a bit. (Side Note: If you're an Intern Adam fan, and want to see him take his Nashville celebrity status up a notch…help him out at www.adamonellen.com)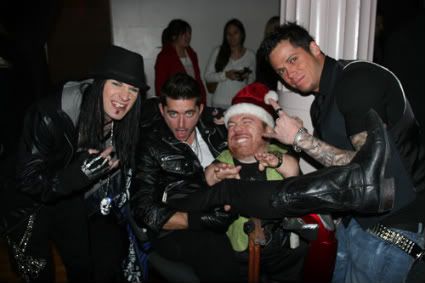 Photo Credit: Heather Byrd with The Tennessean
Speaking of special guests; How about Sinister and Chi Chi from "Daisy of Love?"If that does nothing for you – "So what? Who cares?" I was PUMPED to see them walking around.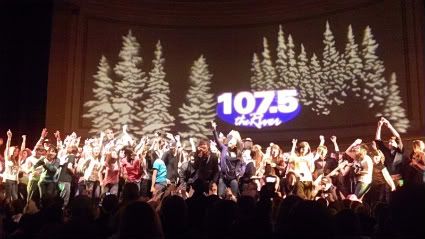 Boys Like Girls closed the show by allowing everyone that could fit to jump on stage. Cool idea, but it only made the transition to The Fray longer.
My goodness – I don't think The Fray started until 11:30, and they aren't exactly the type of music that gets your adrenaline pumping. As wonderful as they were, people started to drift out of the venue.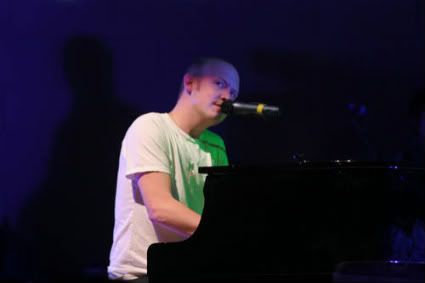 Photo Credit: Heather Byrd with The Tennessean
As I left to gather fan reviews, I think I heard The Fray playing a cover Kanye West's "Heartless;" perhaps an attempt to keep people in their seats? I hope to catch their next solo show that comes through Nashville. I believe they mentioned a possible return in March.
It was a long, but entertaining night of past, present, and future hits. These year end radio concerts are always the best way to see new artists before they blow up, so you can say "I saw them when…"
CLICK HERE for more pictures of the 2009 Acoustic Christmas!