Ep.318 – Ghostland Observatory @ Cannery Ballroom – Nashville, TN -12/10/09
I almost forgot how naturally intoxicating and refreshingly unique Ghostland Observatory is. I had another show to cover the night Ghostland was playing, but something nagged at my brain all day – "Can't you do both? Why can't you?" I had to go with my womanly instinct and mesh Country and Electro/Rock into one night.
I showed up at the Cannery Ballroom a little bit into their set. The Mercy Lounge/Cannery Ballroom duplex is my favorite hang in Nashville, but I'll admit – it's impossible to see the stage and be comfortable at this venue. However, it works for this type of show as a lot of the peolple aren't paying attention to the stage. They are either dancing with their friends or lost in their own heads.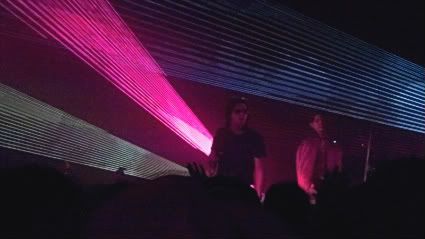 For those that could see the stage, they watched a couple of guys dominate a crowd in an almost cult-like fashion. Aaron busting out his sexy dance moves and Thomas lurking behind synths and such like Dracula or a mad scientist. Sounds scary doesn't it? It's not really – it's fun spooky – like Halloween.
The vivid light show is a major part to this experience, and most likely helped Ghostland get to where they are. A smart investment. That's not to say that the music isn't completely original, and they wouldn't be recognized without the light show. I believe adding the laser display gives it that 'something extra' that puts them WAY ahead of any other smaller venue show I've seen (this includes chart-topping acts.) It's unreal. The colors are beautiful and the patterns switch up constantly. If you just heard their albums, and then went to a show not knowing what to expect – that would be the deal breaker. You'd never miss another Ghostland show that comes through town again.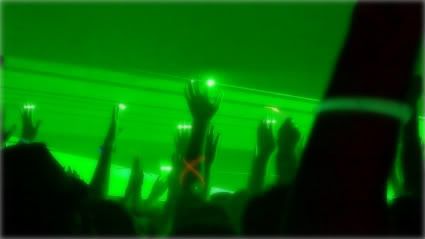 Their sound: Imagine Jack White and Beck soup with a bubbly Electro broth. That's what it tastes like to me.

Since the show, I've done some more listening to their releases, and I like how Ghostland values the significance of changing structure and style. When listening to an album, you never say "didn't we just hear this song?" or "this sounds like that song." That shows that a lot of time was spent on creating the individuality of each song. They certainly gave their cover of Prince's (The Symbol…Artist Formally Know As…etc.) "Darling Nikki" the magical Ghostland touch, which they performed at the show. 'Twas rad.
Ghostland Observatory is one of those bands that almost everybody likes once they give them a chance. If you're into hip hop, hippie, rock, funk…you'll appreciate this group – and if you like to party, you'll most certainly enjoy their live show.