Ep.319 – Star Wars in Concert @ Sommet Center – Nashville, TN
I'd like to call Star Wars the ultimate viral video. However, it didn't gain its popularity through internet sharing, so it can't be classified as such. I guess that makes Star Wars even cooler than a viral video, because it was made a classic through old-skool marketing methods, passed on from generation to generation by word-of-mouth.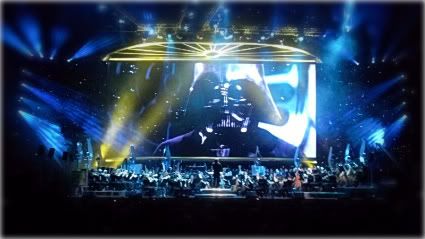 I'm not a mega fan or anything, but I've watched my share of Star Wars at holiday parties at my cousins' house growing up. (The boys always controlled the TV. If it was my way – The Cobsy Show, Rainbow Brite and The Wuzzles – all day, everyday) On some level, I love the story, because "Spaceballs" is one of my favorite movies of all time…of all time. I dove into the newer episodes recently because a marathon was on, and I enjoyed them.
When I heard that the new arena experience, "Star Wars in Concert," was making Nashville's Sommet Center it's final stop in the US leg of the tour, I was intrigued, and thought it would be an interesting show to cover for YTC.
You've probably read about it somewhere. A touring symphony that plays selections of John Williams' Star Wars compositions to a cinematic collage of clips from the series, complete with lasers and pyro as special effects. The show is passionately narrated by Anthony Daniels (C-3PO), as he summarizes the characters and story of the timeless tale.
Guy Bro-in' down with R2
An exhibit is set up around the venue, showcasing character replicas, animation storyboards, and photo backdrops. Costumed characters walk around the crowd for meet and greets and photo ops.
The whole event is perfect for families; less cheesy than "Disney on Ice" or "Barnum and Bailey's Circus," it's something that everyone can enjoy. How do I know? Instead of hearing 10-year-old screams and laughter – I heard grown men yelling from their seats.
I will say, I was expecting to see more of the ticket holders in costumes, and more 'geekery' in general. There's something weird about being in a huge arena where wrestling matches and rock concerts take place, and seeing everyone sitting quietly watching a symphony perform. Especially, when they are all drinking huge cans of Budweiser (minus the kids, of course). I couldn't decide if it was a tacky move to get up and go to the restroom before intermission. It's amusing to see how the same environment changes with each show, physically and in the overall vibes and energy given off by each crowd. I <3 concerts.
I hope "Star Wars in Concert" continues to grow. I think this would be incredible as a Vegas Cirque Du Soleil show, and if they could make it work as a touring production – even better.
Here's a nice summary with footage from YouTube User Britethorn: