Ep.324 – Music in the City @ Tin Roof – Nashville
A few weeks ago, a group named Love and Theft came into work and played a few songs for the staff. This wasn't the first time I heard of Love and Theft. I recently edited a video interview for a syndicated radio show that featured the group. So, I was caught up with the buzz on them.
If you saw Taylor Swift's "Fearless" tour, you probably noticed these guys in one of the videos that played during the show. Swift's song "Hey Stephen," was actually written about Love and Theft's Stephen Barker Liles. They weren't a couple – he's just that beautiful that Swift wrote a love song about him. Yeah.
These guys walked into the room humble and friendly, and when they sang, their voices just rang in perfect harmony. Besides an impeccable sound, these guys are beautiful (in a natural way). I really think they are going to be boy band big, whether they want that or not.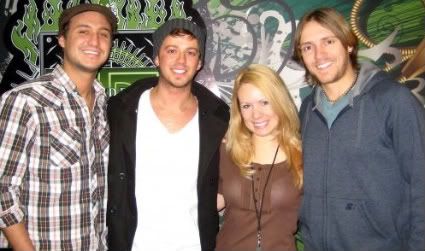 Anyway, after they played, I went upstairs and 'Googled' when they were playing in town. Sure enough, they were headlining the Nashville Lifestyles "Music in the City" event that showcases talent on the brink of breakout. This year's lineup: Steel Magnolia, Josh Thompson, Jessie James, Josh Kelley, and Love and Theft. Yes please!
Despite being exhausted from doing absolutely nothing for 5 days on a Floridian Island, I made it out to the show the night following my return.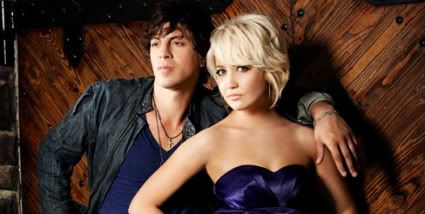 Steel Magnolia http://www.bigmachinerecords.com/steelmagnolia/

The show was on a tight schedule, which I wasn't expecting – so unfortunately, I missed "Can You Duet?" champions Steel Magnolia. There's nothing worst than showing up to a show to find that an act you really wanted to see already played.
Josh Thompson – Photo from www.nashvillelifestyles.com
I like Josh Thompson's everyman style. He wrote Jason Michael Carroll's "Growing Up is Getting Old," so Thompson is the actual face behind those lyrics. His website: www.joshthompsonofficial.com
Jessie James – Photo from www.nashvillelifestyles.com
Jessie James rocked it hard. She's Hip-Pop Country R&B with a strong and sexy stage presence. If you mix Fergie, Christina Aguilera, and Gretchen Wilson, you're getting there. Her album is very well produced – not many filler songs and lots of variety. There's even a cool collaboration with Katy Perry called "The Girl Next Door." Her website: www.thisisjessiejames.com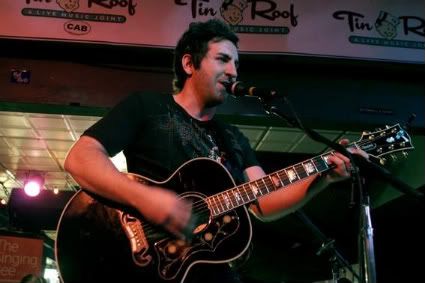 Josh Kelley – Photo from www.nashvillelifestyles.com
Josh Kelley is known for his hit "Amazing" and his marriage to Katherine Heigel (Grey's Anatomy/Knocked Up). Did you know that Charles Kelley from Grammy Nominated Country group "Lady Antebellum" is his brother?
Well, Josh is going Country now too. It'll be interesting to watch this transition. I suspect there's more room for him to pursue this now that format crossover is working for select Country artists.
After seeing his performance, I hope Josh Kelley stays semi-underground with a few huge hits and playing modest settings. I like his crowd interaction. I'm afraid that would get lost in at a bigger venue. However, changes can always be made to beef up a show so it fits the setting, and Kelley seem versatile to be able to do that.
His website: www.joshkelley.com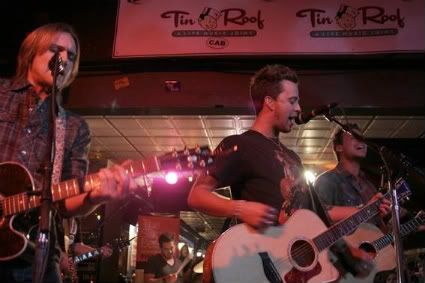 Love and Theft – Photo from www.nashvillelifestyles.com
I've already told you how I feel about Love and Theft. They were outstanding – even better than that acoustic set I saw weeks earlier.
I have high hopes for these guys, and so do many others.
Love and Theft will be performing at the Country Radio Seminar's "New Faces" showcase. It is a huge deal to have a slot! For instance, last year – Zac Brown Band and Lady Antebellum were a couple of bands featured. Both of them are up for awards at this weekend's Grammy ceremony.
Their website: www.loveandtheft.com