Ep.328 – Black Eyed Peas, LMFAO, & Ludacris @ Sommet Center – Nashville, TN
Have you ever been so excited about a concert or an event that when it was over you were slightly depressed? That's how I felt on Saturday.
Usually, I hype things up and am totally disappointed by the delivery – but not Friday.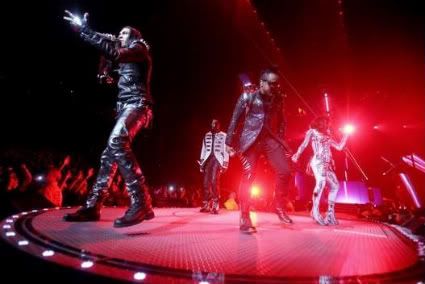 Photo Credit: Alan Polzner from The Tennessean
The last time I saw Black Eyed Peas, it was in a small club in Boston. That show was so perfect and electric, I couldn't wait to see how money and production would amplify it.
Besides that, the openers for this tour are LMFAO and Ludracris! I was ready for a Party Rock extravaganza. LMFAO took the stage at exactly 7:30, and I was ready in my yellow "I'm in Miami Bitch" shirt (a shirt that almost got me removed from the Sommet Center. No cuss words allowed.)
I heart these guys, and every song on their debut album, Party Rock. The songs are a combination of Redfoo's insane DJ talents and the duo's comedic nature. When they get on stage with their colorful style and dance moves, it's impossible not to dance (or at least nod your head and smile).
It's an acquired taste, but to my ears it's fun as f*ck, and I loved the new additions to their show with the background videos and animations. If I could change anything, I would've replaced "Scream My Name" with "What Happens at the Party." I love "Scream My Name," but vocoder overload doesn't suit an arena. The vocals sounded a bit off rhythm, perhaps due to echoing.
I truly felt that LMFAO put on a better show than Ludacris. I did miss the first few Luda songs due to ridiculously long drink lines, but I abandoned my post to check it out. He banged out hit after hit with powerful momentum, and his dancers added some flirty flair.
The opener combo had the audience primed and ready to go, when the lights went out for Black Eyed Peas.
The show was non-stop (well, almost non-stop), and full of surrealistic eye-candy. Robot dancers rule! Ultramodern costumes, spacy light shows, and Taboo riding a glow-in-the-dark motorcycle over the crowd – my Lord, I was in pop concert heaven.
Each member has so much talent and star quality, and as a team they dominated. Damn, Fergie can sing! Besides being solid musically, their blocking was perfect. They weren't just running around the stage. They traveled with strong choreographed movements and specific marks in mind.
The mic power did go out after will.i.am's DJ set. He apologized numerous times for the technical difficulties, and said he was embarrassed being that the tour theme is "The E.N.D (The Energy Never Dies)" and then the power went out…in Music City of all places. Personally, I think it fit in perfectly within the context of the show, as the following song was "Now Generation," about today's society – where we need everything now, and it's available for us now. God forbid the show stops for 60 seconds. Divine intervention perhaps?

I will say, I would've liked to see more of the background band, or at least a decent acknowledgment for those players and dancers. That's really my only complaint. I sense it was done consciously due to the fan base's attention span.
I appreciate the time, money, and effort that was put into this show. I love an organic show as well, but this is what I hoped for from The Black Eyed Peas. They've always been knocked down for "selling out," but this is their job and passion. If "selling out" means doing what you love, making other people happy, and making a career out of it. Uh-Ok! And if you're going to "sell out," you better use my money, and give me a hell of a show. If you "sell out," get a bunch of fancy things, and give me a half-ass performance – I will NOT be back.
Whether or not you like their music, you can't say that they are lazy. They are always one step ahead of what is about to blow up, and know how to develop that into something huge. I hope they continue on this path, and I'll definitely be back to see them again.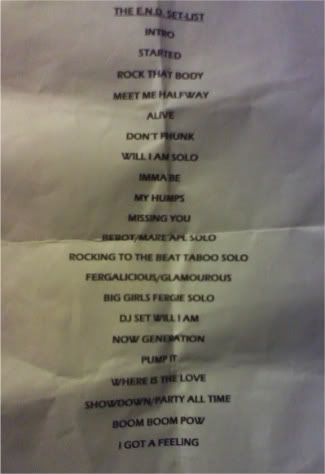 Click Here for Upcoming Black Eyed Peas 'The E.N.D.' Tour Dates
LMFAO: Join the Party Rock Community:  http://partyrockpeople.com/
Click Here for more on Ludacris!