Ep.50 – Day 3 of The Sasquatch Music Festival @ The Gorge – George, WA
May 26th, 2008 | By Poppinoff
Category: Flaming Lips, The, Flight of the Conchords, Ghostland Observatory, Gorge, The, Rodrigo Y Gabriela, Sasquatch Music Festival, Seattle, Uncategorized, Video Concert Reviews
Lorn, Bryan and Pam head to the Gorge at George to attend the Sasquatch Music Festival and to talk with fans about their experience at Sasquatch.
This was the 3rd and final day of Sasquatch. Burn had to go back to school but Bryan flew up from LA and our friend Pam was nice enough to give us a ride!  Thanks, Pam!  When we got to the show we ended up having two extra tickets, so we found some folks that needed FREE ONES!
Thanks to our mad skillz at getting into shows we were able to give tickets away at this show.  There really isn't a more fulfilling form of charity! -bryan
The day was relaxing. We spent most of the time sitting at the main stage. The first group we got to see was Rodrigo Y Gabriela a spanish acoustic folk rock band. I don't know if I have ever seen someone tear up an acoustic guitar at live performance like these two. They are on the list to see again!
Next we saw Flight of the Conchords, a funny act to catch, but I am not sure I would go to one of their solo shows.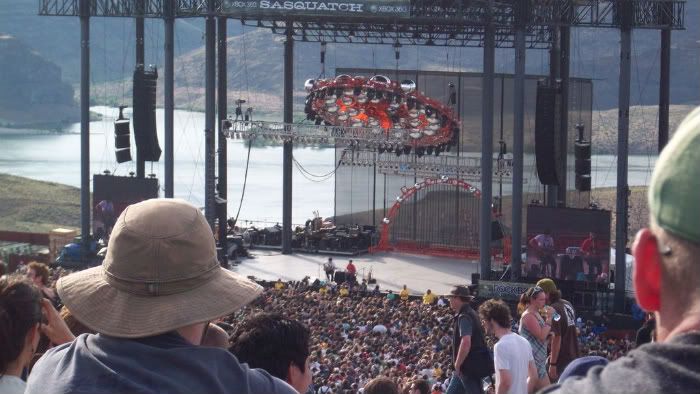 We skipped Mars Volta and caught Jamie Lidell at the Wookie Stage. The band was great and very theatrical but Jamie Lidell's vocals were hard to make out. They came out and did an encore which sucked because it delayed Ghostland Observatory's performance.
The Flaming lips were set to start any minute, so I left Bryan and Pam and headed to the top of the hill so I could catch the beginning of the Flaming Lips UFO show. They were running late so I was able to watch Ghostland in the distance. The show called for me but alas I have wanted to see The Flaming Lips UFO show for a very long time.
Around the 3rd or 4th Ghostland song the Flaming Lips started the show! I started the show on top of the hill and and watched as the Flaming Lips UFO landed. Then I proceeded to the front of the stage as they brought out a parade of giant balloons. That's the great thing about a Flaming Lips show, they just start a party if your in or not is up to you. I grabbed my self a giant balloon and started rocking!!
Then Wayne stopped and talked for a minute or two and announced that he had always had a dream of playing the next song and having everyone take their cloths off and just run around. He invited us to all get naked!! The Lips began to play their cover of Led Zeppelin's "The Song Remains The Same."
I was very into rocking out with my giant balloon and couldn't see anything in front of me. As soon as I put down my balloon I noticed the stage was covered in dancing naked girls!! The one thing I will tell everyone about The Flaming Lips show is, "you can't miss a minute if you did it wouldn't make any sense at all." -lorn
While Lorn was running off to see The Lips, Pam and I anxiously awaited Ghostland's arrival.  We saw Aaron running around back stage and that was making Pam giddy.  She had never seen them before, but loved their music and had heard me raving about them non stop for months.  (And I don't plan on stopping!)
Once the sun was just hitting the horizon the two dance party engineers took the stage and the rest was history.  Anytime I see Ghostland it's a complete and total brain fuck.  I can hardly remember anything about the show in a chronological fashion.  Afterward the show is just a singular memory. 
One thing I do remember was that they had added these really cool LED light boards into the stage production.  I haven't seen them used since, so I think they must have been provided by the festival.  Regardless, when these were added to the lasers, electro beats, and Aaron's gyrating hips… my brain was a gooey mushy substance left on the grass in front of the stage. -bryan
After the show was over I got some great reviews and hassled by security threatening to take my camera away. I got a hold of Bryan and Pam and found that they were waiting inline to meet Ghostland. When we all finally meet Bryan told me, "The guys in Ghostland asked where my partner in crime was." I was stoked!
We went back to the autograph booth and waited for the line to sort of die down and then started chatting with the guys. They are not doubt two very cool dudes with fantastic principles and music. I have to say I regret missing their set because they have always been so cool to us and truly know how to rock. Thanks to all the great people I got to meet at Sasquatch!! I hope to see you next year -lorn
Lorn is totally correct when he says that Aaron Behrens and Thomas Turner are cool dudes.  I have had the pleasure of talking with both of them on a couple of occasions and I gotta say, they are probably some of the most humble, chill, down to earth rock stars you'd ever meet.  And they're just that, ROCK STARS. -bryan
Thomas Turner's Autograph on the YouTellConcerts.com card!