Event – Blow Your Head 10 w/ Riff Raff @ Little Temple – Los Angeles, CA – 08/03/11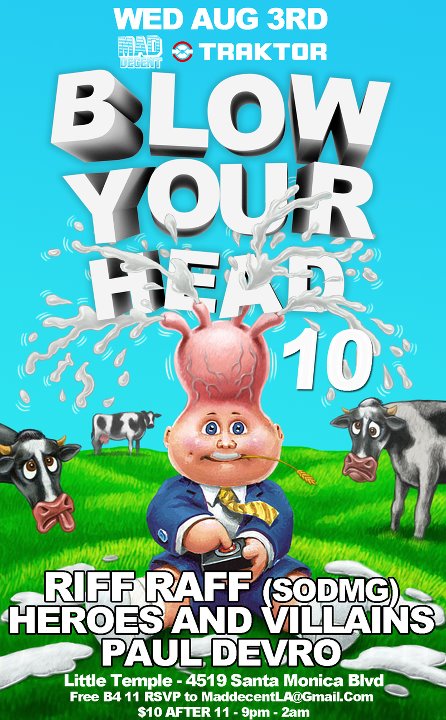 BLOW YOUR HEAD #10 w/  Riff Raff
…HEROES N VILLAINS AND
PAUL DEVRO
Free before 11 with RSVP – Email:  maddecentLA@gmail.com
Riff Raff (JUST ANNOUNCED!!!!!!!!)
Holy Shit!!!!!! Soulja Boy's newest signee, Grammy Award Gynencologist and the next biggest thing in rap will be performing. You don't wanna miss his LA premiere!!!
Get acquainted with Riff Raff on his twitter @RiFFRAFF_SODMG
Heroes N Villains
———-
The bastard degenerate of pop culture has revealed himself.
Atlanta bred aural anarchist, produce/dj Daniel Disaster is pleading guilty to all charges related to the subversive Dirty South Bass Conspiracy coined "Heroes & Villains," testifying to a decade of premeditated blood, sweat, and bass.
T.I., Young Jeezy, Justin Timberlake, Young Dro, Yung LA, and Lil Wayne… no I'm not reading off your little brother's ipod playlist. This is just a few of the many artists Daniel has worked with. By day, this Grand Hustle hitman's invisible hand has been helping facilitate the infamous "swag" movement infiltrating commercial radio the world over.
As producers, Daniel and accomplice Pete H use the moniker "Heroes+Villains" to produce an authenticated formula of house, punk, dubstep, electro, rap and hardcore, including official remixes for their trap-star colleagues Roscoe Dash's 'All the Way Turnt Up' and Waka Flocka's "Oh Let's Do It." The latest of Gucci Mane's "Lemonade" was recently even number 1 on Hype Machine, after being blessed by Diplo x La Rouix mixtape.
As a dj, Atlanta's reigning pied piper went under the alias "Megan Foxxx" and launched his own monthly party titled HEAVY in order to paint the picture of his new soundtrack, and East Atlanta's sceny underworld instantly mutated, feinding for a rare strand of bass that only the Dirty South can spawn.. You see, Daniel isn't just an act of Disaster, he's a paradox: a Villain to those pussy 'cocktail' drinking cronies who only go out to pose in the outfit they bought two hours ago; a Hero to the derelicts who incite dance riots, and for the dames who tame the beast.
MTV RiFF RAFF SODMG & SOULJA BOY – JUiCE