Event – Blow Your Head 7 w/ Skerrit Bwoy @ Little Temple – Los Angeles,CA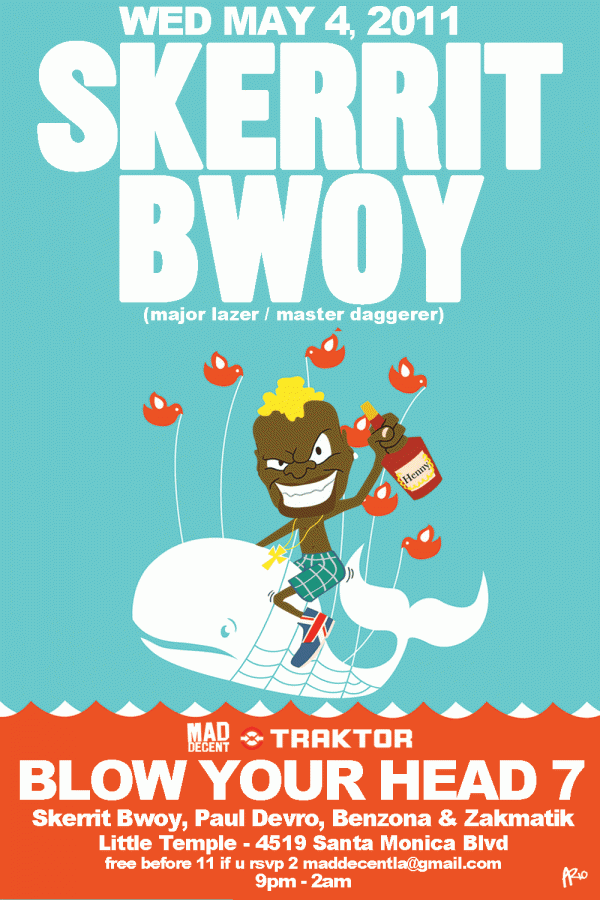 Make sure to get to this one early cause its gonna be a Mad Decent party, and that means its gonna be CRAZY!!
Mad Decent and Traktor
Present
BLOW YOUR HEAD #7 W/ Skerrit Bwoy, Paul Devro and Benzona
@ Little Temple – 4519 Santa Monica Blvd
Email maddecentLA@gmail.com
For RSVP before 11
21+
SKERRIT BWOY (MAJOR LAZER)
"For every generation, there comes an undeniable talent, that changes the face of entertainment. In the Bronx, Skerrit Bwoy along with his Ghetto Life Entertainment is ushering in a dancehall renaissance.
Dedicated, talented, original, & unpredictable are juss a few words that come to mind after spending five minuets at one of his shows.
Celebrated for his maniacal, competitive style, and supercharged comical juggling, this likkle bwoy is one of the most loved and feared in the business. "Ooooh Wooooh" can be heard spewed throughout rammed dancehalls, accompanied by custom dub plates, 45 LPs, & side-splitting chatter. Many dread their initial meeting of Skerrit Boy, while others look forward to his vibrant spirit.
His wild antics and onstage presence lead to him being the official hypeman for Diplo and Switch's, Major Lazer Live show. He keeps dropping jaws of crowds of thousands every night from his ariel acrobatic dry-humping called "Daggering" that you need to witness to understand. Actually now that i think of it, you still probably won't understand it.
Skerrit Bwoy is truly Raw and Uncut Talent."