Event – Chromeo @ Cannery Ballroom Tomorrow – Nashville
Chromeo @ Cannery Ballroom Tomorrow Night
in Nashville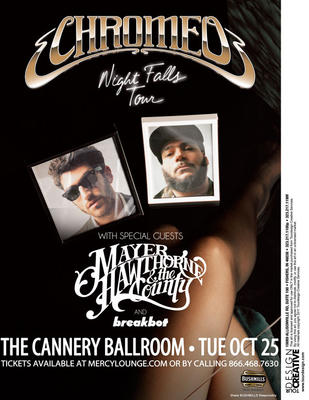 It all goes down tomorrow night! Chromeo is bringing the sexy back to Nashville and on Guy's birthday, no less!
The good people at the Cannery Ballroom have a contest happening right now where you can win VIP tickets, a signed poster, and a meet 'n greet with Dave 1 and P-Thugg of Chromeo!
Chromeo VIP Contest!
Follow the steps below:
Step 1: Follow @canneryballroom & tweet this pic to your followers: http://ow.ly/i/iYYd w/ hashtag #chromeonashville1025
Step 2: Follow @canneryballroom & reply to this w/ your favorite @Chromeo song. Make sure to add #chromeonashville1025
Step 3: To win @Chromeo VIP tix! Share the FB event (ow.ly/6XNvA) w/ your friends. Invite as many as you can! #chromeonashville1025
Step 4: @Chromeo's Night Falls @Spotify playlist is here: ow.ly/70aDx Make a playlist & send it to us! @canneryballroom
Step 5: Make a Pop-Up Video of Night By Night & share w/ @canneryballroom. Go here for the vid: http://ow.ly/75azW #chromeonashville1025
In addition to Chromeo, the lineup includes Breakbot and a set of Hall and Oates covers by a local fav, "How I Became the Bomb."
Get pumped by watching my interview with Chromeo and our very special YTC Chromeo fan review video with guest host, Tex Rambunctious!
You can view all our Chromeo coverage HERE!
Buy your tickets for tomorrow night's show HERE!