Event – Etienne De Crecy @ Dim Mak Cannonball Sunday – 07/03/11
Etienne De Crecy @ Dim Mak Cannonball Sunday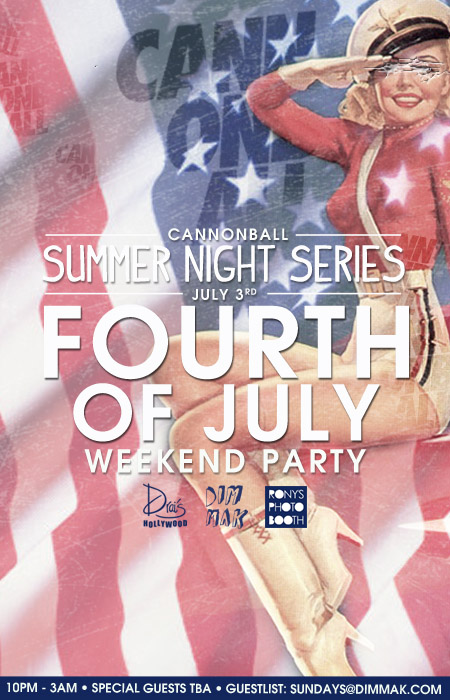 Summer is here! Dim Mak and Drai's are still teaming up every Sunday to give you "Cannonball" at the W Hotel in Hollywood. Together, we provide a refined setting for a mixture of alternative culture that is held together by a blend of talented artists and secret guests.
Dim Mak Presents…
Cannonball's "SUMMER NIGHT SERIES" Fourth of July
…Weekend Party! 21+
::ETIENNE DE CRECY::
:Fashen and DJ Morecode:
FREE MUSIC:
Thee Mike B's Cannonballz Mix:
http://tinyurl.com/66go8y7
FREE BEFORE MIDNIGHT.
Email For Guestlist: sundays@dimmak.com
or visit http://dimmakrecs.com/cannonball
(Dress Code Enforced. Fashion Forward Encouraged)
DRINK SPECIALS RUNNING ALL NIGHT:
$5 Beer & $7 Cocktails (On Select Brands/Labels)
And More:
*Heated Pool. (YES, YOU CAN SWIM!)
*Poolside Cabanas. (To Lounge On)
*3 Bars
*Balcony (Oversees Hollywood Blvd)
*Open Format (Electro House, Hip Hop, Indie, Disco, & More)
CANNONBALL!